Inside Tom Selleck's Marriage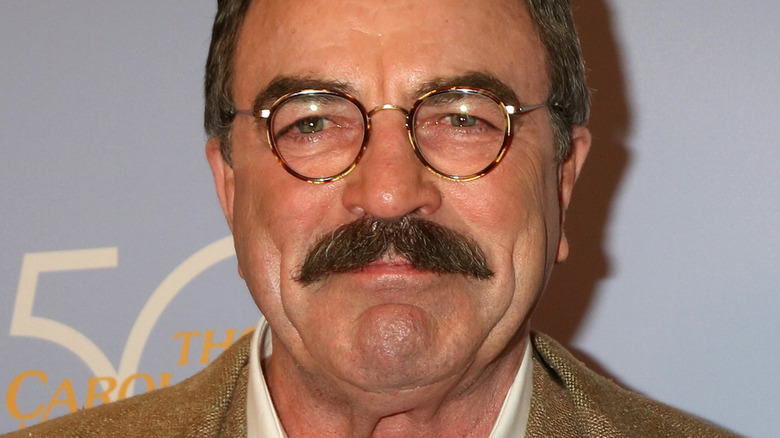 Shutterstock
In 1983, Tom Selleck was a 38-year-old coming off a 1982 divorce from his first wife, Jacqueline Ray. He was also fresh off a breakup from Mimi Rogers and was enjoying the success of his television series "Magnum P.I." During the summer hiatus from "Magnum P.I.," he headed to London to film "Lassiter" with Jane Seymour. He happened to catch a performance of "Cats" on London's famous West End. And then he went back to see it again and again and again, per Wide Open Country.
It turns out it wasn't "Cats" that grabbed his attention, but one particular "Cat" in general. Jillie Joan Mack, then 25, was starring in the London production as Rumpleteazer, and Selleck was smitten. They had dinner one night and have been together ever since. Once "Cats" ended its run, she moved to Hawaii, where "Magnum P.I." was filmed, to be with Selleck, per Wide Open Country.
In 1987, Selleck and Mack, along with their families, jetted off to Lake Tahoe to tie the knot in a very private, secret wedding. Selleck's brother Bob helped him pull it off using the names "Tom Jenkins" and "Suzie Mark" and only telling the minister who they really were minutes before the wedding, per People. Now, 34 years later, the couple is still going strong. Keep reading for a look at how they make it work.
Tom Selleck keeps the focus on family, even when he's working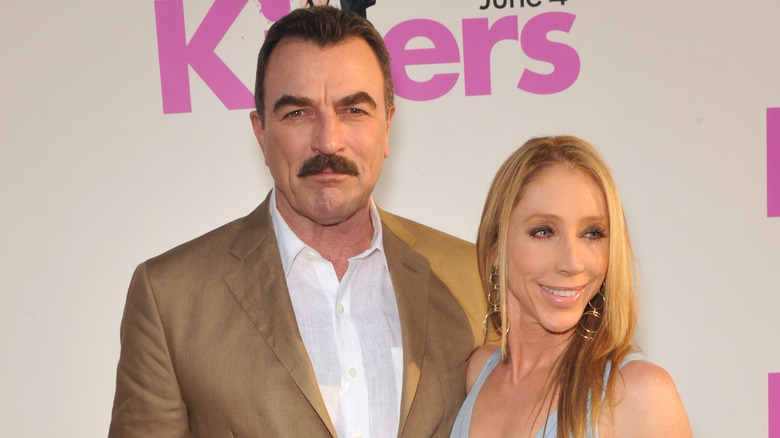 Shutterstock
Tom Selleck and Jillie Mack welcomed their daughter, Hannah, in 1988, and Selleck realized he needed to step back from acting and his role on "Magnum P.I." to focus on his family. He was working 90 hours a week on "Magnum P.I." and doing films on his hiatus, the actor told People in May 2012. "I quit 'Magnum' to have a family," he said. 
Even once Selleck went back to work, he committed to working only every other week on "Blue Bloods." "My first priority is time with my family," Selleck said to People. "It's important to nurture your marriage... I think wanting time away from work has been good for that." And during those off weeks at home on his 65-acre ranch, the actor finds little ways to show his wife how much he loves her. "I get up before Jillie and put on the teakettle, so when she gets up, her tea water is hot," he revealed to Closer. "I think I'm pretty romantic." 
Selleck is clearly still smitten with his wife 38 years after meeting her. He said to Closer, "Jillie has this sort of joie de vivre, this effervescent quality that just lights up a room. Apart from being my wife, she's my friend." Awwww, he is a romantic! Clearly, these two know how to make things work.