Inside Jennifer Aniston's Relationship History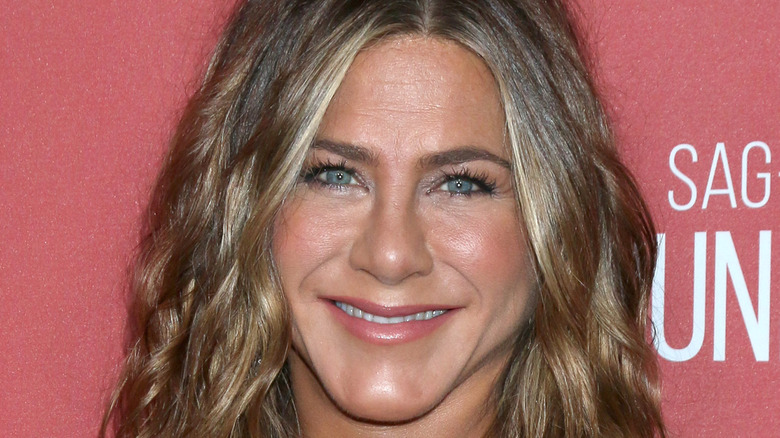 Shutterstock
Jennifer Aniston has dated a who's who of men in the film, television, and music industries. She's been married twice — to Brad Pitt and Justin Theroux — and had brief flings (or rumored flings) with Charlie Schlatter, Bradley Cooper, Adam Duritz, Paul Rudd, Jon Stewart, and Gerard Butler. These days, the actor is single and doesn't appear to be dating, despite her friends Courteney Cox and Lisa Kudrow urging her to get back out there, per The Sun.
Aniston has had six significant relationships since 1990. The first, a five-year relationship with Daniel McDonald, ended when she was 25 in 1994. In a 2015 interview with The New York Times, she revealed he was her first love and would have been the one, "...but I was 25, and I was stupid," Aniston said. McDonald died of a brain tumor in 2015.
Aniston dated actor Tate Donovan for two and a half years, per People. Donovan appeared on six episodes of "Friends" in 1998 as Rachel's crush Joshua. In an interview with Us Weekly in 2018, Donovan revealed that they were breaking up when he shot his episodes, saying, "Jennifer and I were breaking up at the time. And so that was tricky to sort of act, and act like we are just meeting each other, and falling in love ... when we're sort of breaking up. That was just tough."
Keep reading to find out who else Aniston has had a relationship with.
Jennifer Aniston then dated three actors and a musician
Shutterstock
Jennifer Aniston and Brad Pitt started dating in 1998 and married in 2000. They were one of the most famous couples of that era, which is why it was so shocking when, in 2005, Pitt left Aniston, per Us Weekly. Their split was plagued with rumors he'd cheated on her with his future wife Angelina Jolie.
After her divorce, Aniston dated her "The Breakup" co-star Vince Vaughn. They met and became friends while filming in 2005 and dated until the fall of 2006, per Bustle. For Aniston, Vaughn was the perfect rebound relationship. Aniston said, "He literally brought me back to life. My first gasp of air was a big laugh! It was great," per Vogue.
In February 2008, Aniston and John Mayer met at an Oscars party and clicked. They broke up that summer and got back together in time for the Academy Awards in 2009, per Us Weekly. They split up for good not long after but remain good friends.
Aniston and Justin Theroux met on the set of "Tropic Thunder" and started dating in 2010. They bought a $22 million home in Bel Air, California, together in January 2012, per the Wall Street Journal. They got engaged in August 2012, per People, and married on August 5, 2015, at their Bel Air home. They honeymooned in Bora Bora before separating in late 2017 and divorcing in 2018, per the AP.