What Courteney Cox And David Arquette's Relationship Is Like Today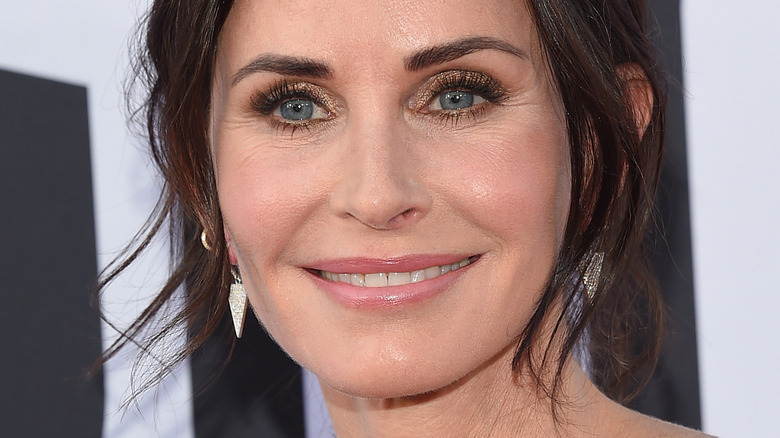 Shutterstock
We may receive a commission on purchases made from links.
Ever since a reunion of the iconic sitcom "Friends" was announced in 2020, fans are eagerly waiting for the fab five — Jennifer Aniston, Lisa Kudrow, Matt LeBlanc, Matthew Perry, David Schwimmer, and Courteney Cox — to reprise their onscreen roles. Cox's character, the lovably Type A Monica, had several onscreen love interests over the course of the show's 10 seasons, including hunky ophthalmologist Richard Burke (A.K.A Tom Selleck). Despite the actors' chemistry, Monica ultimately ended up married to her longtime bestie Chandler (Perry), though that pairing "began as a whim," according to Saul Austerlitz's 2019 book Generation Friends: An Inside Look at the Show That Defined a Television Era (via People). 
Austerlitz explained that Monica and Chandler were initially supposed to have "a one-time hookup for laughs," but the audience "went wild" during the scene. "The cheers and hoots of delight went on and on, drowning out the performers and shaking the room," he wrote. Naturally, "the writers couldn't ignore" fans' love for the duo! 
Sparks also flew for Cox when she met actor David Arquette on the set of the 1996 film "Scream," according to People. They wed in 1999 but went on to split in 2010. Divorce aside, Cox opened up to Entertainment Weekly in 2011 about the fact she still gets along with her ex-husband, with whom she worked on "Scream 4" at the time. Let's take a closer look at what Cox and Arquette's relationship is like today.
Courteney Cox and David Arquette are amiable exes who prioritize co-parenting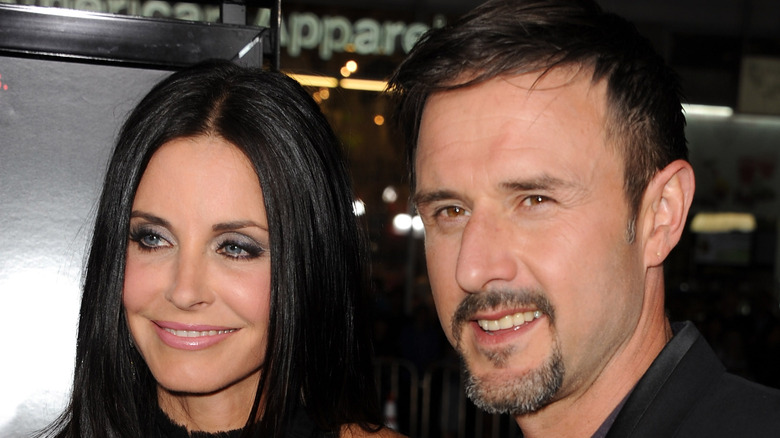 Kevin Winter/Getty Images
Divorce is never easy, but it seems to be (relatively) smooth sailing for Courteney Cox and David Arquette. The two exes have since moved on — Arquette with Christina McLarty and Cox with Snow Patrol frontman Johnny McDaid (via Us Weekly) — and cultivate a healthy relationship with one another. "The thing is David and I love each other so much and we get along so well," Cox told Entertainment Weekly in 2011. "I love him so much. We are the closest of friends." 
In a 2020 interview with Yahoo! Entertainment, Arquette echoed these sentiments, explaining that they've "communicated a lot because of Coco [their daughter]." He continued, "We never went head-to-head, [or] battled each other, through the process of divorce and through the process of raising our kid. So it's made for a friendship and relationship that is out of respect." 
And in 2019, Cox told Us Weekly that she and Arquette were able to stay friends because they've "always made Coco the No. 1 priority." And the exes have the receipts to prove it! In 2018, Arquette and Courteney came together to celebrate Coco's middle school graduation. Posting a pic of the trio on his Instagram, Arquette wrote, "I'm so proud of my daughter Coco! Have fun and be safe in high school! AND don't grow up too fast! I love love love you!!!" It looks like Arquette and Cox have co-parenting down pat.