The Real Meaning Behind Young Thug's 'Proud Of You' Featuring Lil Uzi Vert & Yung Kayo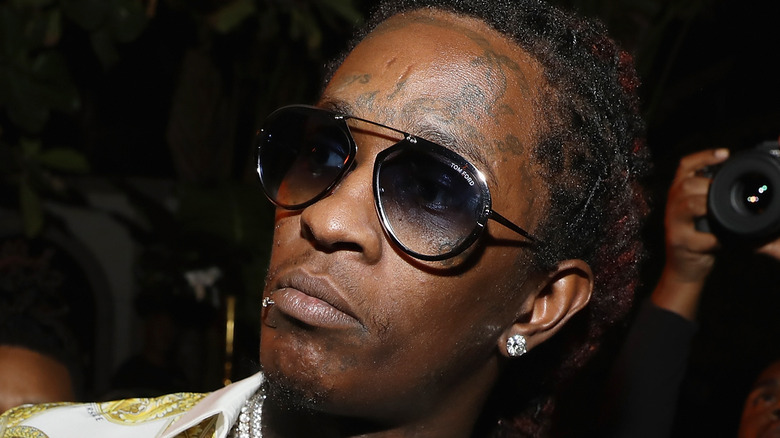 Aaron Davidson/Getty Images
Young Thug and Gunna's compilation album with Young Stoner Life, titled "Slime Language 2," hit the digital shelves on April 16. The following week, the project debuted at No. 2 on the Billboard 200 Albums chart, thanks to tracks like "Paid the Fine," Solid," and "Superstar," as well as features from Drake, Future, and Lil Baby.
In particular, "Proud of You," which includes guest appearances from Lil Uzi Vert and Young Kayo, seems to be a fan favorite ... if Twitter is anything to go by. "Uzi had no business making Proud of You that damn catchy," one person wrote. "Uzi's vocals on 'proud of you' just hit my soul man," another one admitted. Someone even thinks the song is one of the best ones they have ever heard. "Proud of you has to be one of the best songs that ever came out uzi just doesn't miss," they tweeted.
Lil Uzi first teased the track in 2018 via Instagram Live, hinting that it would have appeared on his 2020 album "Eternal Atake." However, "Proud of You" didn't see the light of the day until now. So, naturally, fans were excited to finally hear it and the song debuted on the Billboard Hot 100 chart. But what's the catchy song all about?
'Proud of You' is all about friends supporting each other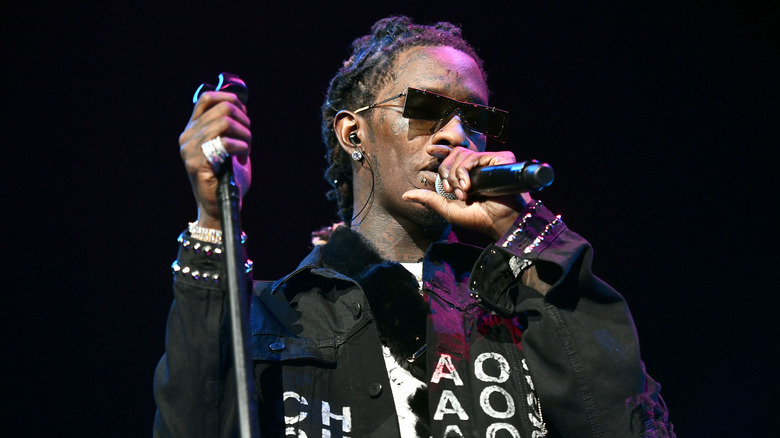 Scott Dudelson/Getty Images
As the title suggests, "Proud of You" is about supporting and cheering on your friends. In the song, Lil Uzi Vert and Young Thug let each other know how proud they are of one another, while boasting about their money, cars, and jewelry.
"'Uzi, I am proud of you' / I said, 'Slime, I'm proud of you,'" Lil Uzi sings in the chorus (via Genius). Then, he brags about how his new Rolex watch, which Thug seems to appreciate. "He said, 'That's a Rollie kit' / I said, 'This a new Rollie kit.'" Of course, Thug had nice things to say about Uzi, too. In his verse, he calls his friend a "king," while letting him know that he's ready to defend him. "I kill 'bout my dawg, and that's a hands-down / Uzi a real king, somebody pass him a crown."
Friendships clearly mean a whole lot to Thug. In a recent interview with Zane Lowe on "New Music Daily," Thug said he'd do anything for Uzi, as well as other music friends. "I'm ready to die about Future," he said. "I'm ready to die by a Lil Baby, Durk, and Uzi. I'm ready to die by these people." He explained that, although these friendships started in the music business, they mean so much more to him. "I always turn them to family. We don't look at them like a rappers. We all look at each other like brothers and sisters. Bro, we really argue every day, bro."