Cher Announces Her Own Biopic Movie. Here's What We Know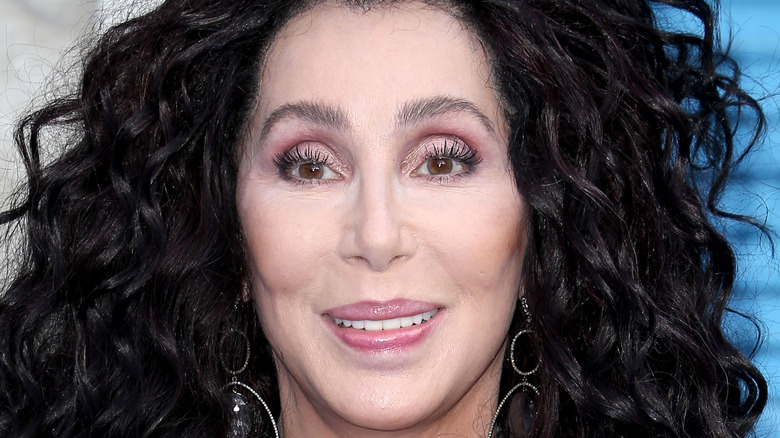 Shutterstock
When it comes to pop culture icons (or essential Twitter accounts to follow), Cher is arguably at the top of the list. The superstar — whose career is still going strong after decades of hard work and massive success on-screen, on the charts, and in Las Vegas – celebrated her 75th birthday on May 20, sharing some pretty exciting news ahead of her big day.
Cher is, of course, a woman of many talents. She debuted onto the entertainment scene as a singer in Sonny & Cher and has since also become an actor and television personality. To date, she's scored herself four No. 1 singles on the US Hot 100 and 12 top 10 hits. Not to mention six top 10 albums on the US Billboard 200 chart. As an actor, Cher has landed herself roles in a huge swath of movies that have been a success at the box office — "Mermaids," "Mask," and "Mamma Mia! Here We Go Again" — and she even won an Academy Award for Best Actress in 1988 for the beloved "Moonstruck," per IMDb. In other words ... she's Cher! 
With such a long and fascinating career, Cher has decided to honor herself with a biopic. Yes, Cher is helming her own biopic (does that make it an auto-biopic? We're not sure). Keep reading to find out what we know about the upcoming project.
Cher is working alongside some huge names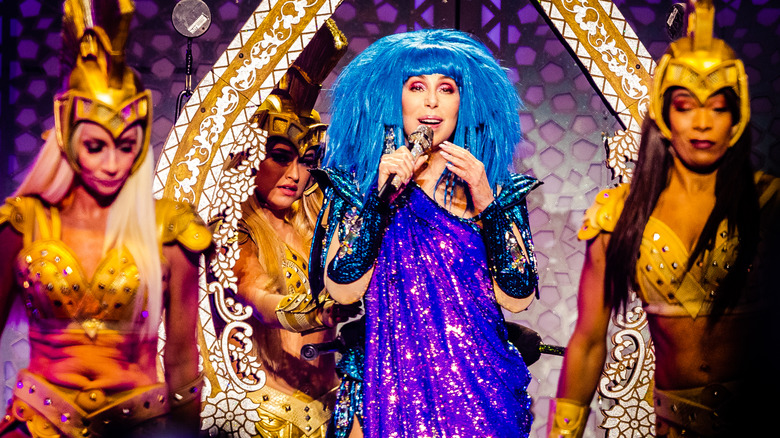 Shutterstock
One day before her 75th birthday, Cher took to Twitter to announce that a biopic about her life and career is currently in the works. The "If I Could Turn Back Time" hitmaker revealed that Oscar-winning screenwriter Eric Roth will be writing the script while some other impressive folks are involved. "Ok Universal is Doing Biopic With My Friends JUDY CRAYMER,GARY GOETZMAN PRODUCING. THEYY PRODUCED BOTH MAMMA MIA'S & MY DEAR DEAR Friend 4 YRS, & OSCAR WINNER... ERIC ROTH IS GOING 2 WRITE IT?? FORREST GUMP A STAR IS BORN SUSPECT TO NAME A FEW OF IS FILMS," she shared with her 3.9 million-plus followers.
In a statement sent to Deadline, producer Judy Craymer spilled some details about what fans can expect. "Gary and I are thrilled to be working with Cher again and this time bringing her empowering and true-life odyssey to the big screen. One cannot help but be drawn to and inspired by Cher's larger-than-life talent, fortitude, unique wit, warmth, and vision," she told the outlet. "Her unparalleled success in music film and TV have inspired generations. We could not be happier to tell her story to cinema audiences."
Aside from working with Craymer and Geotzman on "Mamma Mia! Here We Go Again," Cher also starred in the 1987 film "Suspect," which Roth wrote. So it's a familiar team ... and we can't wait!