The Real Meaning Behind "Twerkulator" By City Girls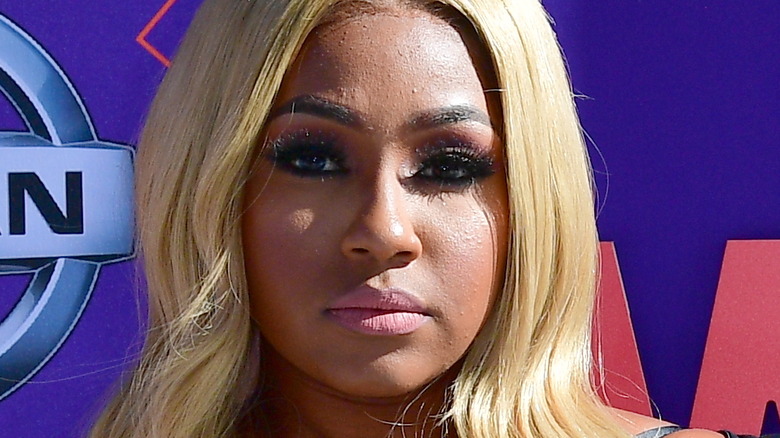 Prince Williams/Getty Images
For many people, it may seem like the COVID-19 pandemic is reaching its end amid the CDC's revised mask guidelines. As warm weather approaches, music enthusiasts everywhere are searching for the hit that will be crowned the song of summer 2021. There are a number of contenders in the rap industry, including veteran Nicki Minaj with the May re-release of her 2009 mixtape, "Beam Me Up Scotty." Following up with their own entry for the soundtrack of the summer is City Girls with their track, "Twerkulator."
After experiencing clearance issues, the Miami-based duo officially released the track on streaming platforms in May. The song was already popular as a result of it being leaked, per Revolt. "Twerkulator" also reaped the benefits of TikTok fame, as it became the background music for a popular dance created on the app. It goes without question that "Twerkulator" makes you want to break out in a twerk session or grab your roller skates. If you're wondering the real meaning behind City Girls' highly anticipated track, read on!
Get your twerking knees ready for City Girls' Twerkulator track
Over samples of Cajmere's "Percolator" and Afrika Bambaataa and Soulsonic Force's "Planet Rock," City Girls' "Twerkulator" is a nostalgic track guaranteed to get you off your feet. The catchy hook interpolates Cajmere's track, gearing us up for some intense booty shaking. JT raps, "It's time for the twerkulator/ It's time for the twerkulator/ I'ma shake what my mama gave me/ I'ma shake my money-maker."
Following up the hook, JT dives into the first verse talking about everything a City Girl and City Boy does: secure their bag and look good while doing it. The second half of the verse is most popular for the TikTok dance associated with it: "When I do my dance (Ayy)/ Money fight, these n****s throwin' bands (Money fight)/ JT, I ain't playin' (I ain't playin')/ Lil' b***h, I'on want your man (F**k that n***a)."
Despite previous headlines about JT and Lil Uzi Vert's complicated relationship and Yung Miami's eyebrow-raising tweet to Nicki Minaj, "Twerkulator" reminds us just what being a City Girl is all about. The song reminds us all to have fun and never settle below your worth. "To be a city girl, you got to be on your s*** because a lot of b*****s think that being a city girl is a s**t, bum a** b***h who just out here f***kin'," the ladies explained on "Respectfully Justin" in May. "You got to find you a n***a who gone treat you right, spend they bread, treat you like a queen and you still getting yo bag too."