Details You Might Have Missed In Olivia Rodrigo's 'Deja Vu'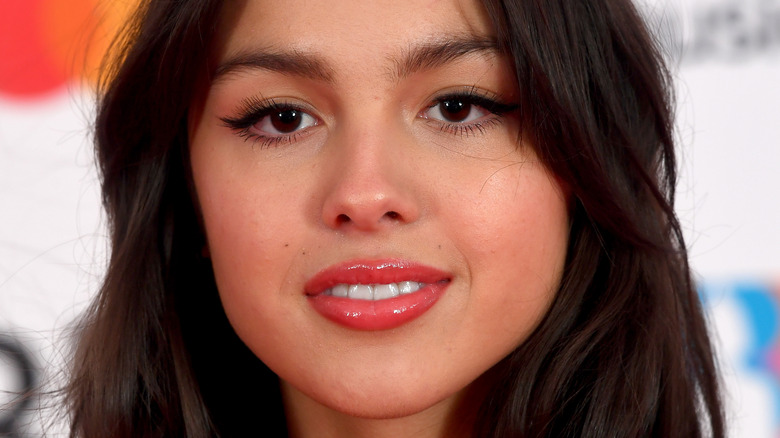 Dave J Hogan/Getty Images
Flaunting that driver's license she ascertained in January's tearjerker of a no. 1 hit, "Drivers License," Olivia Rodrigo opens the music video for her sophomore single, "Deja Vu," with a decidedly happier visual. Eating ice cream and driving along a sunny seascape, Rodrigo brings a cheeky sense of humor while still depicting the unpleasant thought of seeing one's ex with someone else. "Strawberry ice cream in Malibu / Don't act like we didn't do that s**t, too / You're tradin' jackets like we used to do / Yeah, everything is all reused," the song's harmonizing crescendo belts (via Genius).
Needless to say, the theory train started on whether this song was a continuation of the subject matter of "Drivers License," one that launched a sea of rumors that it was about a love triangle between Rodrigo, Joshua Bassett, and Disney star Sabrina Carpenter. Rodrigo fans can find a possible lyrical callback to "Drivers License" in her second single off the album "SOUR." Rodrigo, after all, sings at one point, "Another actress, I hate to think that I was just your type." 
While Rodrigo has admitted "Drivers License" is about a real-life breakup of hers, per The Guardian, is "Deja Vu" about the same relationship? Keep reading for its lyrics' real meaning!
Olivia Rodrigo never actually taught an ex about Billy Joel
In Olivia Rodrigo's "Deja Vu," a breakup's through-line is certainly still there. If "Drivers License" explored the raw aftermath of a breakup, then "Deja Vu" dives into the deep and mixed well of emotions one feels upon seeing an ex with someone new. As Rodrigo sings (via Genius), "So when you gonna tell her that we did that, too? / She thinks it's special, but it's all reused."
Unlike its predecessor, "Deja Vu" is not as autobiographical as fans might think. In a joint April interview with song collaborator Dan Nigro, Rodrigo told Rolling Stone that the imagery of her teaching an ex Billy Joel and "watching reruns of 'Glee' / Bein' annoying, singin' in harmony" were all Nigro's contributions. "Neither of us have ever watched 'Glee!'" Rodrigo told Rolling Stone, adding that Nigro's two Billy Joel-name-dropping lyrics, including "Play her piano, but she doesn't know / That I was the one who taught you Billy Joel," were her favorites of the tune.
Rodrigo had long wanted to write the concept of deja vu into a song. "I just think [it's] really cool," she gushed. "I thought it would be a good way to talk about... when you break up with someone and you watch them on social media and they're living the same life that you lived, like, with another partner." That's all well and good, but we're still recovering from learning that Rodrigo never really played her ex "Uptown Girl."