Inside Queen Elizabeth's Relationship With Elton John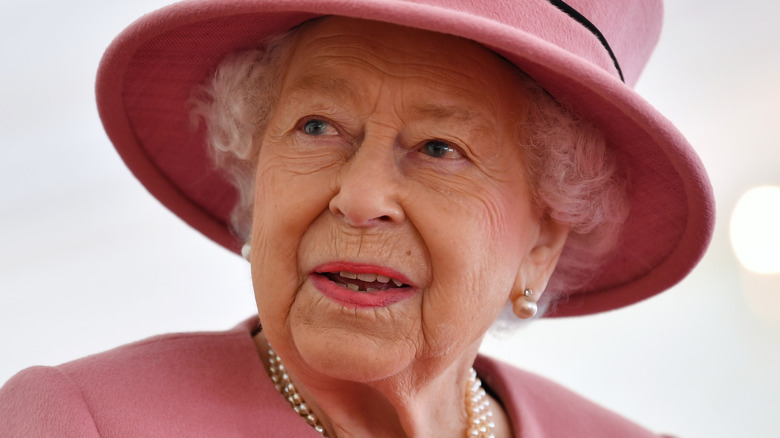 Wpa Pool/Getty Images
At 74 years old, Sir Elton John has spent over five decades in the music industry, while breaking numerous records. He is an award-winning musician who released more than 30 studio albums and sold more than 79 million units worldwide, per Insider. But besides being a music industry legend and a mentor to musicians who came after him, John also has made a lot of famous friends over the years. Namely, he's extremely friendly with the British royal family.
John's connection to the royal family goes back to the 1970s, when he was in his problematic 20s, and continues until today. In fact, John has written songs about royalty, like "Princess," "Snow Queen," and "The King Must Die." John also sang at Prince Harry and Meghan Markle's wedding reception in May 2018, according to Rolling Stone. 
But while John immediately struck a friendship with Harry's mom, Princess Diana, his most memorable encounter was actually with Queen Elizabeth II. Keep scrolling to find out more about their relationship.
Elton John says Queen Elizabeth has a 'funny' personality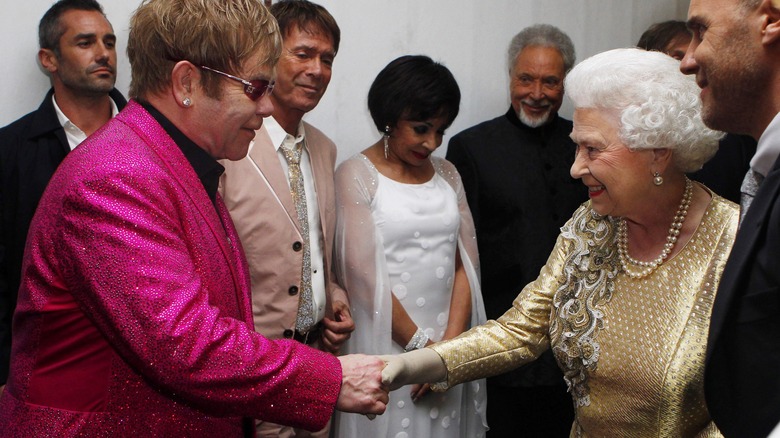 Wpa Pool/Getty Images
According to Time, Elton John's relationship with the royal family began after Princess Margaret invited him to a dinner party at Kensington Palace. Margaret was apparently a huge fan of music and musicians, but his relationship with Queen Elizabeth didn't start when he was invited to perform at Prince Andrew's 21st birthday party at Windsor Castle. John witnessed the Queen reprimand her nephew, Viscount Linley, in person.
"The Queen lightly slapped him across the face, saying 'Don't' — SLAP — 'argue' — SLAP — 'with' — SLAP — 'me' — SLAP — 'I' — SLAP — 'am' — SLAP — 'THE QUEEN!'" John wrote in his memoir, "Me", which was released in 2019. John added that Elizabeth knew he watched the whole situation and winked at him when she was done.
Of Elizabeth's personality, John wrote that in private, "she could be hilarious." But John also revealed that Elizabeth liked to dance at parties. Per Harper's Bazaar, Elizabeth joined daughter Princess Anne on the dance floor before Andrew's birthday bash began. "Princess Anne asked me to dance with her to 'Hound Dog' by Elvis Presley," John wrote. "...So now I was trying to dance as inaudibly as possible with Princess Anne and the Queen — still holding her handbag — while what appeared to be the world's quietest disco played Bill Haley." Since then, John and Elizabeth have maintained a friendly but distant relationship. John was knighted by the Queen in 1998 and was elevated to the U.K. Honours List — which highlights exceptional talent in different fields — in 2019, according to CNN.