What Does 'Shot In The Dark' By AC/DC Really Mean?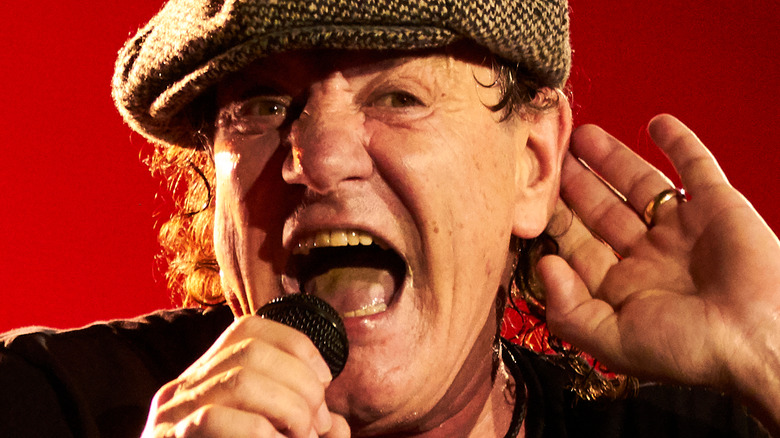 Shutterstock
The iconic rock band AC/DC's 2020 single, "Shot In The Dark," has been nominated for Best Rock Song at the 2021 iHeartRadio Music Awards, which has to feel good for them. This is their first single in seven years and the first single since the death of Malcolm Young in 2017. "Shot In The Dark" is the first single from "Power Up," the Australian band's 17th studio album, which Rolling Stone called the band's best album in 30 years.
AC/DC's late co-founder Malcolm Young is credited as a writer on all 12 songs on "Power Up." He left behind a treasure trove of unrecorded songs he co-wrote with his brother Angus, per USA Today. The guys started talking about getting the band back together for a new album in 2018. While frontman Brian Johnson, bassist Cliff Williams, and drummer Phil Rudd had previously left the band for various reasons, per Rolling Stone, they're all back together now.
"Power Up" is a tribute to Malcolm," Angus told USA Today. "...Even the title we give it, 'Power Up,' pretty much sums him up, too. When he put on that guitar, he was one big guitar. To put it this way: When he played guitar, it sounded like there were two people playing."
Keep reading to find out the meaning behind "Shot In The Dark," the first single from "Power Up."
The title 'Shot In The Dark' has a 'cheeky' meaning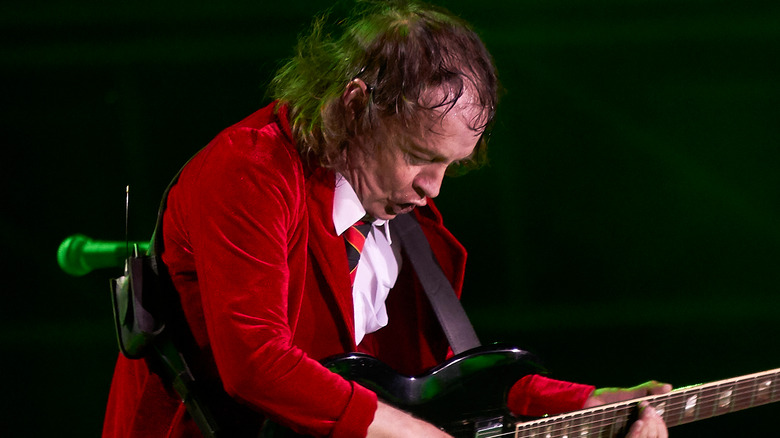 Shutterstock
All of the songs on "Power Up" are unapologetically true to AC/DC's sound, especially "Shot In The Dark." "It's a good rock 'n' roll track with a good hooky chorus," Angus Young told USA Today. "You hear it straight away and you know that's AC/DC."
Lyrics like, "And if I didn't know any better, your mission is to party / 'Til the broad daylight," make it obvious that this track is about someone who likes to have fun. The chorus only accentuates that.
"A shot in the dark / Make it feel alright / A shot in the dark / All through the whole night...," the band sings. If this makes you think about throwing back a shot of alcohol, you're on the right track. In an interview with Rolling Stone, Angus said, "The title is a little bit cheeky because we all like a little nip [of alcohol] in the night or a few shots in the dark." He was glad the record company wanted the song to be the album's first single.  
Frontman Brian Johnson added his own opinion of the track — and the album, telling USA Today: "Like Angus said, as soon as you turn this one on, you're like, 'That's AC/DC! Forget about it!' Nobody makes music like that. I think it's a great single, but I mean, there's a lot of good singles on there. I think that's why the album is such a hottie."