The Real Meaning Behind 'Diamonds Dancing' By Young Thug & Gunna Featuring Travis Scott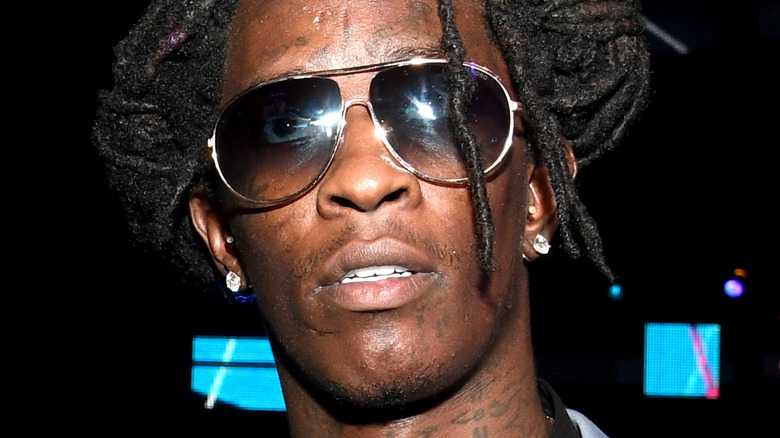 Paras Griffin/bet/Getty Images
Not long after Young Thug and Gunna's compilation album "Slime Language 2" released on April 16, the project debuted at the top of Billboard's 200 Albums chart, amassing more than 140 million streams in the first week — and it's not hard to hear why. 
Apart from Thug and Gunna, "Slime Language 2" includes features from Drake, Lil Uzi Vert, Future, Big Sean, and NAV. Thug and Travis Scott's reunion on "Diamonds Dancing," in particular, is a fan-favorite judging by all the reactions. "Travis n thug man unstoppable duo and it's undeniable," one fan wrote under the YouTube video (which counts 3.2 million views at the time of writing).
"Young Thug's flows on this are insane. Travis had the vibes as always, loved that final part," another wrote in the comments. Meanwhile, others think that Gunna's verse is noteworthy, too. "everybody talkin bout thug and trav but god damn, Gunna killed it too man went crazy on this one," a third fan said.
But what's the song all about? Scroll down to find out the real meaning behind Young Thug and Gunna's "Diamond Dancing" featuring Travis Scott.
Young Thug and Travis Scott's diamonds are top tier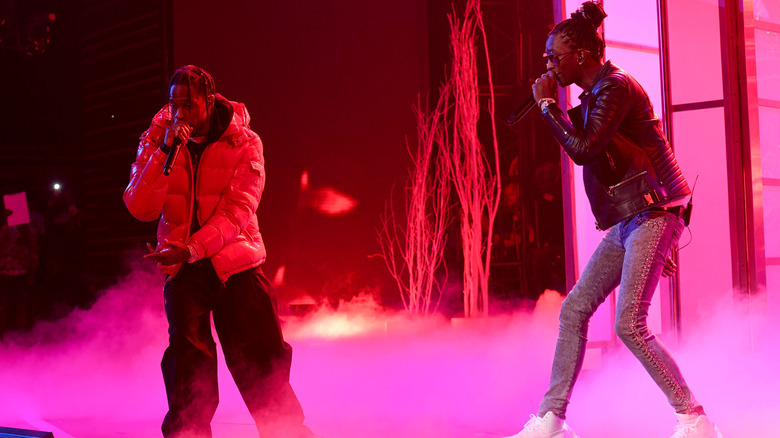 Paras Griffin/bet/Getty Images
On "Diamonds Dancing," Young Thug and Gunna boast about the quality of their diamonds, which appear to be "dancing" under the light. In the chorus, Thug pays tribute to Martin Luther King, Jr. ... via his black diamond-studded watch. "All these diamonds in my chains got me dancing 'round this b***h / I'm Martin Luther King, black diamonds on my wrist." 
Travis Scott, meanwhile, says his diamond necklace is so heavy that it beats down on his chest. "Yeah, diamonds King Kong, how they beatin' on my chest (Ah, King Kong)." In the same verse, he also claims that it hangs so low that it almost touches his privates. "Uh, the link so long, this s**t 'bout to touch my d**k (Link)." Meanwhile, Gunna brags about draping his girl in expensive labels. "CC on my lady (CC), that's Celine, that's not Chane'-ne' (Chane'-ne')."
"Diamonds Dancing" is not Thug and Gunna's first collaboration with Scott, as they previously worked on songs such as "Franchise" and "Hot." In fact, Thug and Scott have been friends for some years. "He's, like, one of the most creative people I've ever met," Scott said about Thug in a 2014 interview with Hot 97. "The first time I met him, I went to four of his shows, on his tour bus, and we just chilled. I even went to one of his homies' funeral," he recalled. "And after that, we just kept making music."