How Much Is Young Thug Really Worth?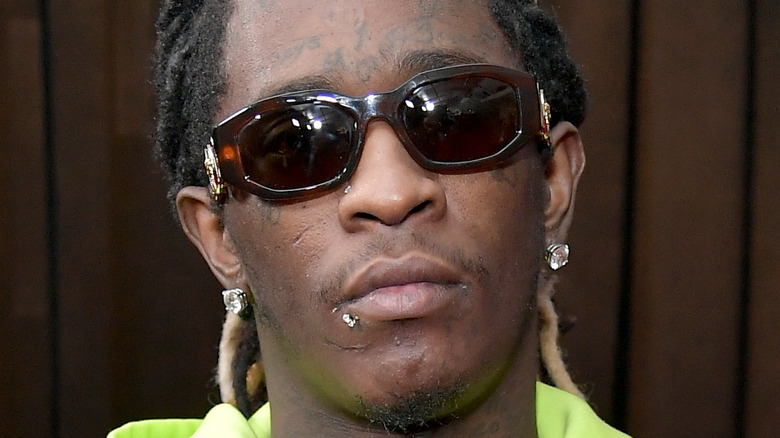 Neilson Barnard/Getty Images
Young Thug is one of the most influential rappers today (and, according to BBC, of the whole 21st century). On April 16, the Atlanta native released his compilation album with Young Stoner Life, titled "Slime Language 2." Not long after it was released, the project debuted at No. 2 on Billboard's 200 Albums chart, thanks to popular songs such as "Ski," "Proud of You," "Solid," and more.
Thug's rise to fame, however, dates back to 2014. That year, he dropped "Stoner," a song so popular that it spurred countless remixes. Some people thought that he would just end up being another one-hit wonder ... which was just the reaction he was looking for. "I wanted people to think 'Stoner' was a one-hit wonder and I wanted to crack their head with that," Thug told Complex in 2014. "I'm glad it worked out the way it worked out." 
In the same interview, Thug also revealed that Kanye West was amazed at how fast he could deliver songs, while one particular rapper offered him a good amount of money to sign with him. "Future said he wants to give me $1.5 million so you know how that goes. It just hasn't happened yet," Thug said. The deal didn't end up happening and, eventually, Thug founded his own label, Young Stoner Life, which currently includes acts such as Gunna and Lil Keed.
So, all in all, Thug's pedigree is quite impressive. But how much is he really worth?
Young Thug missed out on millions in 2020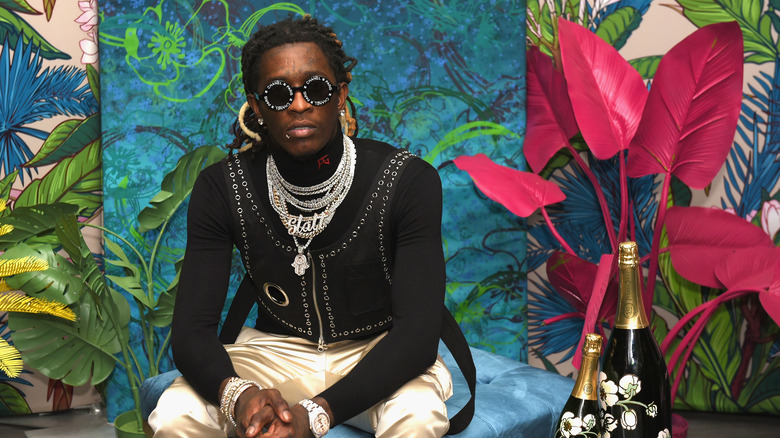 Andrew Toth/Getty Images
According to Celebrity Net Worth, Young Thug is currently worth a whopping $8 million. However, the "Ski" star took a big financial loss due to the lockdowns. "The money that I get for the shows — let's just say I get $500,000 — if I don't do these ten shows, that's 5 Ms," Thug told Big Boy in April 2020 (via Billboard).
He also revealed that, during quarantine, he'd put his parents up in penthouse suites so they could leave the house ... which added up quickly. "That s**t costs money. However much money I lose on the show, that's probably the same amount of money I lose spending my money," he said.
Still, Thug is in no way struggling and is on the way to make some of those millions back. This summer, he's scheduled to perform at festivals like Rolling Loud, Bonnaroo, and Wireless — which should earn him at least $1.5 million. And despite losing money due to COVID, the rapper still vows to put some of his earnings towards a good cause. 
For example, in April 2021, Thug bailed out several Atlanta men and women who were held in Fulton County Jail over minor offenses and couldn't afford to post bail. "We just woke up and went to the jail with the lawyer and, you know, DA's and the prosecutors, you know, the bonding companies and just got as many people as we can out," he told WSB-TV 2. Well done, Thugga!