Who Is Helio Castroneves' Girlfriend, Adriana Henao?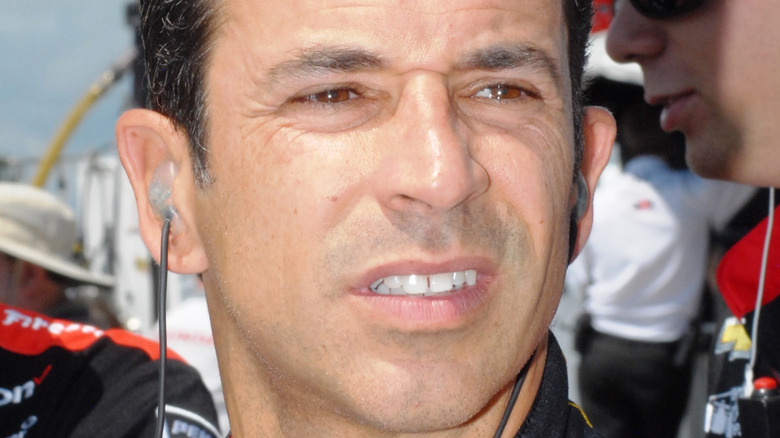 Shutterstock
If you watch a lot of NASCAR racing, you've probably cheered on Brazilian driver Hélio Castroneves, who's won three Indy 500s, per his Instagram. If that's not impressive enough, he also won Season 5 of "Dancing With The Stars."
Castroneves has definitely made his mark in the racing world, and even though he's a bit older than his fellow Team Penske drivers, he "continues to have the drive and enthusiasm of an eager rookie racer," according to his website. In 2020, he won the WeatherTech SportsCar Championship and has enjoyed 103 top 3 finishes in his career.
Castroneves is no stranger to the Indy 500, but he'll also be competing in Nashville's Music City Grand Prix on August 8. "I'm so excited to be racing in Nashville," he said (via IndyCar.com). "It will be the first street course that I've competed on since 2017, but I really love street courses. They bring a certain type of excitement that not many other tracks can do. And I couldn't be happier to do this with Transcard on the No. 06. The Meyer Shank Racing crew and I will do everything to get the Transcard Honda on the top of the podium at the end of the weekend."
Racing isn't the only love of Castroneves' life. Keep reading for more details on his girlfriend, Adriana Henao.
Adriana Henao is a marathon runner
When she's not cheering on boyfriend Hélio Castroneves at the racetrack, Adriana Henao is busy running marathons. In 2014, she competed in the New York City Marathon and Castroneves couldn't help but gush over her athletic talents. He told USA Today Sports, "I am so proud of the dedication and commitment Adry has shown in both her training and fundraising. She has supported me in my IndyCar racing for so long, and I'm glad I can do the same for her tomorrow."
Henao seemed thrilled to compete, telling the outlet at the time, "It's been crazy these past few weeks, but well worth it. I can't thank Helio enough for taking over at home so I could train. I'm looking forward to my first marathon tomorrow and honored that I was able to raise funds for J/P HRO and their good work in Haiti."
In addition to running, Henao is also a mom to 11-year-old daughter Mikaella. Henao and her daughter run Be. Plumah, a pajama and lifestyle brand that came to fruition during quarantine, according to their website. The brand's goal is all about "supporting our children and empowering them to explore, create and realize their ideas." Henao gets to work with her daughter every day and that sounds like a dream job to us!