The Truth About Zoe Saldana And Thandiwe Newton's Relationship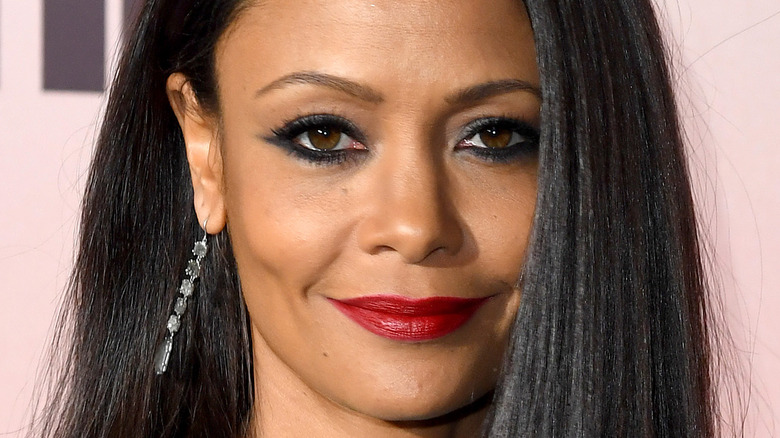 Kevin Winter/Getty Images
We likely all have a doppelgänger out there somewhere, and that holds true for Hollywood, too. Redheaded beauties Jessica Chastain and Bryce Dallas Howard regularly get mistaken for each other, as do actors Sarah Hyland and Mila Kunis. In fact, the latter two stars look so similar that they once decided to play a practical joke by pretending to be each other in public, according to InStyle. "She [Kunis] came up to me and said that she gets called me all the time too," Hyland recounted to InStyle, after meeting the "Black Swan" actor for the first time in December 2010. "She said that sometimes she pretends she's me because it makes her feel young. I asked if I could pretend to be her next time somebody asks me if I'm her, and she said OK."
But they are not the only ones making us see double. Other celeb doppelgängers include Elijah Wood and Daniel Radcliffe, Minka Kelly and Leighton Meester, and Jeffrey Dean Morgan and Javier Bardem. But there's one A-lister pair who bear such a striking resemblance to each other that their own parents frequently mix them up: Zoe Saldana and Thandiwe Newton. Keep reading for more on their unique relationship!
Victoria Beckham once confused Thandiwe Newton for Zoe Saldana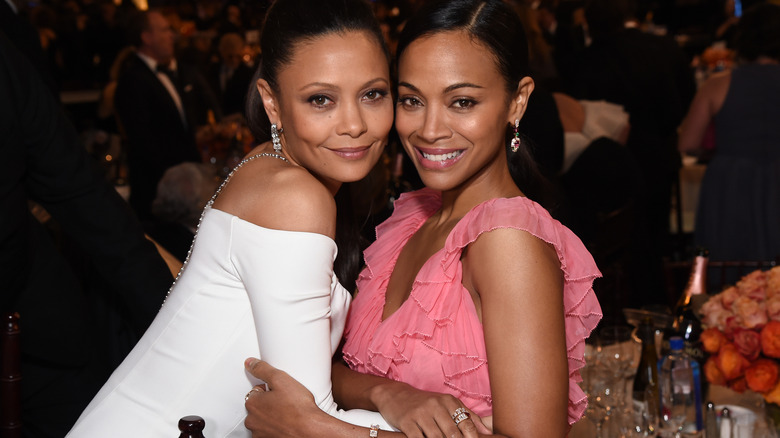 Michael Kovac/Getty Images
Known for her roles in blockbuster hits like "Avatar," "The Avengers," and "Guardians of the Galaxy," Zoe Saldana has to worry about fans — and her own mother — mistaking her for fellow actor Thandiwe Newton. During a 2019 appearance on "The Late Late Show with James Corden," Saldana recounted how her mother believes she stars in "Westworld," the hit HBO sci-fi series in which Newton plays a character named Maeve. 
"She goes, 'Well your show is on HBO, 'Westworld,'" Saldana said, imitating her mother. "I'm like, 'When are you going to understand that I'm not Thandi[we] Newton?'" And the confusion goes both ways, as Victoria Beckham reportedly "mistook" Newton for Saldana in 2018, according to Vanity Fair. Upon realizing her mistake, "Victoria was absolutely mortified," Newton shared on "The Graham Norton Show." She added, "It was actually okay as Zoe is a rare beauty, but really? Up close? Come on! And I'm English!"
Thankfully, the two look-alike ladies are good friends, so they can laugh over these mistakes. "We text now! We're friends. So we're sisters," the "Avengers" star shared with Hola! in 2019. According to the outlet, the pair have built up a relationship ever since meeting at the Golden Globes. In 2018, Saldana even poked fun at their resemblance in an Instagram post featuring a side-by-side of their faces, which she captioned, "Twinning." It's good to know that both beautiful stars are flattered to be mistaken for the other!