The Real Reason Matthew Perry Slurred His Words During The Friends Reunion Trailer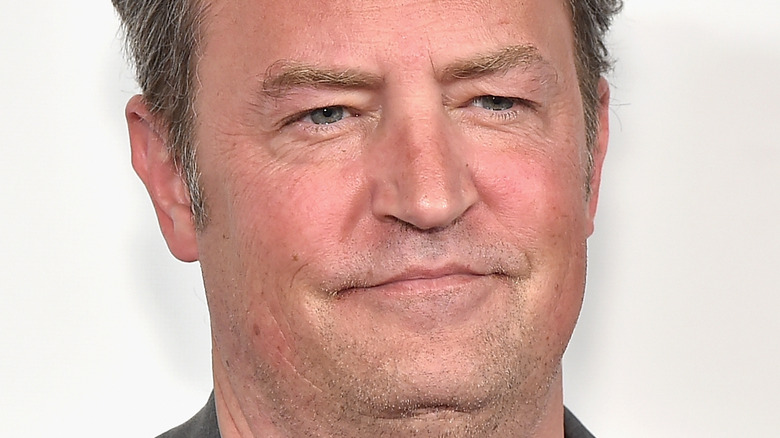 Theo Wargo/Getty Images
Matthew Perry's "slurred" speech in a "Friends" reunion promo video initially had fans concerned the star may have relapsed, per The Sun. But now a source close to Perry explained why he appeared to be in "pain" — and it has nothing to do with his previous substance use problems.
The 51-year-old actor recently filmed an interview with People alongside his "Friends" castmates for the upcoming and highly anticipated reunion special. Sitting next to former co-stars David Schwimmer and Matt LeBlanc, Perry seemed to slur his words and even appeared to nod off at one point. 
Fans expressed their sympathetic concerns over social media (per news.com.au), with one writing, "it seriously breaks my heart." Another fan wrote, "It pains me to see Matthew Perry like this, he just seems off, gazing at the void, speaking slowly." Some reportedly called him a "hero" for simply showing up to the reunion, whereas others said they were "scared like hell" for him.
The Canadian actor has long been open about his battle with drug and alcohol addiction, ever since a 1997 jet ski accident led to a Vicodin addiction. At the time, he told People (per news.com.au): "I was out of control and very unhealthy." But "Friends" lovers can now breathe a sigh of relief, as a source told The Sun that while Perry hasn't slipped back into old habits, he did undergo an "emergency" appointment that day ... at the dentist.
Matthew Perry was reportedly in 'pain' during the Friends reunion promo
Fans said Matthew Perry looked "sad" and "miserable" in his "Friends" promo on social media and they were right — but perhaps not for the reasons they suspected. A source told The Sun that Perry showed up to the reunion in "pain" following an "emergency tooth procedure that day," which was "said to impact his wellbeing and also how he was feeling." This is what "caused the slurred speech."
Despite speculation the actor relapsed, the source acknowledged the public's support. "The feeling was one of huge sympathy for Matthew especially in recent days given how people have reacted online. Matthew has told those around him that he is sober, and there is no need to worry," they said.
Concerns about Perry's demeanor weren't necessarily unfounded, given he's struggled with sobriety since his early 20s, just after joining "Friends." Perry had several rehab stints over the years (1997, 2002, and 2011), and even spent three months in hospital for gastrointestinal surgery in 2018. The actor told BBC Radio 2 in 2016 (via Page Six) that he can't "remember three years" of "Friends," "somewhere between Season 3 and 6."
While fans don't have to worry about his issues with addiction now, they may find comfort in knowing Perry has always had his "Friends" during tough times, with The Post recently revealing he received particular support from his television wife Courteney Cox. Like the theme song, it's great to know they'll "always be there for" Perry.
If you or anyone you know is struggling with addiction issues, help is available. Visit the Substance Abuse and Mental Health Services Administration website or contact SAMHSA's National Helpline at 1-800-662-HELP (4357).
It's been a tough year for Matthew Perry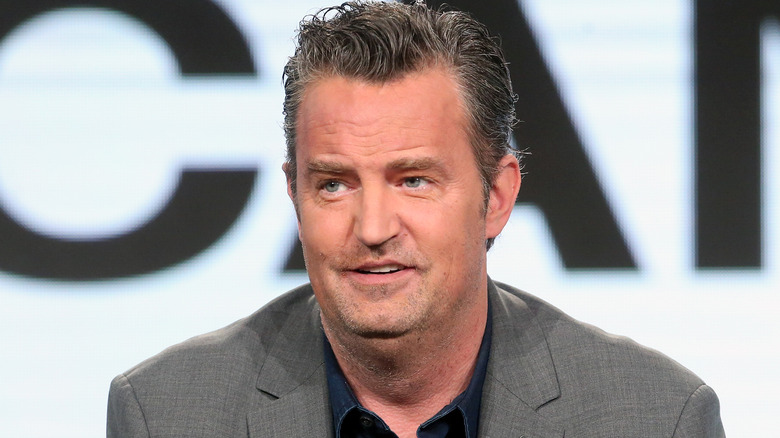 Frederick M. Brown/Getty Images
Canadian actor Matthew Perry can't seem to catch a break lately, as the dental debacle comes straight off the heels of his very public dating app drama.
Per the Daily Mail, the story goes that Perry was put on blast a year after reportedly hitting up a 19-year-old on the exclusive, members-only dating app Raya. In a TikTok Video, Kate Haralson claimed that she and Perry FaceTimed with one another and also played the 20 questions game before Perry became overtly flirtatious and even asked her if he was the same age as her dad. As one can imagine, this was not exactly a great look for Perry.
Ultimately, however, Haralson maintained that she had no intentions of embarrassing Perry but was rather just trying to shed light on a much bigger issue wherein older Hollywood men often use dating apps to troll for younger women. "A lot of people were saying I'm a bully and mean for posting this, and it made me feel kind of bad, but at the same time, I feel like a lot of guys in Hollywood are talking to all these young girls and it's something that I think a lot of people should be aware of," Haralson said during an interview with Page Six. Our guess is that Matthew Perry intends to stay out of the dental chair and off of dating apps for the foreseeable future!