When Did Prince Harry Really Start Working With Oprah?
Kevin Mazur/Getty Images
This has undoubtedly been Prince Harry's year in the media. Has any other British royal been so consistently in the news as the redhead duke who quit the monarchy last year? Even the death of Prince Philip, the longest-serving consort to a royal monarch, per Town and Country, did not spark so much interest. Harry and Meghan Markle spoke to Oprah Winfrey in a shocking tell-all interview in March, and it seems as if he has so much more to say.
After the interview, Harry and Meghan mostly kept to themselves until the Duke of Edinburgh died and the Spare had to fly over the pond to attend the funeral. After some of his family members launched icy daggers of scorn in his direction, Harry returned to the United States. This time, he wasn't hiding behind veiled comments. He came out all guns blazing and blasted his father and the royal family in a sit-down with Dax Shepard on the Armchair Expert podcast. Since then, he has starred on Oprah's newest series about mental health called "The Me You Can't See". He has also made several disparaging remarks about Prince Charles and the way he allegedly failed to support Harry's mental and emotional wellbeing, per "Good Morning America." 
However, it seems as if Harry and Oprah have been cozying up for a long time. The Queen of All Media dropped a bombshell when she revealed how long she and Harry have really been working together. Here's the scoop.
Harry and Oprah's relationship predates Megxit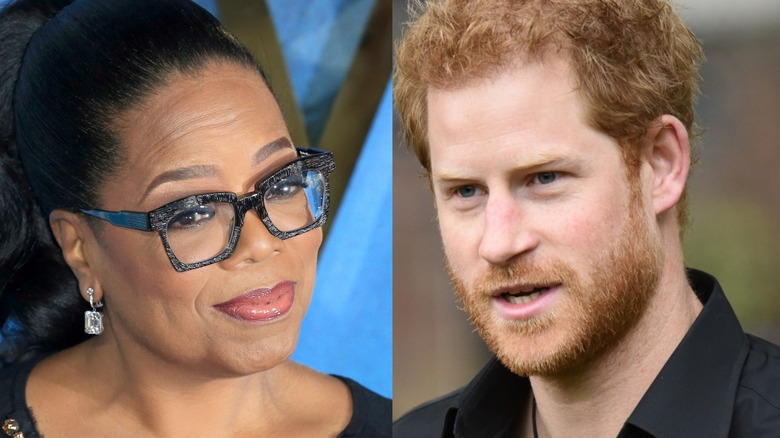 Shutterstock
Prince Harry and Oprah Winfrey have been working together for a while. At the beginning of the sixth episode of "The Me You Can't See," Oprah talked about her "fellow executive producer." She spilled the tea and divulged that their project had been a long time coming. Contrary to popular belief, she and the Duke of Sussex had been talking way before Megxit. It seems as if they both had a passion for mental health issues and they initially started sharing ideas as early as 2019, per the Daily Mail. Harry had already been open to the idea of collaborating with the powerful media mogul before they even announced that they would be leaving the working royal monarchy. It seems that the duke has been keeping his cards close to his chest.
"It's a project that we were inspired to produce after we first met, really, and talked about some of the most pressing issues of our time," Oprah shared on the series. It seems as if Harry and Oprah jumped straight to the nitty-gritty and had a heart-to-heart. Good on them for cutting to the chase! "So we spent two years making this series...together," Oprah clarified. Mind blown! Cannot wait for the next installment of Harry and Oprah's partnership. They've proven that they make a formidable pair.