Why Prince Harry Was Shocked About How His Family Treated Him At Prince Philip's Funeral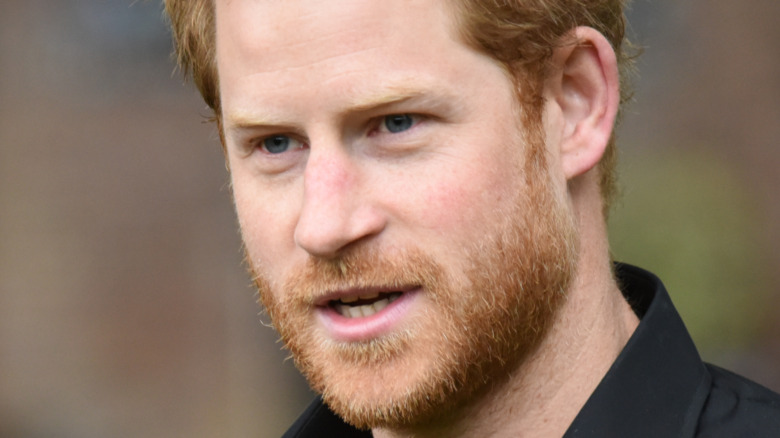 Shutterstock
Prince Harry may have made the trip home for Prince Philip's funeral in April 2021, but that doesn't mean that he was met with open arms by the rest of the royal family. Of course, the drama between Harry and the rest of his family goes way back. In January 2020, Harry and wife Meghan Markle announced that they would "step back as 'senior' members of the Royal Family," and along with their son Archie, they eventually relocated to Santa Barbara, Calif. Because they were cut off financially by the royal family, they have distanced themselves even further by establishing deals with Netflix and Spotify. Additionally, Harry announced a job with a startup organization.
Though rumors of tension between Harry and Meghan and the royal family ran rampant for months, things came to a boiling point when the couple sat down for a tell-all interview with Oprah Winfrey. The duo dropped a number of bombshells, and seemingly painted the royal family in an unflattering light. While the royal family has issued statements about the interview, they've been relatively vague, so no one knows for sure how they feel behind closed doors.
After Prince Philip's death on April 9, 2021, and his subsequent funeral on April 17, Harry reunited with his family, an event that many anticipated would be tense and awkward. As it turns out, Harry may have gotten the cold shoulder from his family.
Keep reading to learn why he was "shocked" by their alleged treatment.
Prince Harry may have gotten the cold shoulder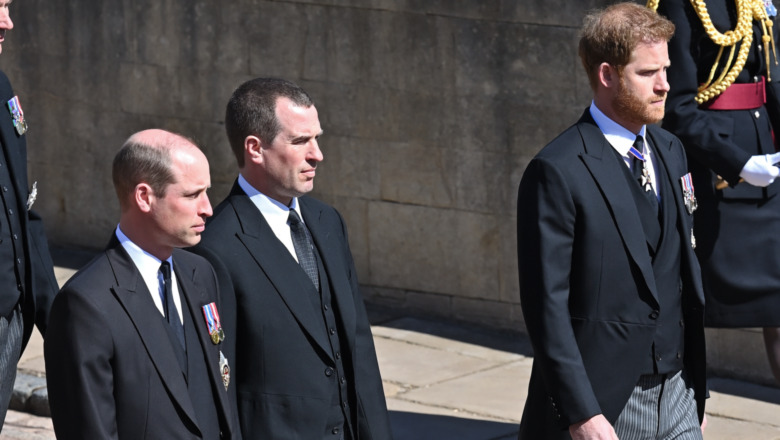 Pool/max Mumby/Getty Images
When Prince Harry arrived to Buckingham Palace for Prince Philip's funeral, he reportedly was met with an icy reception from some of his family. Royal expert Russell Myers spoke to host Kevin O'Sullivan on talkRADIO (via the Daily Mail) about what might have gone down between Harry and his family, and it was seemingly a less-than-friendly reunion.
"I read that some quarters of the royal family literally just blocked him and didn't even talk to him," O'Sullivan said to Myers, adding, "I think he may have been a bit shocked by the cool reception he got from his family." While Harry may have had an icy reunion with his family for Philip's funeral, all eyes are on his next planned trip home, which is set for the unveiling of a Princess Diana statue in July. "Will [Harry] come back for the unveiling of the Diana memorial with his brother in July? Or will he pull out of that?" O'Sullivan questioned.
"I'm told he is still committed to coming. Both camps are," Myers explained, adding that "certainly Kate and William will welcome him if he wants to come back."
Because Harry and Meghan Markle's second child is due around the time of the unveiling, O'Sullivan and Myers speculated whether it would serve as a "convenient excuse" for Harry to avoid going home. Only time will tell if Harry cancels the trip, or if his family warms up to him over the coming months. 
Tension will likely remain high in the royal family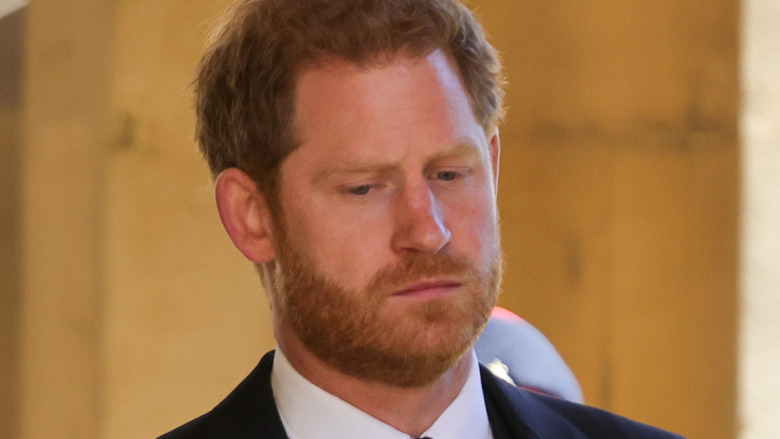 Chris Jackson/Getty Images
With continuous talk of tension in the royal family, it's likely that things will stay icy for some time. Though Prince Harry left his family behind shortly after Prince Philip's funeral, he has another engagement planned for July, though it's unclear whether he and his family will be on better terms by then.
"I don't think we will realize the fallout of that Oprah Winfrey interview for some time," royal expert Russell Myers explained to the Daily Mail regarding Harry's familial situation. "Maybe once we get back to a bit of normality, the rest of the family will start thinking about that a bit more carefully," he continued, adding that "it might not be good news for Harry."
While Myers may be skeptical about how things will play out between Harry and his family and there is undeniably tension between Harry and his older brother, Prince William, there may be one important royal who has an optimistic outlook: Queen Elizabeth. A royal insider shared some insight with People about the queen's perspective on the situation, and it seems that she may have a more positive outlook. "She has been through so many difficult times," the insider explained about Queen Elizabeth. "She knows things will come right in the end."
Despite any tension, Harry has made it clear that he plans to be there for important royal events, so hopefully things will be a little more relaxed if (or when) he visits in July for Princess Diana's statue unveiling.