The Real Life Partners Of The Cast Of Chicago P.D.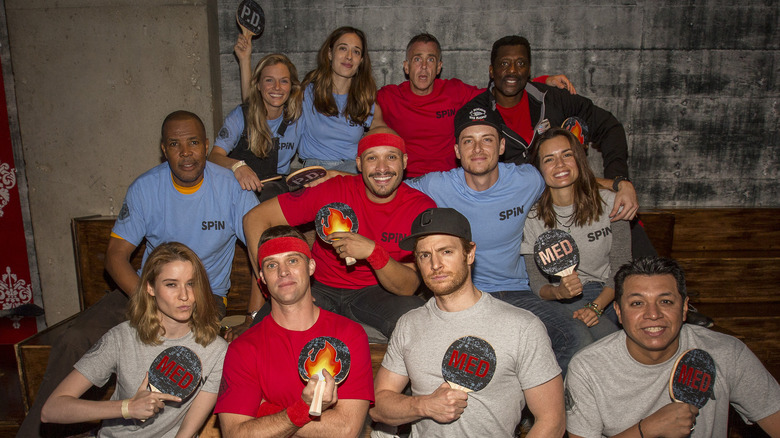 Barry Brecheisen/Getty Images
Eight seasons into NBC's "Chicago P.D.," viewers have seen a noble group of law enforcement officers working hard to solve some of the most gruesomely intriguing crimes. The show also chronicles some of the everyday challenges the men and women face on and off the job. The series is part of producer Dick Wolf's long-running "One Chicago" television franchise that began airing in 2012. It also includes the series' predecessors, "Chicago Fire" and "Chicago Med." In fact, the Chicago universe is so popular, it has maintained high ratings leading primetime averaging nearly seven million viewers per show between the three series (via The Hollywood Reporter).
The cast of "Chicago P.D." have instantly become household names in Hollywood. Given the show's popularity, it's safe to assume just how hard it may be for the show's cast to spend time with their friends, families, and lovers. If you're wondering if the love lives of the cast is equally as entertaining as the show, we have the answers you need. Let's dive into the love lives of "Chicago P.D." stars Jason Beghe, Sophia Bush, Amy Morton, Tracy Spiridakos, and Marina Squerciati. (Warning: there may be spoilers ahead!)
Jason Beghe was once married to Angie Janu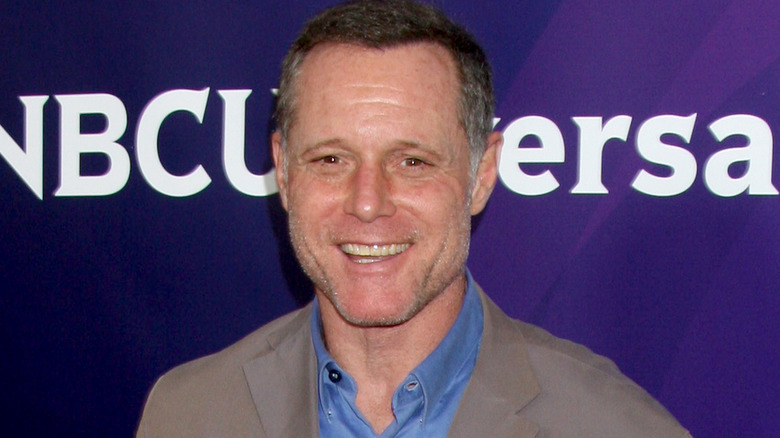 Shutterstock
You may know Jason Beghe as the well-respected Sergeant Henry "Hank" Voight, a familiar face of "Chicago P.D." that we can't seem to live without. Aside from working an often action-packed job as a cop, we get to see Hank as a family man through his relationship with his late son Justin. Beghe's role as Hank isn't too far off from his personal life as a father of two, whom he welcomed with his ex-wife, Angie Janu.
Beghe married the actor in February 2000, according to People. The two later welcomed their sons, Bix and Bo Beghe. The former couple seemed happy together; no one expected what was to come in December 2017 when Beghe filed for divorce. As reported by New York Daily News, the "Chicago P.D." star cited irreconcilable differences as the reason for divorce. According to court documents obtained by The Blast, Beghe listed their separation date as May 10, 2016.
Beghe and Janu's divorce was finalized in September 2020. For the most part, their divorce settlement was quite simple. The exes agreed to "share in all major decisions concerning the minor children's health, education and welfare including, but without limitation, schooling, religion, medical care [and] enrichment activities," the judgement stated (via People). In addition to joint custody of their two children, the two split their shared bank accounts and properties with each other. Beghe was also ordered to pay Janu $14,200 per month in child support, as well as "$16,700 per month" in spousal support. Clearly, divorce is expensive.
Sophia Bush and Chad Michael Murray's professional-to-personal relationship didn't work out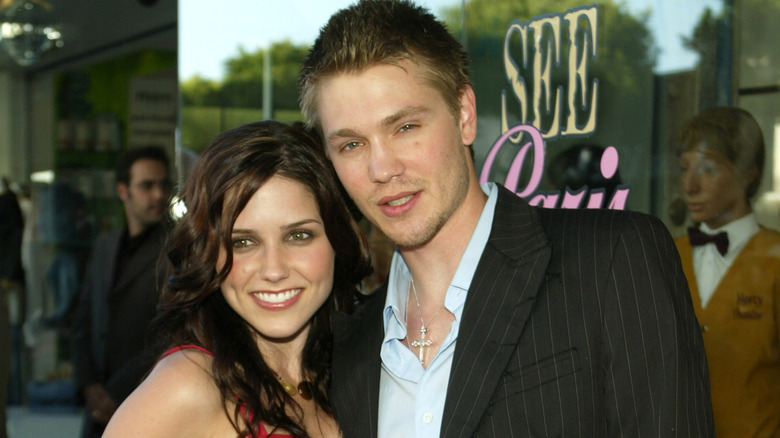 Michael Buckner/Getty Images
Sophia Bush is popularly known for her character as Erin Lindsay throughout the "One Chicago" franchise. She is also known for her role as the fashionista Brooke Davis on WB's "One Tree Hill," where at the time she met her on- and offscreen partner, Chad Michael Murray. Murray and Bush met on the set of the show and began dating in 2003 after the show aired. The former couple tied the knot in April 2005, in an oceanfront ceremony in Santa Monica, Calif. (via People).
The two didn't make it out of the honeymoon stage and, unfortunately, separated five months later. Bush filed an annulment on the grounds of fraud. A friend told People at the time, "Sophia went into the marriage believing in the sanctity of marriage, and Chad simply did not share that vision." Despite their brief marriage, Bush and Murray maintained a "professional relationship."
Bush did not publicly address her relationship with the actor for over 10 years. However, in a 2017 essay she wrote for Cosmopolitan, she wrote about her experiences of the pressures of finding "the one." She wrote, "And thus, I came to appreciate that relationships often serve a specific purpose at a certain point in time, for myriad reasons. Some are meant to heal you, some are meant to teach you how to build yourself up, and some are meant to show you how to trust your own intuition."
Amy Morton and Rob Milburn have been married for over four decades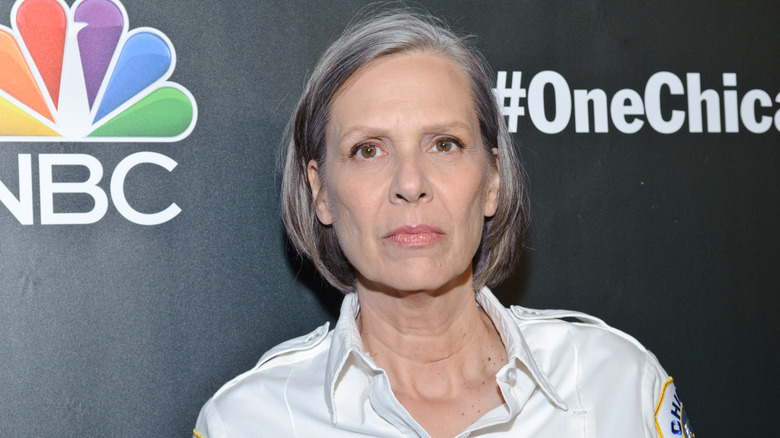 Timothy Hiatt/Getty Images
Although she began starring on "Chicago P.D." in 2014, Amy Morton's role as the hard-headed Desk Sergeant Trudy Platt is one that we can't forget. Often wearing an emotionless stare on the show, Trudy seems somewhat mysterious and hard to read for the detectives and patrol officers. Fear not, "Chicago P.D." fans — Morton's personality isn't as stoic as Trudy's. In fact, she shows a lot of emotions towards those around her, including her longtime husband, award-winning sound designer Rob Milburn.
Morton and Milburn have the longest relationship compared to the rest of the "Chicago P.D." cast. The couple has been married for over 40 years, according to Fintreat. The publication also reveals that the lovers initially didn't vibe well. The lovebirds eventually became a couple and tied the knot during a time when Morton lost her parents. There aren't many details about Morton and Milburn's marriage, given that Morton doesn't have any social media accounts. Clearly, being mysterious is Morton's thing on and off-camera.
Tracy Spiridakos and Jon Cor's engagement ended for unexplained reasons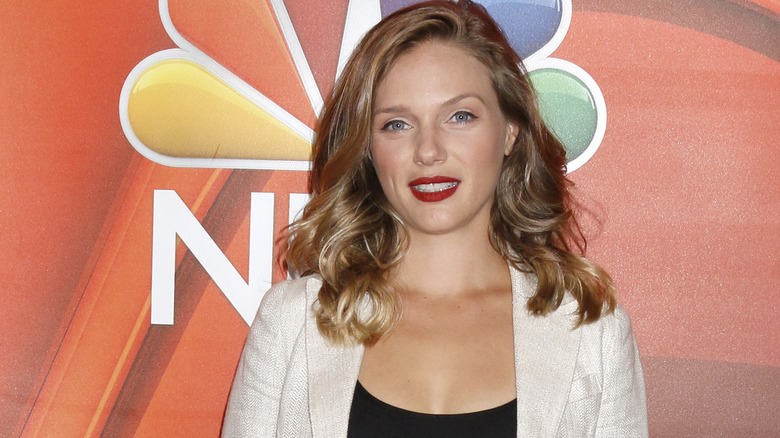 Shutterstock
Tracy Spiridakos is nothing like her role as Hailey Upton on "Chicago P.D." Instead, she is the exact opposite, describing herself to the Chicago Sun Times as a tomboy who loves to make people laugh. Aside from her onscreen role, Spiridakos' love life is just as dramatic. In 2012, she revealed she and her then-boyfriend Jon Cor were engaged. Per Distractify, she met the Canadian actor on the set of "The Boy She Met Online" a couple of years prior, where their relationship started. They starred together in other projects, including the television series "Being Human."
Spiridakos and Cor dated for two years before the latter proposed in December 2012. Some time after the engagement, it was announced that Jon and Tracy had called it off, ending their years-long relationship. It's unclear why the two split, but many rooted for them to make it down the aisle. Their engagement lasted for about a year. Neither party has publicly discussed their relationship. Since their split, Spiridakos has reportedly moved on to singer, songwriter and film producer, Justin Ruane (via Fintreat). There aren't too many details about their relationship, as of this writing.
Marina Squerciati is married to a lawyer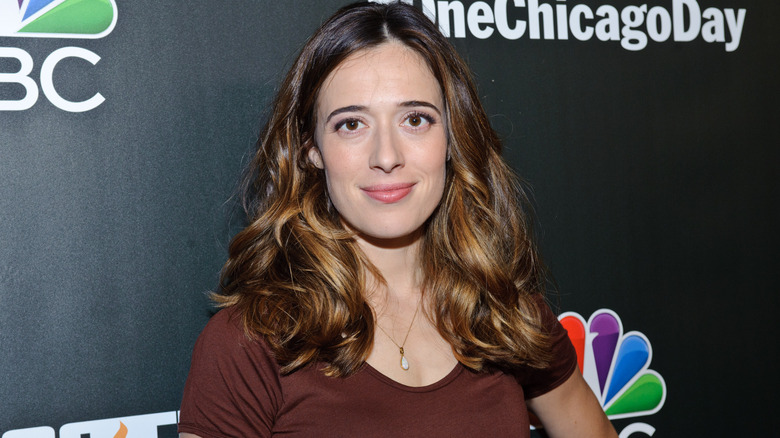 Timothy Hiatt/Getty Images
Marina Squerciati may play Officer Kim Burgess in the Intelligence Unit, but her personal life remains a mystery off-camera. However, there's a few details we know for sure about Squerciati, such as her marriage to attorney Eli Kay-Oliphant. Per Celeb Suburb, the couple have been together since the early 2010s. The couple even attended the same college but it's unclear how the two met. Considering that Eli graduated in 2001 while Marina in 2003, it's possible that the two might've crossed paths at one point.
Squerciati welcomed her first child in May 2017, which she announced via Twitter. The "Chicago P.D." star uploaded the first photo of her baby girl on Instagram in May 2017. She captioned the snap, "Please welcome our newest female detective on the #ChicagoPD force! And to all my friends who got me Pampers off my registry ... THANK YOU. Um, turns out babies use them. A lot." Squerciati often shares photos with her little girl, but many have questioned why her husband never appears in any of the photos. This has raised many questions surrounding Oliphant's paternity of Squerciati's baby. Of course, Oliphant is the father of the baby detective.