Cody Simpson Opens Up About Split With Miley Cyrus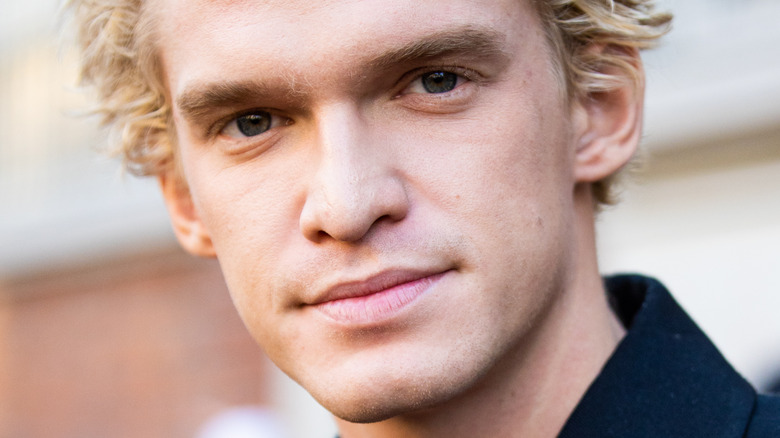 Claudio Lavenia/Getty Images
Cody Simpson has revealed that dating Miley Cyrus involved a bit of a learning curve, as he called the relationship "just one of those phases." Simpson was previously Mr. PDA with the "Midnight Sky" singer on social media, but after the pair parted ways, the Aussie's lips have remained sealed. However, Simpson gave a rare interview to Australia's "60 Minutes" on May 30 where he opened up about their breakup amid his new career venture — Olympic swimming.
Simpson and Cyrus were first romantically linked back in October 2019, shortly after she split from "The Hills" star Kaitlynn Carter and got divorced from Liam Hemsworth, per People. However, Simpson told "60 Minutes" he had known Cyrus for a "long time before that point." 
"She'd kind of acted almost as like a, not as a mentor, but she was always a heightened creative person," he began. "We went from kind of being good friends and just having a lot of the same friends to being together for a while." Following less than a year of dating, the pair called it quits in August 2020 with Cyrus confirming the news during an Instagram Live. 
At the time, she suggested the breakup was amicable and that they were both "individually working on" themselves, per E! News. Simpson also echoed this message, suggesting it was only natural for them to break up. "Everything ended fairly amicably. It was just one of those phases I guess you go through and you learn a lot from it." Perhaps Simpson is referring to when the couple got matching tattoos only two weeks after officially getting together?
Cody Simpson's mom says she wasn't happy with his all relationships
Mothers know best right? While Cody Simpson was fairly level-headed about his relationship with the "Bangerz" singer, his mom was a little more forthcoming during her "60 Minutes" interview. Angie Simpson was asked about whether she fully supported Cody's previous relationships, to which she laughed and said, "Some I were," per People. Without disclosing names, she added, "He had some lovely girls. We've had some interesting rides and dinners at different people's places."
Before Gigi Hadid had a baby with British singer Zayn Malik, she was all loved up with the Aussie for more than two years. During an interview in April 2020, Cody explained the pair faced constant paparazzi interference, but was "disappointed" when they could not make it work in 2015, per Republic World. Cody also dated Lindsay Lohan's younger sister Ali in 2018 was rumored to have dated Kylie Jenner back in 2011, per People. 
While Cody is currently off the market — he's been dating model Marloes Phtevens since December 2020, per People — Miley Cyrus suggested she would not rule out a romantic reunion with him. During her Instagram Live, Cyrus said, "For right now, two halves can't make a whole" and that they are "just deciding who we wanna be," per E! News. But she also told fans not make "drama" if they are seen "hanging out" or "getting pizza." 
As much as we love the thought, pizza might be off the table for a while with Cody currently hard at work in his attempt to qualify for the Australian Olympic swimming team.