Who Is Casey Anthony's Ex-Boyfriend, Tony Lazzaro?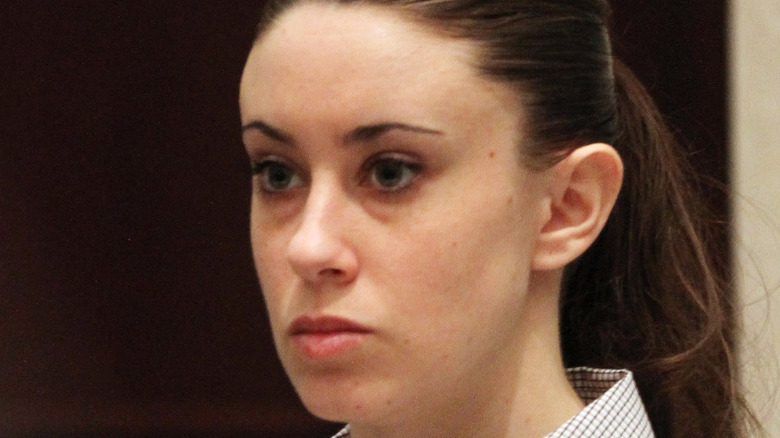 Pool/Getty Images
The Casey Anthony trial captured the attention of millions worldwide in 2011 as the young mother was charged with the death of her two-year-old daughter, Caylee Anthony. As covered by CNN, when her daughter had originally been reported missing in 2008, Casey claimed that Caylee had been left with a nanny, but that story was exposed as false.
Leading up to her arrest, Casey had sent a series of text messages to her then-boyfriend, Tony Lazzaro, who wound up being a key witness in the trial. "I'm so sorry for not telling you what happened. We obviously need to talk. I need you, and I love you more than anyone," Casey wrote to Lazzaro in a text exchange on July 16, 2008, via Riverhead News-Review. That same day police had confronted the mother and made her admit that Caylee was missing.
Lazzaro was upset that his then-girlfriend had been deceitful. "Why wouldn't you tell me of all people? I was your boyfriend who cares about you and your daughter," he wrote back to Casey. She admitted to deceiving more people than just Lazzaro. "I lied to everyone. What was I supposed to say? I trust my daughter with some psycho. How does that look?" Casey replied. "If they don't find her, guess who gets blamed and spends an eternity in jail," she wrote at the end of the text exchange.
So what has happened to Lazzaro since this text exchange? Keep reading to find out more about Casey's ex.
Casey Anthony lived with her boyfriend while Caylee was missing
Tony Lazzaro was a student at Full Sail University in Florida when he dated Casey Anthony. In addition to being a student, Lazzaro worked as a party promoter at night clubs, per ABC News. During Lazzaro's testimony at Casey's trial, he said that she would bring Caylee Anthony to his apartment, and recalled a time when Caylee played too close to a pool and the young mother disciplined her.
After Caylee went missing, Casey unofficially moved into Lazzaro's house to live with him and his roommates. The men all testified that Casey helped out around the house by doing laundry and cooking meals for the college students, per ABC News. Casey also went partying with the three men while Caylee was missing. "She seemed like a fun party girl, someone that would probably get along well with our group of friends," Clint House, one of Lazzaro's roommates, said during testimony.
Lazzaro — who had met Casey on Facebook — testified that her behavior did not change while she lived at his place, per The Palm Beach Post. In fact, the college student had no idea anything was awry until Casey's mother showed up at his apartment. Detectives arrived at his home hours later to search for clues for Caylee's disappearance, via Reuters.
Keep reading to see what happened to Casey's ex after the trial.
Tony Lazzaro moved on
Tony Lazzaro graduated from college in 2009 and moved back to his parents' home in Shoreham, N.Y. at the time. Members of the media gathered outside the home prior to the trial where his father, Anthony Lazzaro, addressed the media. "We've supported him; everybody is fine," Tony's father said. "It's just unfortunate he met the wrong person at the wrong time," via Riverhead News-Review.
Casey Anthony was found not guilty of murder charges for the death of Caylee Anthony but served a short sentence for lesser charges. According to one of Tony's former roommates, Cameron Campana, none of the men had contact with Casey after she was arrested. "We were just four guys going to college, and then suddenly we were in the biggest case since O.J.," Campana said on an episode of "A&E Real Crime" in 2018. 
Campana told A&E that Tony had briefly worked in the music industry after he finished college, but later got a job with his dad working in construction. Although the two did not remain close, Campana mentioned that Tony was married and he saw photos of his old roommate's wedding on Facebook.