Monique Samuels Opens Up About The Trauma That Led Her To Exit The Real Housewives Of Potomac - Exclusive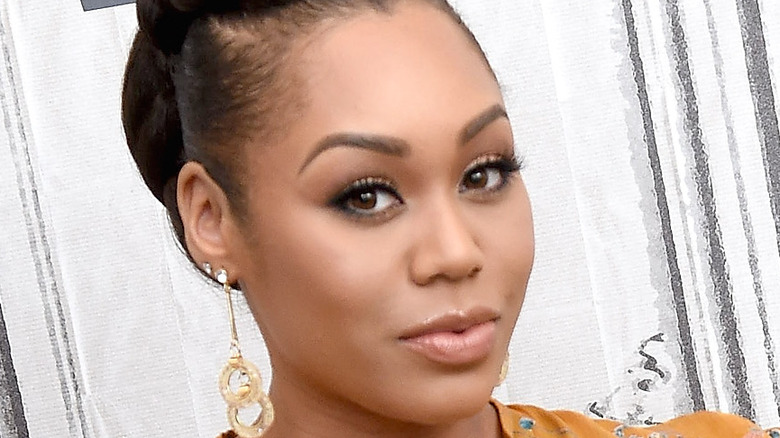 Gary Gershoff/Getty Images
Monique Samuels joined "The Real Housewives of Potomac" in the show's second season, and didn't take long to become a fan favorite. In the seasons that followed, Samuels found herself in the center of all manner of drama, ranging from a friendship-ending clash with fellow Potomac Housewife Charrisse Jackson Jordan to her no-holds-barred feud with Candiace Dillard. After a contentious appearance in the Season 5 reunion special in December 2020, Samuels took to Instagram Live to announce her exit from "RHOP."
Since then, Monique has been focusing on her business, Mila Eve Essentials. She's also saying goodbye to "The Real Housewives of Potomac" with the launch of a new three-part YouTube series, "Bindertime Stories," inspired by the color-coded binder full of receipts she brought with her to her final reunion special. In an exclusive interview with Nicki Swift, Monique candidly opens up the trauma she experienced during "The Real Housewives of Potomac" that led to her exit.
Monique Samuels explains her decision to leave The Real Housewives of Potomac
According to Monique Samuels, "Bindertime Stories" provided a creative outlet allowing her to "just be done with the whole traumatic experience that I've been involved in over the past four years..."
In fact, Monique explained her decision to exit "The Real Housewives of Potomac" came from "the unfairness" she witnessed behind the scenes. "I mean, it's different when you're fighting the women on the show, but when... it's very clear and evident with the network and production, that's when it's time to go. And for me, I just didn't like how everything was very one-sided with the editing and everything else at the conclusion of the reunion," she explained. 
"I think what really turned me off was just the idea that they tried to flip a whole situation that involved my child and try to make it seem as if my husband and I would want to bring this as a storyline for their show," Monique continued. "They didn't expose the people who really were behind the scenes, plotting during the off-season when they're not even being paid; plotting and planning things and just very negative and ugly."
Monique Samuels says there are "actual villains" on The Real Housewives of Potomac
That one-sided portrayal, Monique Samuels said, was the driving force behind her decision to quit "RHOP" for good. "When they only wanted to show my husband's and my response and not show evidence that was clear to everything that we had been talking about, I was like, 'You know what? I don't have time for this,'" Monique explained. "They are doing what they feel... is needed to make their show run and to do whatever they need to do for the sake of the show. I'm going to do what I feel is needed for the sake of my sanity and for my family." 
"It's not that they manufactured drama that wasn't there. It's just that there are actual villains on this show, but they try to make the people who are actually the victims be the villain," Monique added. "It's like they flip everything to tell whatever story it is that they want to tell and paint whatever picture that they want to paint. And then when it comes down to it, when they realize, 'Whoa, there's two or three of these people that really need to go down and people really need to know what's really happening,' they would much rather protect those people than expose them. So it's like they pick and choose who they want to wear that badge of a villain."
Monique Samuels' "Bindertime Stories" can be seen on her "Tea with Monique" YouTube channel. Find out more info about Mila Eve Essentials right here.