Inside Queen Elizabeth's Relationship With Princess Charlotte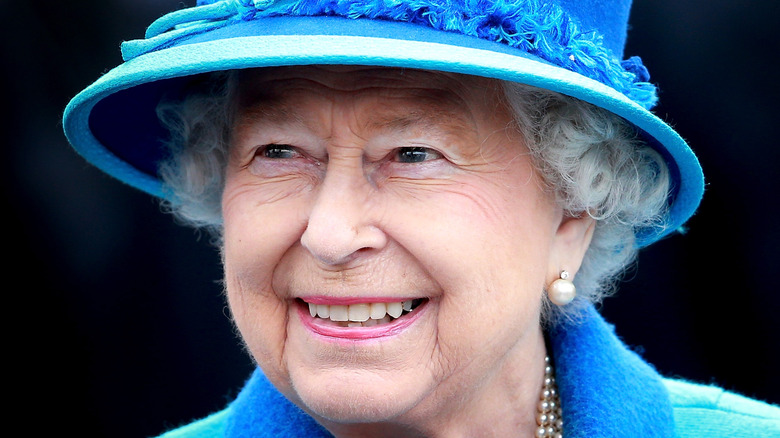 Chris Jackson/Getty Images
Prince Philip lived a long fruitful life until the age of 99, and members of the royal family celebrated his life while mourning his death. William, Prince of Wales had the unenviable position of explaining Philip's death to his three young children: Prince George, Princess Charlotte, and Prince Louis. Months before Philip's death, William and Catherine, Princess of Wales' children put together an adorable card to celebrate Philip and Queen Elizabeth II's 73rd wedding anniversary, per Express. After Philip's death in April 2021, William explained to his kids why their great-grandfather was gone. "William told George, Charlotte and Louis that Prince Philip has 'gone to heaven' and 'is an angel now,'" a source told Us Weekly. In a statement on his grandfather's death, William recalled the "special memories" he had of the children spending time with their great-granddad.
Prior to her death on September 8, the queen maintained a good relationship with her grandson and his family. During a drive-in movie night on May 27, 2021 Kate accessorized with a pair of dazzling sapphire earrings that she borrowed from Elizabeth, per People. In February 2021, word broke that William and Kate wanted to add a fourth child to their family. A source confirmed that the queen was "overjoyed" but wanted the Prince and Princess of Wales to give it careful thought. "She adores her great-grandchildren," an insider told Us Weekly. "She's slightly concerned that [William and Kate] are biting off more than they can chew."
Of course, the Waleses didn't have another child prior to the queen's death, leaving Charlotte time and space to develop a relationship with her.
Charlotte is a lot like the queen
Prince William and Princess Catherine's second child, Charlotte Elizabeth Diana, was born on May 2, 2015, and named after both her late grandmother, Princess Diana, and her great-grandmother, Queen Elizabeth II. As covered by the NZ Herald, the queen waited only three days after Charlotte's birth to meet her fifth great-grandchild.
The Prince and Princess of Wales made sure their children had a good relationship with their great-grandparents, and as a result, the queen was fairly close with all three of them. In 2018, Elizabeth met with a 10-year-old girl after she won a school religious project. The queen asked if the girl looked after her younger sister, but the girl's mother said, "It's the other way around," per People. This reminded Elizabeth of the dynamic between her great-grandchildren. "It's like that with Charlotte and George," she replied, inferring that Charlotte took care of her big brother.
Through the years, many have noticed a striking resemblance between Charlotte and the queen. When Charlotte turned 6 years old, her parents shared a photo of her with the press. Russell Myers of the Daily Mirror compared it to a snap of the queen at a similar age. "Somebody sent me a picture of the Queen at seven and it's just striking," he said on an episode of "Pod Save the Queen" (via Express). There were similar comparisons between the two when the royal couple released a Christmas photo of Charlotte in December 2020, per People. Looks like the great-grand apple didn't fall too far from the royal tree!
Princess Charlotte has a sentimental heirloom from Queen Elizabeth II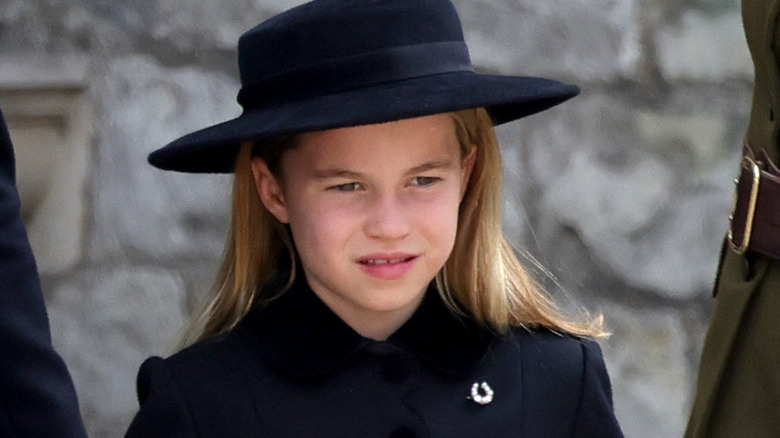 Chris Jackson/Getty Images
Princess Charlotte has publicly donned a special memento that demonstrates her close connection with Queen Elizabeth II. As stated by People, Queen Elizabeth II previously gave Charlotte a brooch that is a royal family heirloom. The daughter of Prince William and Kate Middleton wore the piece of jewelry, which the outlet described as a "diamond horseshoe," for her late great-grandmother's funeral service. Queen Elizabeth the Queen Mother, the mother of Queen Elizabeth II, was the original owner of the brooch and was first seen sporting the heirloom in 1929. The horseshoe shape of the brooch has an additional sentimental meaning, as it is a nod to Queen Elizabeth II's longtime interest in equestrianism.
When she attended the funeral service, Charlotte was ready to display her respect for Queen Elizabeth II. During a recap of the event, Today noted that Charlotte and her older brother, Prince George, were the "only of the queen's 12 great grandchildren" who were present at the service — perhaps because they are in the direct line of royal succession. The young royal was seen reportedly reminding George of the protocol for the service, saying to him, "You need to bow," while their great-grandmother's coffin was passing by them, per Cosmopolitan. The pair then bowed their heads together. Furthermore, Sky News Australia shared a video which showed Kate comforting Charlotte as she became emotional following the funeral honoring the queen, whom she lovingly referred to as "Gan Gan."