What Do Anthony Fauci's Leaked Emails Reveal?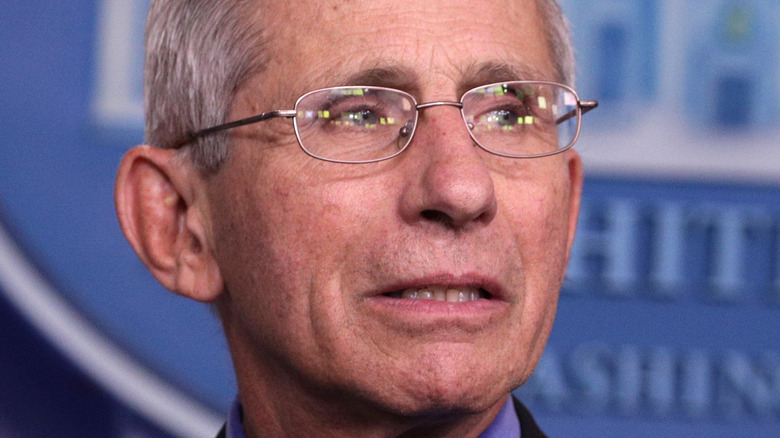 Alex Wong/Getty Images
Dr. Anthony Fauci's correspondence during the early days of the COVID-19 has been published by BuzzFeed News and the Washington Post, revealing the fatigue and stress that the president's chief medical advisor went through in 2020.
The emails came from unexpected sources like the actor Morgan Fairchild, known for playing Chandler's mother on "Friends," who offered to use her Twitter to spread helpful information about the virus, per BuzzFeed. Mark Zuckerberg reached out about plans to set up an information hub with the help of Facebook. And Chinese health official George Gao also contacted Fauci to apologize for an interview in which he was quoted as saying it was a "big mistake" for America not to recommend the use of face masks.
"I saw the Science interview, how could I say such a word 'big mistake' about others? That was journalist's wording. Hope you understand," Gao wrote on March 28, 2020, according to the Post, adding that the two nations needed to "work together to get the virus out of the earth." Fauci agreed, replying, "Thanks for the note, I understand completely. No problem. We will get through this together."
The doctor explained the wide range of emails to the Post, revealing that he was "getting every single kind of question, mostly people who were a little bit confused about the mixed messages that were coming out of the White House and wanted to know what's the real scoop."
Fauci faced a White House 'in full overdrive'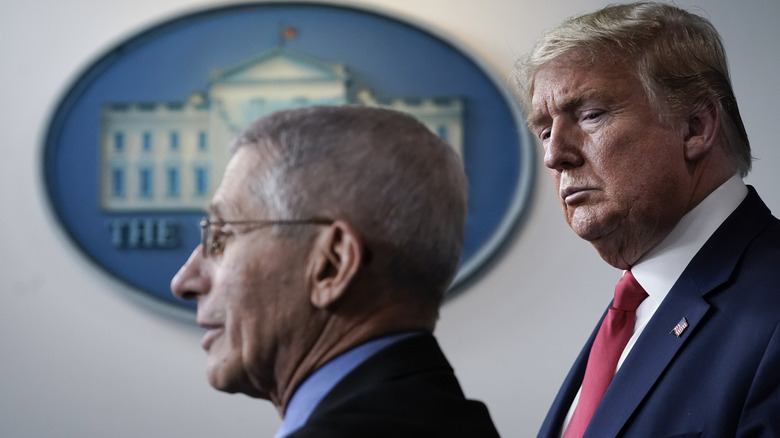 Drew Angerer/Getty Images
The emails also gave an insight into Dr. Anthony Fauci's experience working with Donald Trump, which he admitted was a turbulent relationship. As the doctor later told The New York Times, he considered quitting, but felt that someone had to "not be afraid to speak out the truth." According to BuzzFeed News, Fauci commented on February 2, 2020 that the White House was "in full overdrive and I am in the middle of it," describing the atmosphere as "reminiscent of post-anthrax days."
And the negative attention and harassment that Fauci received, especially in the early days of the pandemic, didn't go unnoticed. As the Washington Post noted, his Chinese counterpart George Gao reached out again on April 8, 2020. "I saw some news (hope it is fake) that [you] are being attacked by some people. Hope you are well under such a irrational situation," Gao wrote in an email. "Thank you for your kind note," Fauci replied after three days. "All is well despite some crazy people in this world."
He also hinted at how he felt about conducting press conferences with Trump after one was canceled on April 21, 2020. "Yikes.......... That would make 4 days in a row without a Press Conference for me," the doctor observed, following up his words with smiley emojis. Fauci insisted that he wasn't being censored by the Trump administration, however, telling a columnist: "I have never been muzzled or told that I could not speak out publicly about anything during this administration," per BuzzFeed News.
Dr. Fauci said being played by Brad Pitt 'made his year'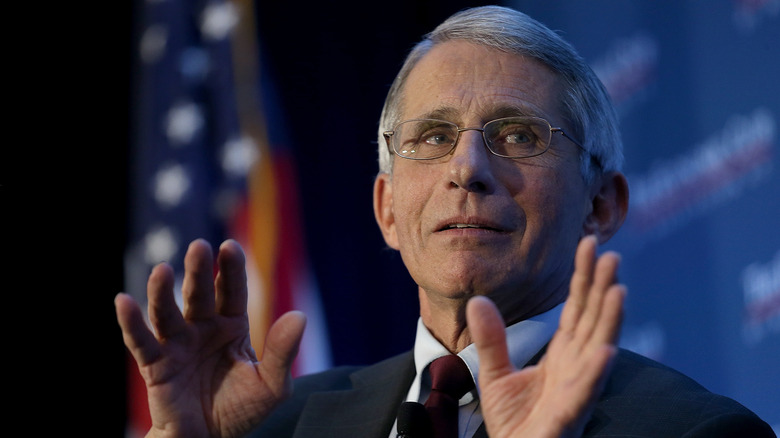 Win Mcnamee/Getty Images
According to BuzzFeed News, the correspondence also revealed Dr. Anthony Fauci's reaction to becoming a celebrity through his constant appearances on the news.
"Click on the 'Cuomo Crush' and 'Fauci Fever' link below. It will blow your mind. Our society is really totally nuts," Fauci wrote to a colleague on April 8, 2020, linking to a news story about the fans he had gained. When another co-worker sent him an article about a donut shop in Rochester that had sold out of donuts with his face on them, the doctor replied that it was "truly surrealistic" to receive this kind of attention.
"Hopefully this all stops soon," Fauci added, and later described his fame as "not at all pleasant, that is for sure." There were some aspects he clearly didn't mind, however, like Brad Pitt playing him in a "Saturday Night Live" sketch. "One reviewer of the SNL show said that Pitt looked 'exactly like me.' That statement made my year," the medical expert joked in an email to a colleague.