What We Know About Mariah Carey's New Single
Shutterstock
With a three-decade career that has scored herself 19 No. 1 singles on the U.S. Hot 100, six No. 1 albums on the U.S. Billboard 200, and five Grammy Award wins, it comes as no surprise that Mariah Carey has worked with some of the biggest names in the industry.
Some of Carey's most successful collaborations include "Fantasy" featuring deceased rapper ODB and "#Beautiful" with R&B singer Miguel. With that being said, "One Sweet Day" with iconic '90s boy band Boyz II Men, went on to hold an impressive record for many years. The ballad remained at the top of the U.S. Hot 100 for 16 weeks and remained the song with the most weeks at No. 1 for over 20 years. It wouldn't be until 2019 when Lil Nas X's "Old Town Road" surpassed the number of weeks at No.1, per Billboard.
According to Songfacts, Carey has worked with producers Jimmy Jam and Terry Lewis for a number of songs. Some of which include "Through The Rain," "Can't Take That Away (Mariah's Theme)," and "Thank God I Found You." The legendary duo — who have also teamed up with the likes of Janet Jackson, Mary J. Blige, and George Michael — have plans to release their first album and it seems Carey is going to be a part of it. Keep reading to find out more.
Working with Mariah Carey again was on Jimmy Jam and Terry Lewis' wishlist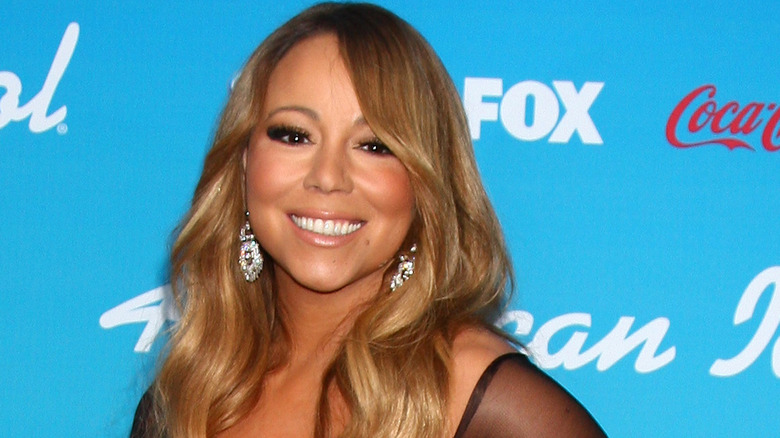 Shutterstock
In April 2019, Jimmy Jam revealed via Instagram that he and his work partner Terry Lewis had plans to release their debut album, "Jam & Lewis Vol 1." Even though Jam hinted the LP would drop that year, it still has yet to be released as of June 2021. With that being said, the duo has announced via their joint Twitter account their next single, which will feature powerhouse vocalist Mariah Carey.
"When we started #JamAndLewisVol1 we put a wishlist together of all our favorite artists," they tweeted, adding, "The chance to reunite with our friend @MariahCarey was wishlist fulfillment at its finest." Fans will be able to hear the song, titled "Somewhat Loved," on June 11. Unsurprisingly, the announcement caught the attention of many of Carey's fans, also known as Lambs, in the replies. 
"We are READY!!!!" one user tweeted, adding a GIF of Carey belting out her vocals in a recording studio. "Goodness so damn ready to get this track," another person shared. "Omg this is gonna be AMAZING. Cannot WAITT," remarked a third user.