The Sister Wives Cast Member 30% Of People Would Love To Get Rid Of
There's no doubt that "Sister Wives" is one of TLC's hottest hits. The show follows the Brown family —  Kody Brown and his four wives: Robyn, Christine, Janelle, and Meri —  who are living their lives as polygamists. The series began in 2010, and most of the Brown kiddos who have grown up before our very own eyes and many of them have moved on and started lives on their own. And we're not going to lie — it's almost like our own kids leaving the next.
While a lot of the show is centered around the Brown children, it's the five adults who really bring the drama and help draw viewers in season after season. Kody, Robyn, Christine, Janelle, and Meri have gone through plenty of ups and downs while living their lives in front of the camera. It's interesting to see the dynamic between Kody and each of his wives, and there's no doubt that different viewers have different favorites in the family. Really, it's just based on preference. So Nicki Swift conducted a poll to see which member of the Brown family viewers would most like to get rid of — and the results were pretty interesting. Keep scrolling to find out more about how you answered — specifically, who came in first (and who came in last). 
Who's the least favorite 'Sister Wives' cast member?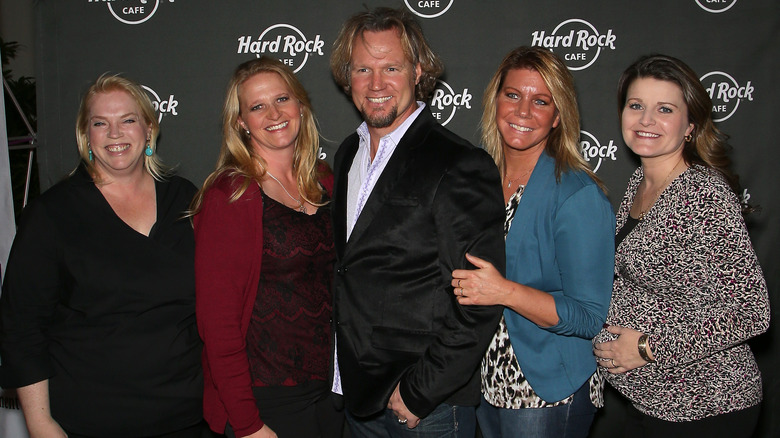 Gabe Ginsberg/Getty Images
One member of the Brown household accounted for slightly over 30% of the vote, and that person was Janelle Brown. Janelle is Kody Brown's second wife, and the pair tied the knot in 1993 (via Us Weekly). The couple shares six children together, and at times, Janelle has admitted to getting envious of the other wives. "Of course, I still get jealous," she dished to the outlet. "But I learned a long time ago [that] you really just have to figure out how to be okay with yourself." Despite Janelle being the front-runner in a not-so-great category, she still boasts an impressive following on Instagram of over 450,000.
Christine Brown came in second place in the poll, accounting for 21.69% of the vote. Christine is Kody's third wife, and the couple tied the knot (unofficially) in 1994 (via Fandom). They also have six kids together. The patriarch of the family, Kody, came in third place on the list with 17.73% of the votes. Ironically, this sandwiches him in the middle of his wives. Meri Brown, who has one daughter with Kody, is fourth on the list, with just a hair fewer votes than Kody at 16.70%. Meri is Kody's first wife, but the pair divorced in 2015 so Kody could marry Robyn Brown and adopt her three kids from a previous marriage (they also have two children together). Speaking of Robyn, she came in last place in our poll, with just 13.60% of the votes. We guess that technically makes her the favorite, right?