Why The Paramedics Were Called To Jojo Siwa's Pride Party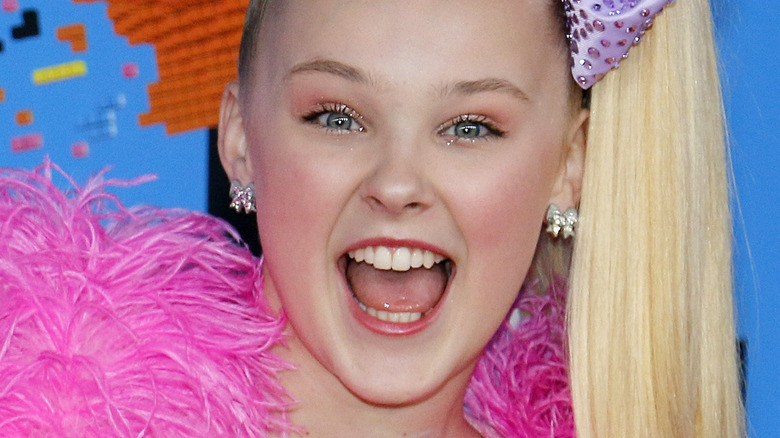 Shutterstock
At first, it seemed like a fun, festive celebration at YouTube sensation JoJo Siwa's Pride party — her first Pride since self-identifying as LGBTQ+ in January. Via her June 2 Instagram stories (reposted on a fan's Instagram feed), Siwa' rainbow-themed shin-dig, which included a bouncy house, ushered in Pride Month in style.
Siwa first hinted that she was a member of the LGBTQ+ community on January 22 via Twitter, wearing a shirt that read, "Best. Gay. Cousin. Ever." She captioned the post, "My cousin got me a new shirt." The "Dance Moms" alum quickly confirmed the speculation on the following day's Instagram live stream (via People), stating that she was queer, but did not wish to label herself further at the time. "The reason I'm not going to say this answer is because I don't really know this answer," Siwa told her fans in the Instagram live chat. 
In April, however, the teen idol got more specific in characterizing herself, telling People, "Technically I would say that I am pansexual because that's how I have always been my whole life ... just like, my human is my human." Revealed to be dating Siwa on "The Tonight Show With Jimmy Fallon" in February, her girlfriend Kylie Prew was on hand at the June Pride bash as well, dancing in shorts matching Siwa's jacket. So what could have sent paramedics to the teen idol's joyful get-together? Keep reading. 
Possible trouble at JoJo Siwa's Pride party
On June 1, a day before her big bash, JoJo Siwa shared a video message via Instagram celebrating the start of Pride Month. "Finding true love and also just being part of a community that is so happy and so loving and so accepting ... it just feels like the best thing ever and I am the happiest that I have literally ever been," she exclaimed.
But in a downward turn of events, police officers and paramedics were called to JoJo Siwa's Pride party mid-evening on June 2, according to TMZ. "We're told someone reported a male around 30 years old might have ... [overdosed] on LSD," the outlet wrote. Inside sources at the party claimed that the individual was already "high" and "in pretty rough shape" entering the celebration at Siwa's San Fernando Valley, Calif. home. Per TMZ's sources, police ruled out the possibility of a crime at the incident and the person was hospitalized following paramedics' arrival. "The person was transported to the hospital, and police determined there was no crime committed," they wrote.
Prior to this occurrence, fellow influencer Tana Mongeau's Instagram post, as well as Siwa's Instagram story (as reposted by a fan), documented the seemingly fun energy that abounded at the LGBTQ+ celebration. With a huge neon sign reading "Pride" and rainbow-colored balloons cascading seemingly down every wall, Siwa's party seemed like an all-out good time. There also appeared to be a bejeweled piano, a JoJo Barbie Wall, and a rainbow-colored cake (amongst other assortments of food). 
At this time, Siwa's spokesperson has not returned TMZ's request for comments, and we're hoping everyone is okay.
If you or someone you know is struggling with substance abuse and mental health, please contact SAMHSA's 24-hour National Helpline at 1-800-662-HELP (4357).
JoJo Siwa has had extravagant parties in the past
JoJo Siwa's parties have always been extravagant affairs, but they were more gatherings for guests of all ages. For instance, her 16th birthday in 2019 was a star-studded event. According to E! News, Kardashian offspring North West and Penelope Disick were in attendance, as was fellow YouTuber Colleen Ballinger, "Fuller House" actor Jodie Sweetin, and "Dance Moms" star Abby Lee Miller.
The bash, which took place at the W Hotel in Hollywood, was also part of a Nickelodeon special called "JoJo's Dream Birthday." Based on photos from the party, almost everyone showed up wearing bright colors and lots of glitter. Some even sported JoJo's signature bow.
For her 17th birthday in 2020, the party may not have included celebrity guests due to the pandemic, but it was still as over-the-top as ever. In fact, the YouTube star threw herself a JoJo Siwa-themed birthday party complete with plates, balloons, cups, and even ice cream with her face plastered all over them. At the time, she showed off her celebration via TikTok, which saw her sporting a classic glittery JoJo outfit with the number "17" on her chest.
"I'm just saying, it's pretty cool to me that it's my 17th birthday and I can have my own themed birthday party," JoJo said in the video. "This is like actually legit."