Dua Lipa Fans React Passionately To 'Love Again' Music Video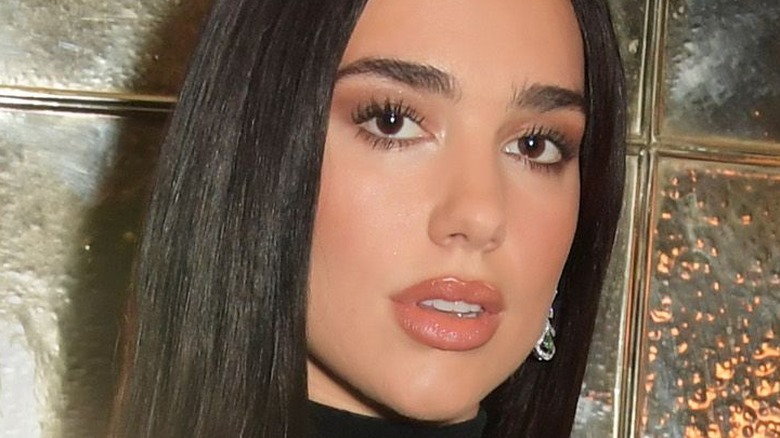 David M. Benett/Getty Images
Since the release of Dua Lipa's "Future Nostalgia" album in 2020, the British singer's career has continued to grow from strong to even stronger. Along with winning a Grammy Award for Best Pop Vocal Album, she also took home a BRIT Award for British Album, per The Guardian.
In a December 2019 interview with Beats 1, Lipa discussed the album ahead of its release. "When I started [making] 'Future Nostalgia,' I had a couple people be like, 'All right, you sure this is what you want to do?' Because obviously it is so different from the last record ... and the last record had the success it did, but I felt, as an artist, I had to grow and I had to mature," the "Physical" hitmaker explained (via MTV). "After touring for so long, I wanted it to be more instrumental and I felt more comfortable in the studio, so I kind of went in and gave my two cents on what I would want the production to sound like, which wasn't something that I did on my first record."
According to Billboard, "Future Nostalgia" entered the Top 3 in the U.S., while it out-peaked her self-titled debut album un the U.K., becoming her first chart-topper. The era has enjoyed a number of hit singles — "Don't Start Now," "Break My Heart," and "Levitating" — as well as their accompanying music videos. 
Lipa is not done with "Future Nostalgia" just yet, releasing a video for "Love Again." And fans are loving it.
Dua Lipa let out her inner cowgirl, and fans are obsessed
The music video for "Love Again" premiered on June 4.  Dua Lipa took to Twitter to inform fans of the release and explained when it all took place. "thank you to my gang for always pullin through!" she said, adding "We shot this video in the midst of our Brits rehearsals and prep. Learnt the choreo in 45 mins, kept adding outfits mid shoot but we did the damn thaaaang!!"
Throughout the majority of the video, Lipa let out her inner cowgirl and rocked a cow-print bikini top with a black country and western-style hat. She can be seen performing full choreography in a room full of dancers while riding a mechanical bull in another scene. In the first hour of its release, the video has been watched more than 460,000 times, proving to be very popular with fans — who especially loved her country western look.
"Dua Lipa dressed as a cowgirl, gives me a thousand years of life," one user tweeted. "dua lipa as a cowgirl wonder woman in love again is something we didn't know we needed," shared another. "OMG DUA LIPA LOOKS SO GOOD IN THE NEW LOVE AGAIN MV," passionately exclaimed a fan in capital letters, adding numerous eye-heart emoji. "I LOVE U SO MUCH AND I LOVE THIS VIDEO WITH ALL MY HEART YOU ARE SO BEAUTIFUL IM IN LOVE," remarked a fourth exuberant user.