Here's How Much Paul Klein From LANY Is Really Worth
Los Angeles-based indie-pop band LANY (pronounced Lay-nee), is known for their "dreamy pop-meets-R&B mix" of sound that sets them apart from other contemporary bands, per Teen Vogue. With hit singles like "ILYSB," "Made in Hollywood," and "Bad, Bad, Bad," LANY has quickly made a name in the music industry. Since their formation in March 2014, the group composed of lead vocalist Paul Klein, percussionist Jake Goss, and keyboard player/guitarist Les Priest has released three studio albums: "LANY," "Malibu Nights," and "Mama's Boy."
Even with the achievements that the band has experienced so far, there were times in the early days where the group kind of struggled. "We live in a one-bedroom apartment in Hollywood — all three of us sleep in the same bedroom," Klein told Teen Vogue in 2015. "We're living the dream, but we're still in the beginning stages and we make all our songs on a Dell computer in our house. Any recognition is amazing and we can't wait to see what comes next." LANY has gotten some of that recognition — they've performed and toured the world with the likes of John Mayer, Troye Sivan, and Halsey, according to Interview Magazine and Glide Magazine. But with all the hits and the celebrity contacts, how much is Klein worth?
Paul Klein spent his first big paycheck on a Rolex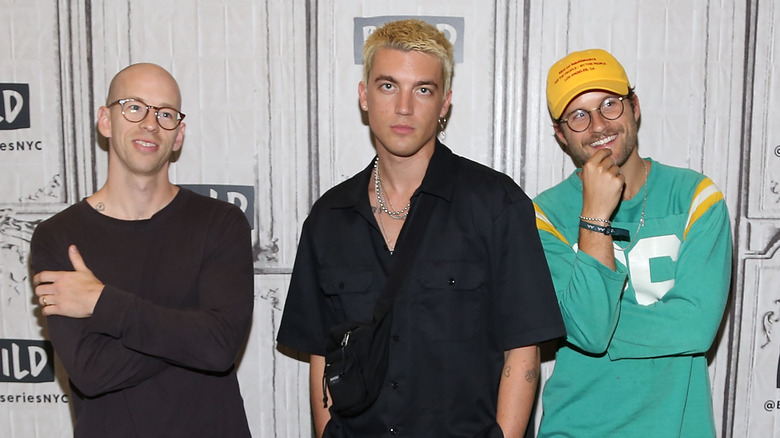 Manny Carabel/Getty Images
Paul Klein is the lead singer of LANY and is also known for being the guy whose heart was broken by popstar Dua Lipa in 2017, reported E! News. Klein has since made a major comeback, at least professionally, with bandmates Jake Goss and Les Priest. Given that they've had some hit singles and albums that did well commercially, what is Klein's net worth?
According to Idol Net Worth, Klein has an estimated net worth of $1.5 million. Years later, the singer and pianist can still remember his very first paycheck as a musician. "[It was] when we signed our record deal with Polydor in 2015," he told GQ. "Up until then we had all had other jobs as well as being in [LANY]: Jake worked for Deliveroo, I was wearing a suit and opening the door for customers at Celine on Rodeo Drive." Now that his band is one of the top up-and-coming musical acts in the business, Klein has splurged and spent a little frivolously. "At the top of 2018 we got a nice little surprise [check] because we'd played 135 shows in 2017 and the tour had gone really well," he said. "So I went out and bought myself my first Rolex. It's a black Submariner." Klein is doing well financially, and if LANY releases more great music, there will definitely be more luxury purchases in his future.