The True Meaning Behind 'Itty Bitty Piggy' By Nicki Minaj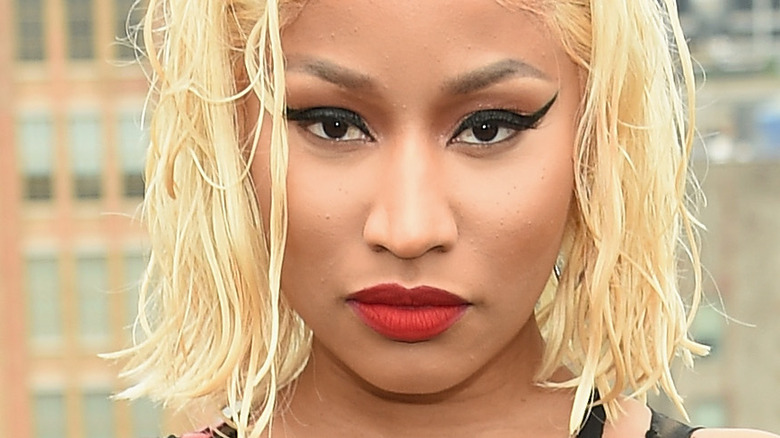 Dimitrios Kambouris/Getty Images
Nicki Minaj has recently made a comeback. After taking some time off to raise her newborn child with husband Kenneth Petty, Minaj marked her return on May 14 with the re-release of her 2009 mixtape "Beam Me Up Scotty." 
As Minaj fans will know, the project isn't a new album, but a re-release of her 2009 mixtape by the same name. This time, however, "Beam Me Up Scotty" includes three new tracks, including "Seeing Green" and "Crocodile Teeth." One song that seems to be a fan-favorite, however, is "Itty Bitty Piggy," from the original version of the mixtape. Based on all the social media reactions, "Itty Bitty Piggy" seems to be the Barbz' (un)official anthem... and rapping it word-for-word grants you access to the fan club.
"Imagine not knowing all the words to Itty Bitty Piggy..... including before Holiday had to bring it TF back. Yuck," one stan wrote on Twitter. "Rapping itty bitty piggy bar for bar makes me lightheaded but you gots to see it through," another one noted. Others are loving the fact that the song has entered Billboard's Hot 100 Chart, despite being a song from over a decade ago. "We really gonna see itty bitty piggy chart on the billboard hot 100, it's really happening," one person tweeted. But what is Nicki Minaj's "Itty Bitty Piggy" really about? Let's find out.
Nicki Minaj's 'Itty Bitty Piggy' remixes a Soulja Boy song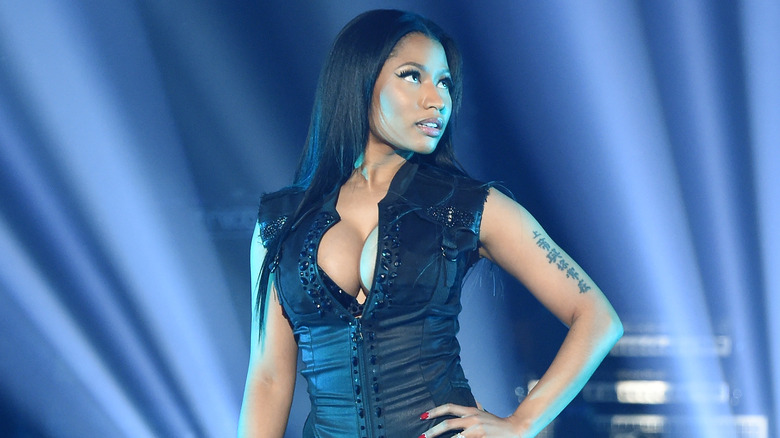 Jamie Mccarthy/Getty Images
Originally released in 2009, Nicki Minaj's "Itty Bitty Piggy" is actually a remix of Soulja Boy's "Donk." Borrowing Soulja's self-produced instrumental, Minaj brags about her rap skills. The song's playful title, meanwhile, takes inspiration from the "This Little Piggy" nursery rhyme (via Genius). "These b****s so cranky, give 'em a hanky," Minaj raps in the first verse. "M-mommy I'm cold, gimme my blanky." In the chorus, she compares her competition to valet drivers. "Now, if you see a itty bitty piggy in the market / Give that b***h a quarter and a car, tell her, 'Park it.'" 
The song's lyrics about Minaj's rap skills are what they seem, but "Itty Bitty Piggy" has taken on an outsize role among Minaj fans. It's so popular that she released a low-budget YouTube video for it, titled "BY POPULAR DEMAND!!! ITTY BITTY PIGGY VIDEO!!!!. It counts over 35 million views... and the comments are hilarious. "PLEASE RISE FOR THE NATIONAL ANTHEM," one person wrote. 
Despite surprising her fans with a re-release of "Beam Me Up Scotty," Minaj has discussed releasing a mixtape in the past. "I'll definitely drop a mixtape," she told Billboard in 2015. "I have to set an example for female rappers. I'm at the top of that food chain, and it's important to lead by example." Well said, Nicki! The rapper also says in "Itty Bitty Piggy" that she's "the baddest in the game," which makes the re-release come full circle.