The Truth About Donald Trump's 'Backwards' Pants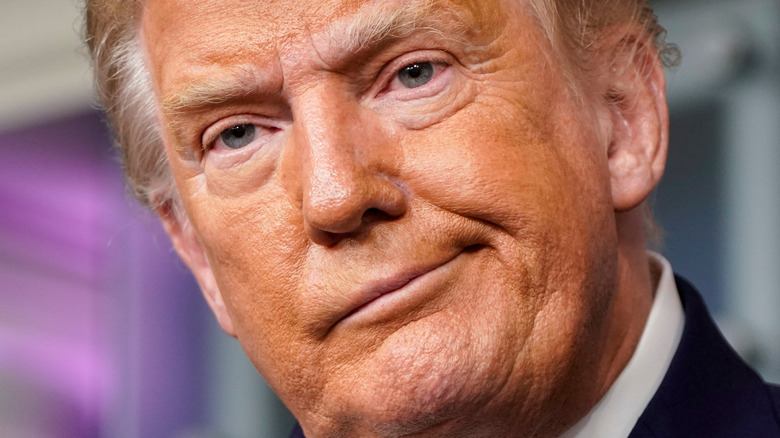 Shutterstock
It's safe to say Donald Trump hasn't been a stranger to the odd faux pas in his life. The 45th president of the United States has hit the headlines multiple times over the years for some errors in judgment, we mean, who could forget the infamous covfefe tweet that went viral in May 2017?
Before having his Twitter account deactivated, the then-president infamous tweeted, "Despite the constant negative press covfefe" (per The Guardian). The tweet was only deleted a few hours later and, despite much speculation it was a clear typo, then-White House Press Secretary Sean Spicer defended Trump and suggested he actually wrote the word on purpose. "I think the president and a small group of people know exactly what he meant," he told press who enquired about the bizarre message (via USA Today).
Well, fast-forward to June 2021 and Trump is still hitting the headlines for what seemed to some to be a big mistake. The former president was spotted showing off what appeared to be a major wardrobe malfunction when it came to his dark blue suit pants. But what really happened? Keep scrolling for the details.
Donald Trump's pants didn't appear to have a zipper at the front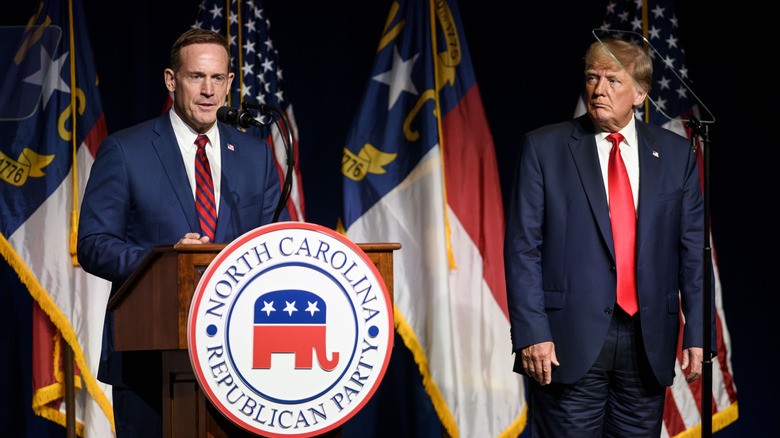 Melissa Sue Gerrits/Getty Images
Donald Trump attended a GOP rally in Greenville, North Carolina, on June 4 — and his appearance had many people talking as he sported a navy blue suit with a white shirt and bright red tie. Videos and photos of Trump at the event quickly began circulating online via news outlets, including TMZ, and several Twitter users speculated that he was wearing his pants backwards. Some snaps and footage didn't appear to show a visible fly as Trump moved to the site of the podium and stood in front of the crowd, and many were quick to point out they looked pretty wrinkled at the front.
"Others are noting this, but it can't be shared enough: Donald Trump gave his big speech today with his pants on backwards. Look close and tell me I'm wrong," one person tweeted. Another asked, "Did Trump not have a single staffer with the guts to tell him that he put his pants on backwards last night?"
However, despite the rampant speculation, it seems like Trump actually did manage to put his pants on the right way. Snopes busted the rumors by noting that higher quality pictures and video from the rally showed his trousers actually did have a done-up zipper on the front. As for why some people though otherwise? It seemed the fly may have been obscured by the lighting in certain snaps or editing blurred the fly.