Why Boxing Fans Have Had Enough Of Jake Paul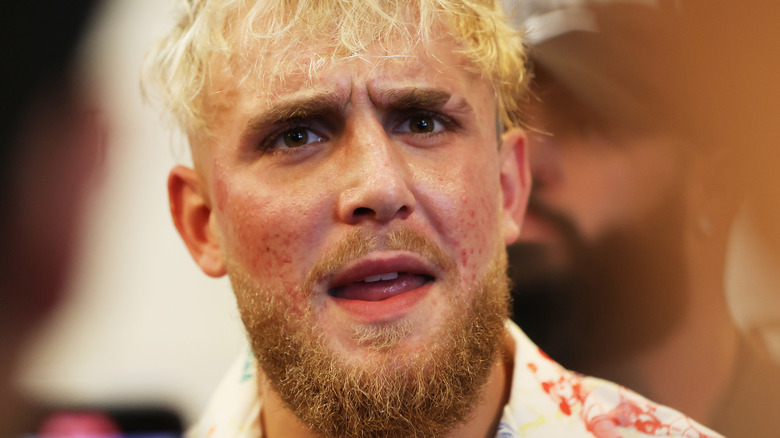 Cliff Hawkins/Getty Images
While the much-hyped exhibition boxing match between Logan Paul, a content creator best known for his bro-related (and sometimes controversial) slapstick public antics, and Floyd Mayweather, a retired legendary boxing champion, might have been a disappointment to fans of either (or both), there's at least one person who truly got a kick out of it. The person in question? None other than Jake Paul, who gained Internet notoriety similar to that of his older brother. 
As HuffPost reported on June 7, the younger Paul sibling was present during the Paul v. Mayweather fight throughout the entire eight-round debacle and was seen (and heard) rooting for his brother on the sidelines. (His decision to attend the event had already raised eyebrows, considering Jake had instigated an out-of-the-ring fight with Mayweather only weeks before the June 6 fight in Miami took place.) It seems, however, that Jake's cheers in support of Logan were generally met with annoyance from others — especially from the broadcast crew, made up of the comedy duo Desus and Mero, who repeatedly told Jake to "be quiet" over boasting that Logan was winning the match. In reality, this wasn't the case. 
But it seems that Jake, 24, drew the most ire after the conclusion of the boxing bout, which ended in a "no decision" call with no winners. So what exactly did Jake Paul do to irk boxing fans on social media? Read on below to find out the details.
Jake Paul's tweet was the final straw for boxing fans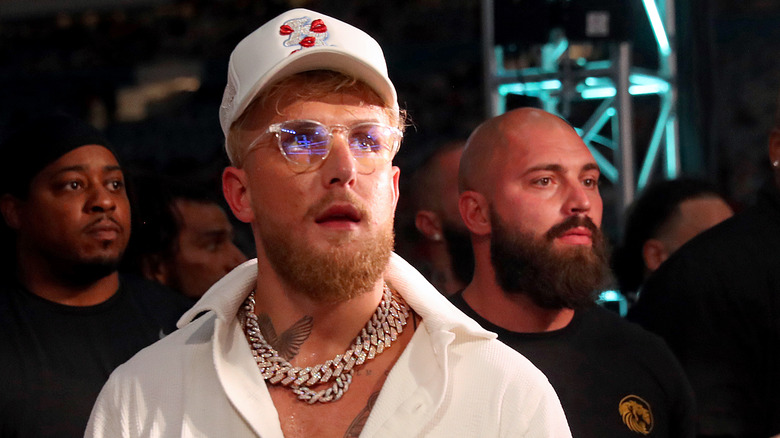 Johnny Nunez/Getty Images
According to The Wrap, the biggest faux-pas Jake Paul made after the end of his brother's boxing match against Floyd Mayweather occurred shortly after the final eighth round, when Jake boasted on Twitter that Logan Paul had defeated the veteran boxer. The tweet began with the score "50-1," a reference to Mayweather's record of winning 50 matches with zero losses, with the singular "one" meant to note Logan's "win" against Mayweather's spotless record. "HOLY F**K," Paul continued, "MY BROTHER JUST BEAT FLOYD MAYWEATHER." 
Despite Jake's assertion, his claim was decidedly false. As many pointed out in their own responses to Jake's tweet, the match ended with no official winner due to the absence of official judges overseeing the bout. Not only that, but paired with the fact that under those circumstances a winner can only be declared when a loser is knocked out, statistics noted throughout all eight rounds showed that Mayweather far outperformed Logan. Tweeting back at the content creator, a number of social media users used an actual photo of those stats to illustrate their point, pairing it with some commentary, ranging from "Need somebody to blindly support me like this," as one user put it, to a simple "no I don't think so," from another. It seems clear that Jake's assertions have only poured salt on the wound for boxing aficionados.