Jill Duggar's Instagram About Leftover Breast Milk Is Causing A Stir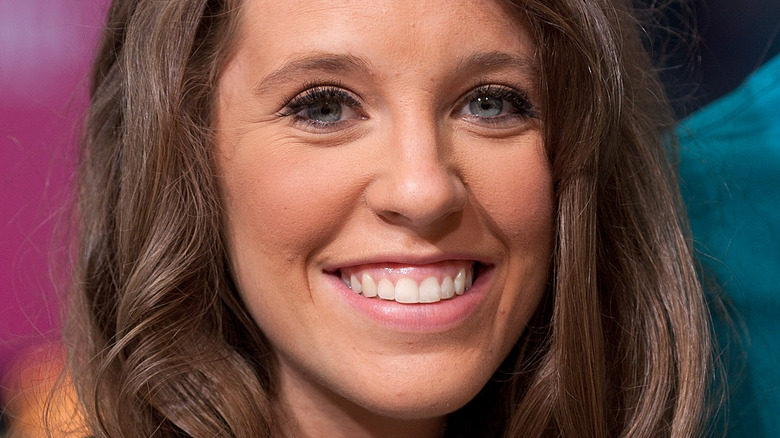 D Dipasupil/Getty Images
Jill Duggar has taken food waste to another level by not only freezing her leftover breast milk, but also giving it to a special member of the family. As a "19 Kids and Counting" alum, it's understandable the reality show star doesn't want any food or ... beverages for that matter, to go to waste.
Jill shared on Instagram that she was emptying the contents of her freezer when she found a bottle of breast milk that had been stored "for a couple of years now." She wrote, "I've had my last teeny bottle of breast milk in the freezer for nearly a couple years now (both my boys stopped breastfeeding around 2 years old and Sam is almost 4 now!)." Jill shares both Samuel (3) and Israel (6) with her husband of seven years, Derick Dillard. 
The former TLC personality acknowledged that while the breast milk was "probably a freezer-burnt nutrition-less substance now," it seemed edible enough for her youngest son to enjoy. "Well, Sam randomly asked to try it recently and it didn't look or smell bad when I thawed it out so I let him try it. As expected, he didn't like it after trying a couple sips," Jill explained.
But the mom-of-two and one-of-19 didn't decide to pour the remainder down the drain just yet — instead she fed it to her other baby ... her fur baby, Fena, that is.
Fans support Jill Duggar's decision, saying dogs have eaten 'worse things'
Anticipating a "dog fight," Jill Duggar defended her decision to feed her rescue pooch Fena leftover breast milk by telling Instagram followers "to chill." Jill posted a picture of Fena licking her bowl and joked, "Needless to say, now all 3 of my children have now had breast milk," before addressing the elephant (or should we say, dog?) in the room: "Also, before any of you jump on me for feeding it to the dog, she's fine. She's totally fine. I wouldn't have given it to her if i thought it would make her sick. So just chill mkay?!" 
If you're just as curious as we are, according to Top Dog Tips, breast milk may "not [be] deadly to dogs," but isn't recommended as "it contains lactose and generally, dogs cannot digest or process lactose well." But Jill's fans reminded any haters that dogs often eat far "worse things," with one user writing, "Dogs eat poo and who knows what else... I wouldn't worry if someone gets on you for giving it to your dog! He's your baby too." Another said, "It's frozen milk. It's not the worst thing the dog will ever eat (it would be a miracle if it was!)"
Other fans also praised her for taking food wastage seriously, saying, "Waste not want not. Healthiest dog on your block!" If you cast your mind back to film, "Marley and Me," Marley even ate some drywall ... so we reckon Jill's dog Fena will be just fine.