The Real Reason Jay-Z Is Always Touching Beyonce's Leg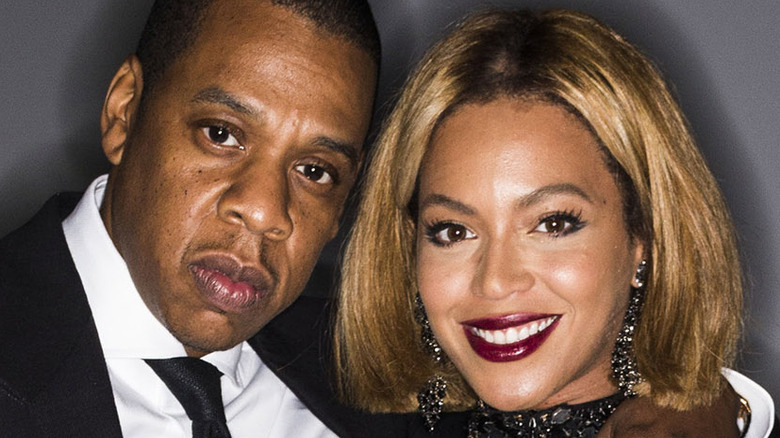 Handout/Getty Images
Jay-Z and Beyoncé are easily anyone's couple goals. The two superstars have been together for decades, and share three children — Blue Ivy and twins Sir and Rumi — along with a combined net worth of over $1 billion. Despite their obviously busy schedules, Jay and Beyoncé seem to constantly make time for date night, which often involves court-side seats at various basketball games. 
Recently, the power couple was spotted at the NBA playoffs game on June 5, as the Brooklyn Nets played against the Milwaukee Bucks at the Barclays Center. For the occasion, Beyoncé wore an eye-catching black leather dress, paired with an oversized embellished shirt and Christian Louboutin heels. Still, what really caught the fans' attention was Jay-Z touching her leg throughout the game. This isn't anything new, though.
In fact, Jay-Z can be seen touching Beyoncé's leg in various pictures, dating back to the 2000s... to the point where the Beyhive has affectionately named it the "Jayoncé leg rub." However, as reported by E! News, some people have recently speculated that Beyoncé may be suffering from social anxiety, and that Jay always rubs her leg to calm her down.
Is that the real reason Jay-Z always rubs Beyoncé's leg in public? Not really, according to the singer's own mother, Tina Lawson.
The 'Jayoncé leg rub' has nothing to do with anxiety
James Devaney/Getty Images
Taking to Instagram on June 7, Tina Lawson set the record straight about her daughter Beyoncé after people claimed she may be suffering from social anxiety. Sharing footage of the "Jayoncé leg rub" over the years, Tina explained that Jay-Z rubbing Beyoncé's leg in public is simply out of love. "When you love someone and like them you just want to touch them," Tina wrote in the caption.
Apparently, her husband Richard Lawson does the same thing with her. "Me and Richard are always touching even if it's just our feet ! Yeah!! That's what you do ! For those of you who don't understand , Try it sometimes it works !! Human Touch is how you stay connected!!" She also took a moment to laugh at the absurd rumors. "So comical people saying she has anxiety in public and that's why he touches her ! Lord people !!!! Yal can turn something good and healthy into something That it's not !!! Stop that!!!!!"
Then, Tina ended her post by recognizing that human touch does help with anxiety... it's just isn't Beyoncé's case. She wrote, "BTW if someone has anxiety then it is great for their partner to touch them to calm and reassure them. That's a beautiful thing . It just happens to be not the case here." Well said, Tina!