Who Is Simone Biles' Boyfriend, Jonathan Owens?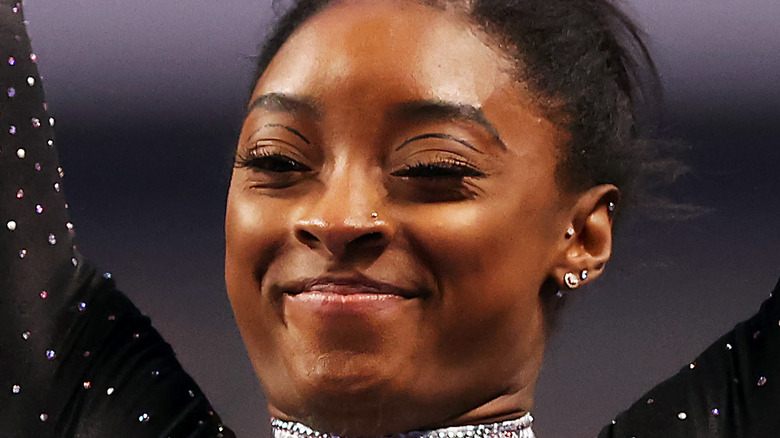 Jamie Squire/Getty Images
Gymnast Simone Biles truly is the G.O.A.T. She just won a record seventh consecutive all-around champion title at the U.S. Gymnastics Championships on June 6, per the New York Times. Not only did she win, but she also did it with incredibly technical and complicated routines and made it all look easy. Biles has won every all-around competition she has entered since 2013, the outlet notes. She won this event by a 4.7 point margin over her nearest competitors.
Cheering from the sidelines was Biles' boyfriend, NFL player Jonathan Owens, who was seeing her compete IRL for the first time ever. After the event, he posted an Instagram photo of himself with Biles, writing, "What an amazing experience. First time getting to watch you compete in person and you didn't disappoint. It's so cool that I get to watch you do what you love, and be the best at that‼️ I'm so proud of you my lil champ [Olympic] Trials up next and you already know I'm there!!" he said. "Love you, baby."
Owens was practically beside himself with pride watching Biles compete. He was also wowed by the sport of gymnastics overall. He tweeted, "I got so much respect for gymnast man, true athletes no doubt." He also posted a video of Biles' incredible and groundbreaking triple double flip and captioned it, "Can't get over watching this [you're] so amazing out there babe!"
Let's take a look at what else we know about Jonathan Owens and his relationship with Simone Biles.
Jonathan Owens plays for the NFL's Houston Texans
In an interview on the "Today" show in January, Simone Biles spoke about her boyfriend Jonathan Owens, calling him "a real man" and revealing that they share a sense of humor. "He's an athlete too, so we really understand each other, and I think that's why our relationship has been seamless," the Olympic gymnast told Hoda Kotb. "And he also has a bulldog, so I feel like, besides him being a cherry on top, that was really amazing. And our dogs get along well."
Biles and Owens have been dating since the summer of 2020. She's been an enthusiastic cheerleader for him on the sidelines of his NFL games. Owens plays the safety position with the Houston Texans. Owens played his college football at Missouri Western State University where he was on the honor roll throughout college and majored in physical therapy with plans to become a doctor in the future, per GoGriffons.com.
Biles and Owens live together in Houston. In one of her Instagram stories, she threw some shade at a commenter who noted that Owens "never post[s] ... you." Biles clapped back, per The Grio, saying, "We live together he doesn't need to post me."