Simone Biles And Jonathan Owens' Wedding Celebrations Are Far From Over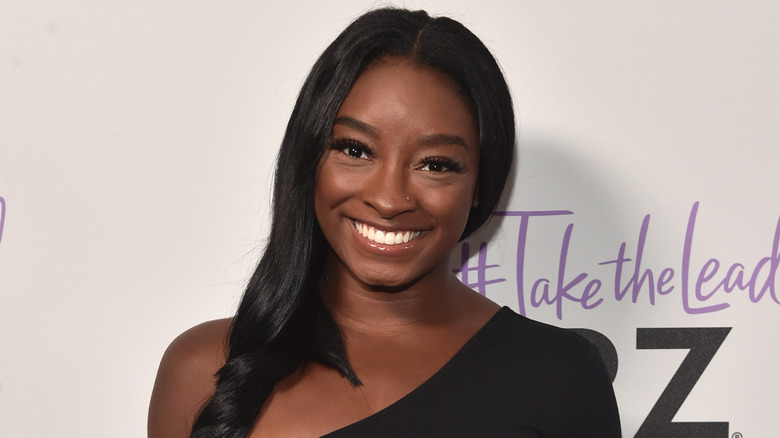 Alberto E. Rodriguez/Getty Images
Simone Biles is another step closer to saying "I do" to her fiancé Jonathan Owens — for the second time. As fans of the Olympian know, Biles loves to share photos of herself and Owens on Instagram and her posts include some of the most significant moments in her love story with the Houston Texans star. In fact, all three of Biles' pinned posts feature Owens, and one is from their engagement. On February 15, 2022, Biles posted a carousel of images from when Owens got down on one knee, accompanying the images with a sweet caption. "THE EASIEST YES," she gushed. "I can't wait to spend forever & ever with you, you're everything I dreamed of and more! let's get married FIANCÉ."
Not too long after getting engaged, Biles and Owens sat down with "Today" to share more details about their engagement and how much she loves her engagement ring. "It's definitely my most prized possession now, and I'm always wearing it," she told the outlet, adding that it beats her Olympic gold medals (if you can believe that). During the interview, Biles also shared that she and Owens were in the beginning stages of wedding planning. "It's still in the process," she said, adding that they planned to get some of the wheels in motion that day.
Then, on April 22, Biles shared a photo from their spur-of-the-moment courthouse wedding, telling fans she was "officially owens" — but the celebrations are far from over.
Simone Biles and Jonathan Owens planned a destination wedding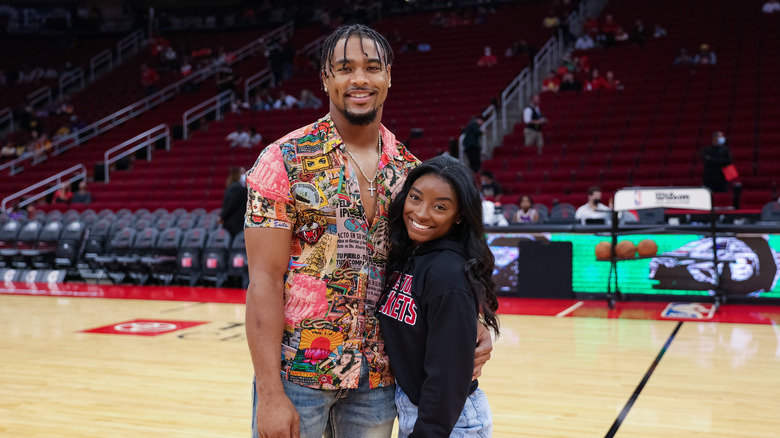 Carmen Mandato/Getty Images
Simone Biles is spilling the deets on the second installment of her wedding to Jonathan Owens. The Olympian conducted a Q&A session via Instagram Stories after revealing she and Owens wed during a courthouse ceremony. When asked about the possibility of a "bigger wedding," Biles told her fans that this was one of the "most asked" questions she gets. "YESSSSSS!!!!! We will be having a wedding in a couple of weeks," she wrote alongside a white heart emoji. Biles continued, "We had to get married 'legally' here in the [US] — since our wedding will be a destination wedding." The gymnast also shared a funny tidbit of information at the end of her story. "Our wedding bands were from Amazon. We are saving our actual wedding bands for the big day." 
Biles has been teasing her wedding to Owens in recent weeks. On April 7, the gymnast shared an image of herself and two pals decked out in workout gear. She opted for a white bra and leggings combo, making sure to tag Athleta. "Let the wedding countdown begin! Loving these pieces by Athleta," she wrote in the caption.
Then, on April 14, she shared a photo of her and the NFL star sitting in a car, holding up their marriage license. "Almost time to say 'I do,'" she told fans. We can only imagine what the main event will entail, but it's safe to say that Biles will share all the details on Instagram.
Simone Biles' wedding hair causes a stir
Simone Biles' first wedding received a ton of attention from fans, and while a lot of it was positive, some trolls on the internet made sure to take away from the gymnast's special day. Many people criticized Biles' choice of hairstyle for her wedding, questioning her decision to pull her long locks into a simple ponytail. "IDC Simone Biles hair was a mess for her wedding yall not convincing me that is a bride look," one person wrote.
A few others came to the defense of Biles. "So nasty to see how many Black women are coming at Simone Biles' hair in her wedding photos. There's nothing wrong with her hair. It's her natural hair & it looks healthy," someone tweeted, adding that people did the same thing to fellow gymnast, Gabby Douglas. "Everyone saying something negative about Simone Biles' hair should first post their own wedding pictures for the public to scrutinize," another said.
Once Biles caught wind of all of the drama surrounding her choice of hairstyle, she took to social media to defend her decision to sport a ponytail instead of another elaborate hairstyle. "I think they also forget i live in HOUSTON TEXAS & I sweat those out!! soon as we stepped outside for pics," Biles tweeted. "But they can keep complaining idc idc idc." You go girl! We'll be super interested to see how Biles styles her hair on her second wedding day, though we're sure it will be stunning no matter what!