The Heartbreaking Story Of Loretta Lynn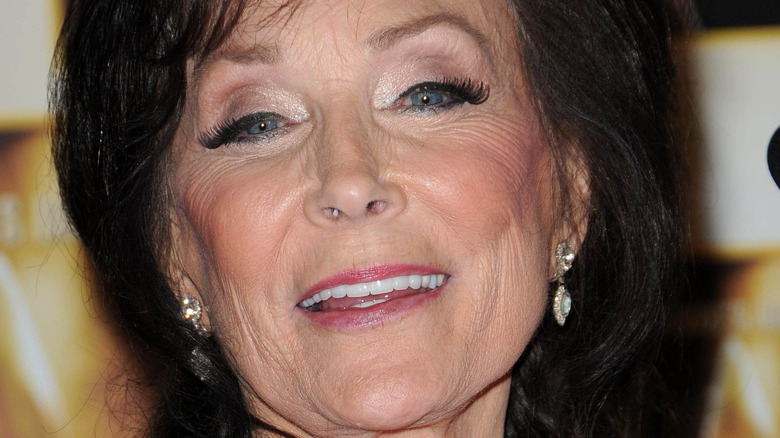 s_bukley/Shutterstock
Country singer Loretta Lynn rose to superstardom in the 1960s and 1970s with her signature nasal twang and descriptive, hard-hitting songwriting. Even if you're not a fan of country music, you're probably somewhat familiar with her story thanks to her decorated 1980 biopic "Coal Miner's Daughter," which won a myriad of awards — including Best Picture and Best Actress (via IMDb). The truth of Lynn's life, however, can't be contained in a two-hour film. The singer — who wasn't signed with a record label until she was 27 years old and had been a housewife for over a decade (via Country Music Hall of Fame) — overcame unbelievable odds to become one of the most famous recording artists of all time.
By the time Lynn learned to play guitar, she was already a mother several times over and had never considered a career as a recording artist. But as of 2021, she is on her 50th studio album, according to Parade, and continues to be a voice for all female singers. Considering she's been around for decades, Lynn is still speaking her truth: "We had to fight to be heard when I started out and are still fighting to be heard." Lynn's tough and heartbreaking experiences in her early days helped create an artist who changed the way women are viewed in country music.
Loretta Lynn was born in remote Butcher Hollow, Kentucky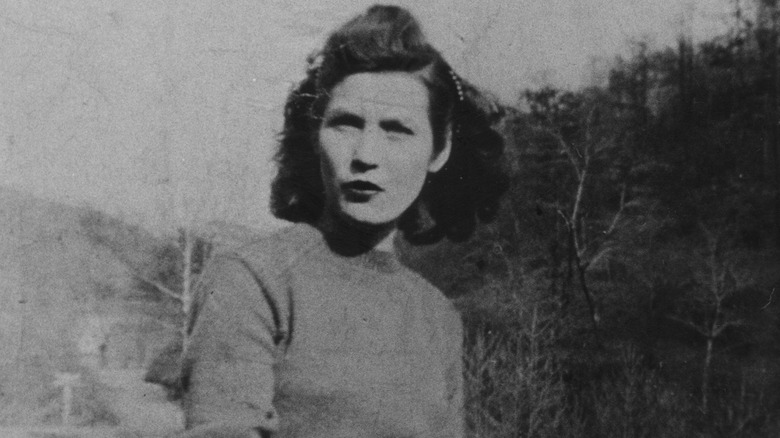 Michael Ochs Archives/Getty Images
According to her autobiography, "Coal Miner's Daughter," Loretta Lynn grew up in the tiny, remote coal-mining town of Butcher Hollow, Kentucky– or "Butcher Holler," as Lynn put it. Butcher Hollow is an unincorporated community in the town of Van Lear, Kentucky. Per the Van Lear Historical Society, Van Lear once boasted five coal mines on which the town's economy was completely dependent. Coal mining towns in the Appalachian region, including Van Lear, were typically owned by a coal company — in Van Lear's case, Consolidation Coal Company — who owned most of the buildings and dwellings in the town and often paid miners in company currency.
The Kentucky Coal Education Project claims that coal companies controlled workers by offering very low pay and preventing workers from unionizing. This kept the region in extreme poverty — including Lynn's family. After a peak in the middle of the 20th century, coal mines began to close, and coal jobs plummeted (via The Atlantic). Now tourism, partially boosted by Lynn's fame, helps keep Van Lear afloat.
Loretta Lynn grew up in dire poverty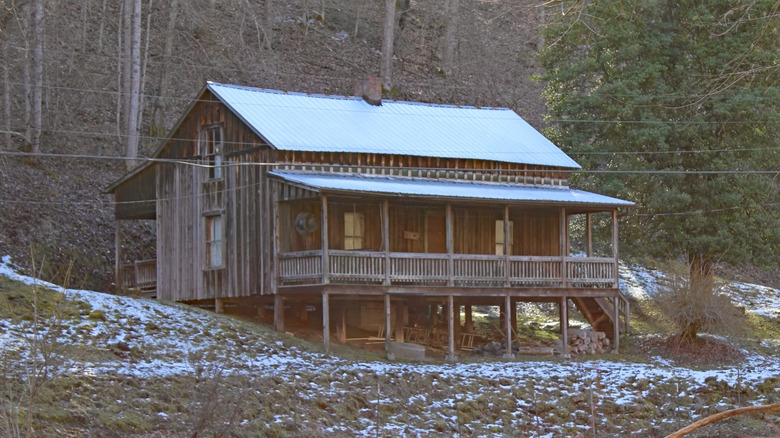 Shutterstock
According to her biography on the Country Music Hall of Fame website, Loretta Lynn grew up in a one-room cabin (above) and didn't have much of an education. PBS writes that the coal industry began to seriously decline in 1948, leaving behind a shocking illiteracy rate in an area that was already known for its extreme poverty.
She was married at just 13 or 15, depending on the source, as there has been debate over Lynn's actual age, and was one of eight siblings. In her autobiography, "Coal Miner's Daughter," Lynn describes the hard times that she assumed every family went through — there were winters when food was scarce, and she didn't ever have beef until she was married. Lynn slept on the floor with her seven siblings until she was 9, when her parents bought her a bed and moved her to their room.
Lynn's fear of poverty has followed her for the rest of her life. She wrote in her autobiography that she didn't like going to places where there was a lot of poverty, although she'd never trade her childhood memories. But despite all of Lynn's success, the fear of losing her money still dogs her: "When you've been poor, you always feel in the back of your mind that you're going to be poor again."
She almost died as a child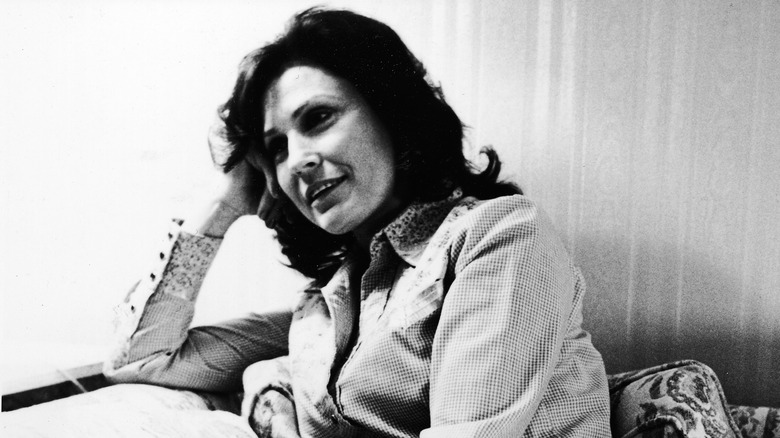 Hulton Archive/Getty Images
Life deep in a Kentucky holler in the 1930s didn't offer many creature comforts — including access to a hospital. In her book, "Coal Miner's Daughter," Loretta Lynn wrote that she suffered from an ear infection that could only be helped by drilling holes in her head to clear out the bacteria. Her mother couldn't afford an overnight hospital stay, so she walked Lynn 10 miles every day to the nearest hospital in Paintsville for her treatment.
Many of Lynn's neighbors were convinced that she would not survive the infection — Lynn says that her mother received a letter decades later asking about "that little girl who was gonna die," to which Lynn's mother happily replied that Lynn was still alive. The infection was so detrimental to the 1-year-old Lynn's development that she didn't walk again until she was 4. Lynn again was sent to the hospital when she was 12, this time overnight, for an infection in leg, which required rounds of shots before healing. Lynn's cousin, Marie, stayed with her in the hospital — which resulted in Lynn missing a dose of medicine after a confused nurse injected a shot into Marie's leg by mistake.
Loretta Lynn helped raise her siblings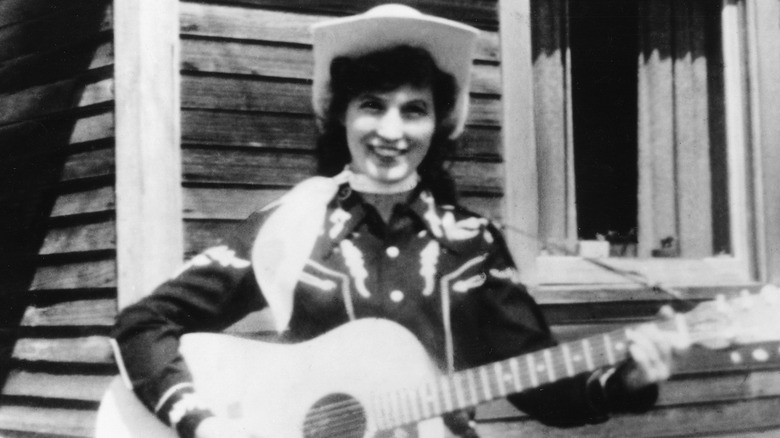 Michael Ochs Archives/Getty Images
Loretta Lynn was the second-oldest of eight children, according to the Country Music Hall of Fame, and helped raise her siblings in the cabin on a hill in Butcher Holler, as she sings in "Coal Miner's Daughter." In her autobiography of the same name as her hit track, Lynn writes that her main job was to take care of the youngest Webb children. She honed her singing skills while rocking her siblings: "I'd sit on the porch swing and rock them babies and sing at the top of my voice."
Her father would often complain about her loud singing, claiming that she would ruin the hearing of her younger brother with her strong voice. By performing for her siblings, however, Lynn gained an audience of others around the holler. Lynn said that one neighbor made her proud when he told her that she had a lovely voice, and that he listened to her singing while he worked outside. From a couple of people on a mountain to thousands in an auditorium, Lynn always found an audience with her singing.
Her father was her idol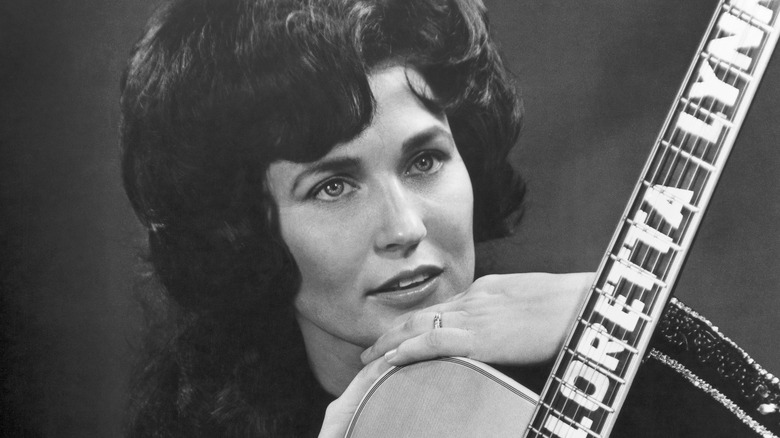 Michael Ochs Archives/Getty Images
Loretta Lynn didn't shy away from telling people just how important her father, Melvin Webb, was to her life. In her autobiography, "Coal Miner's Daughter," she called her father "... the most important person in [her] life," adding, "I think Daddy is the main reason why I always had respect for myself when times got rough between me and Doolittle — I knew my daddy loved me."
Early in their marriage, Lynn's husband moved her to Washington state. She only saw her father a few times after that. Lynn claimed that Webb was fired from the coal mines after he had a stroke, and moved to Wabash, Indiana to find work in a factory. Back west in Washington, Lynn said that she began to have premonitions about her father: "I saw him wearing a blue suit and lying in a wine-colored coffin ... when I went back to sleep, I had the exact same dream all over again, only this time I could see myself wringing my hands."
Soon after Lynn had the dream, her father died of a stroke at the age of 52. FindAGrave shows that although Webb died in Indiana, his body was returned to Van Lear to be buried in the Webb-Butcher Family Cemetery, where Lynn's mother is now buried beside him.
She was a child bride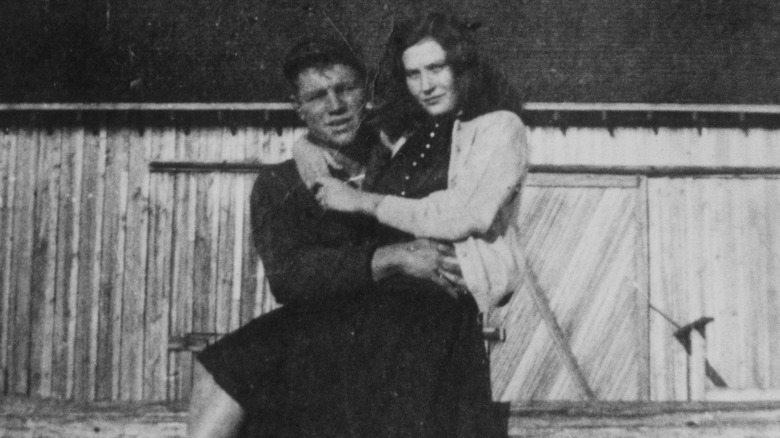 Michael Ochs Archives/Getty Images
Loretta Lynn claimed to have married Oliver "Doolittle" Lynn at the age of 13, although reporters from the Associated Press discovered that Lynn was born in 1932 rather than 1935 (via Rolling Stone), which would have made her 15 at the time of her marriage. NPR reports that, until 2018, Kentucky was a state where minors were allowed to marry, depending on circumstances and meeting specific conditions. Child marriages like Lynn's were common in Appalachia in the early 20th century.
Lynn wrote in "Coal Miner's Daughter" that her husband, Doolittle, pretty much raised her since she was so young, adding that since she went "from Daddy to Doo ... there's always been a man telling me what to do." Lynn acknowledged that she was little more than a child herself when she was married and had her first baby. Doolittle often treated her like the child she was — Lynn writes that when Doolittle first courted her, he gave her a doll, telling her that by the following Christmas they'd be married and have a live doll of their own. Four months after the pair married, Lynn found out she was pregnant with her first child.
The start of Loretta Lynn's marriage was rough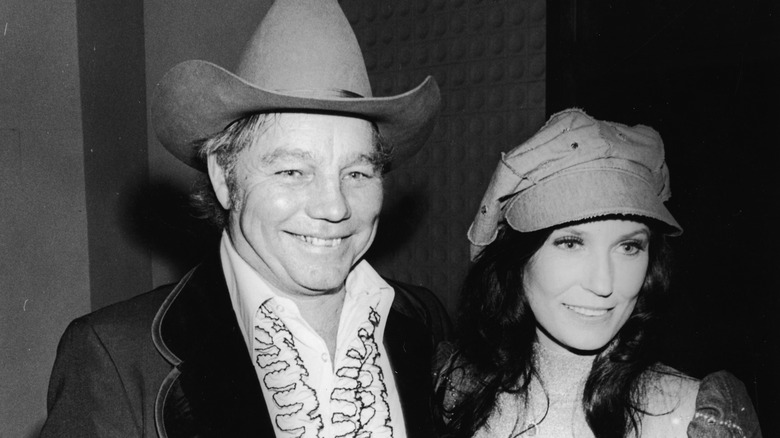 Hulton Archive/Getty Images
When Oliver "Doolittle" Lynn married Loretta, Loretta's father made Doolittle promise to not beat her and to not take her too far away from her family, according to Loretta's autobiography. Doolittle promptly broke both promises by beating her and moving her to Washington state. As Taste of Country puts it, "Doo was an alcoholic who routinely cheated on Lynn and physically abused her." He was not, by all accounts, a prime example of a stand-up guy. CBS writes that Lynn often retaliated when she was hit by Doolittle: "He never hit me one time that I didn't hit him back twice."
Despite their tumultuous marriage, Loretta credited Doolittle with encouraging her to become a star. According to AP, Doolittle bought Loretta her first guitar and encouraged her to sing in public, kicking off one of the strongest careers in country music. Lynn defends her husband in her autobiography, writing, "If it wasn't for Doolittle, there would be no career ... So in a real sense, Doolittle is responsible for everything we've got."
If you or someone you know is dealing with domestic abuse, you can call the National Domestic Violence Hotline at 1−800−799−7233. You can also find more information, resources, and support at their website.
Doolittle Lynn wasn't the best husband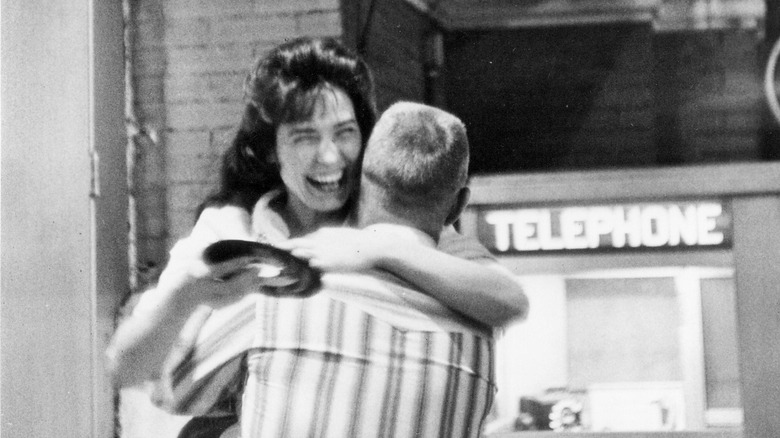 Michael Ochs Archives/Getty Images
Oliver Lynn (whom Loretta Lynn called "Doolittle" or "Doo" but who was known to others as "Mooney") was 21 when he married Lynn, and had a reputation for being a rabble-rouser. Although Lynn credits Doolittle with starting her career, she admits that times were often tough for the couple. The relationship between Doolittle and Loretta became the subject of public fascination after the 1980 film "Coal Miner's Daughter," starring Tommy Lee Jones and Sissy Spacek, brought the couple to the big screen.
When writing her autobiography, Lynn questioned how much she should share about her relationship with her husband. Doolittle, however, felt that the truth should be told, and as the crooner recalled in her book, he told her, "Hell's fire, Loretta, just tell the story the way it happened. I've always said you should never try to cover up things. Look, we're not perfect. Let's not pretend we are." 
Doolittle died in 1996 after 48 years of marriage to Loretta. On his deathbed, Loretta comforted him the best way she knew how — by singing "Wouldn't It Be Great?," a song she wrote about the many struggles in their relationship (via Taste of Country).
She gave birth to six children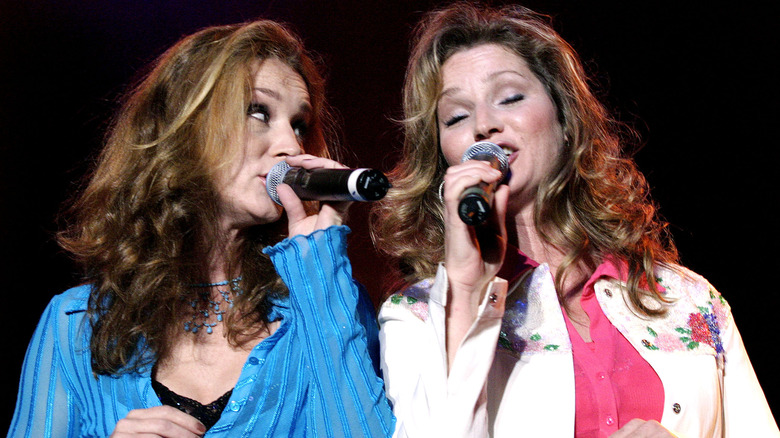 Donald Kravitz/Getty Images
According to PBS, Loretta Lynn had four children by the time she was 22 years old — and her first was born when she was just 16. In "Coal Miner's Daughter," Lynn says that she got a diaphragm after that in hopes that she would not have any more children. But in 1963, while she was in her early 30s, Lynn was given shocking news: she was pregnant with twins. Lynn was devastated — she was just beginning to make money from singing, and she cried throughout the pregnancy, although she describes the day her twins were born as a happy one.
Lynn was not a big fan of pregnancy and welcomed birth control — so much, in fact, that she wrote her 1975 song "The Pill" about family planning. Lynn claims in her autobiography that if the pill had existed in her youth, she would have jumped on taking it, as she spent much of her early marriage pregnant and poor. Lynn was a new face for birth control — an outspoken, loving mother of six who wanted control over her life. The lyrics to her oft-banned ballad to birth control say it all: "The feelin' good comes easy / now since I've got the pill."
Loretta Lynn lived a low-tech life before fame
Shutterstock
On her personal website, Loretta Lynn claims that she worked her fingers to the bone in the early days of her marriage: "Before I was singing, I cleaned house; I took in laundry; I picked berries. I worked seven days a week. I was a housewife and mother for 15 years before I was an entertainer. And it wasn't like being a housewife today. It was doing hand laundry on a board and cooking on an old coal stove. I grew a garden and canned what I grew. That's what's real. I know how to survive."
Lynn writes in her autobiography, "Coal Miner's Daughter," that growing up in such a remote area made her shy. "Holler kids were so bashful that they'd run and hide if they had company coming ... If a stranger asked you questions, you'd clam up until you knew his business." Part of the reason for this shyness, according to Lynn, was a fear of revenue officers who might be looking for moonshine. But it was also just a result of living in the middle of nowhere — Lynn claims that a car hadn't ever even come down her road until her husband drove up one day in his Jeep.
Her favorite child died at only 34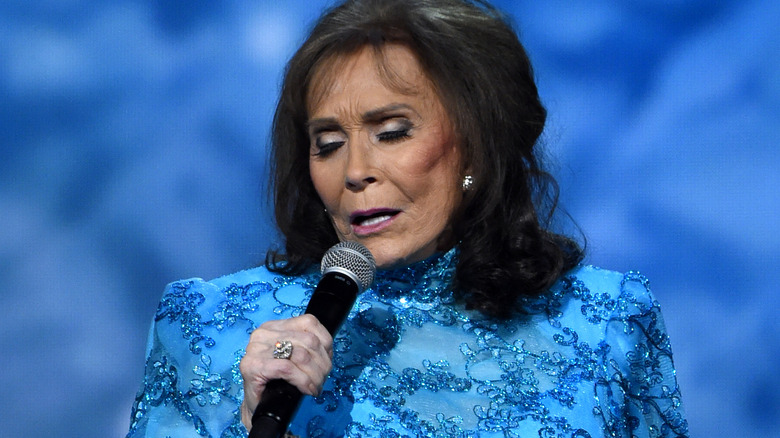 Rick Diamond/Getty Images
Loretta Lynn suffered a shocking blow when her favorite child, Jack Benny Lynn, tragically died at the young age of 34 in 1984. According to PBS, Jack drowned on his Hurricane Mills property while trying to cross the Duck River on his horse, who survived the accident. Jack, a blacksmith and horse trainer, was a competent rider and the accident came as a shock to Loretta. Mooney Lynn gave Loretta the news while she was in the hospital due to exhaustion from her grueling tour schedule. She found out on July 25, 1984, after his body was found about three miles from his house, according to The New York Times.
Lynn adored Jack, writing in her autobiography that he was the child that she felt the most sentimental about, and that seeing him upset made her upset. USA Today reports that Lynn lost another child in 2013 when her daughter Betty Sue died from emphysema. In 2016, she suffered another loss with the death of her grandson, Jeffery Allen, who died unexpectedly at the age of 47.
Her songs were banned time and time again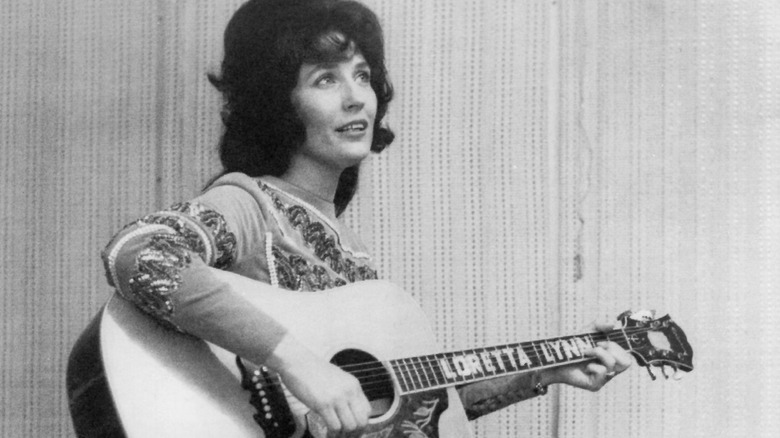 Michael Ochs Archives/Getty Images
In an interview with PRI's Studio360 (via her LorettaLynn.com), Jack White says that Loretta Lynn told him that "14 of her songs had been banned by country radio over the years," including her controversial song about birth control, "The Pill." "The Pill," which describes the liberation of birth control, drummed up big buzz when it was released in 1975 — according to People, the song was banned by over 60 radio stations across the U.S., and was even denounced from the pulpit by a Kentucky preacher. The ban likely gave Lynn a boost in sales, and the singer managed to turn her straight-talking image into a major career.
In a 2021 interview with Parade, Lynn opened up about her controversial music, revealing that she didn't try to intentionally aggravate people: "I just write what I feel, what is going on with me and my life. It just happened that a lot of other women felt the same. I would never set out to write something just for it to shock someone; I am not that clever. It's always been about truth and if that means radio wants to ban it, well that's their problem. Most of my records they banned became No. 1 anyway." Lynn knows better than anyone in country music that there's no such thing as bad press.
She made music into her 80s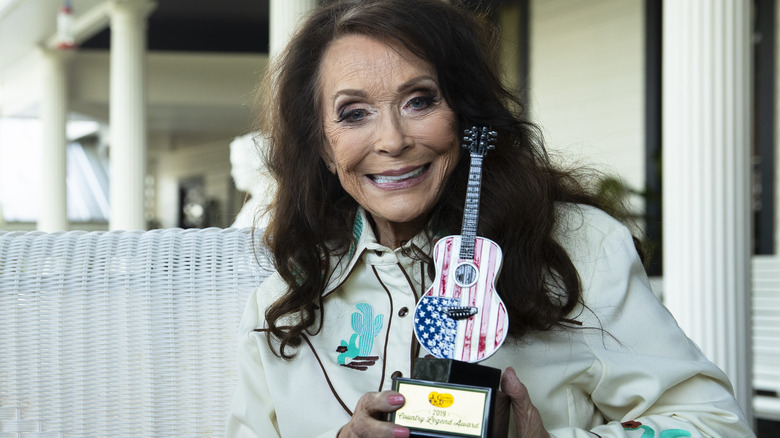 Brett Carlsen/Getty Images
Throughout her stunningly long career, Loretta Lynn remained the undisputed queen of country music. In 2021, she released a new album, "Still Woman Enough," which is named after her 2002 memoir (via Parade). The record is her 50th studio album, according to NPR, and was welcomed with good reviews — including a 7.5 on Pitchfork, who referred to the LP as "part time-capsule, part declaration of her legacy."
The singer suffered from a stroke in 2017, but that didn't stop her from continuing to sing. Lynn accomplished incredible things in her long career. According to People, she sold more than 45 million records, won numerous Grammys, was the CMA's first female Entertainer of the Year, and won the CMT Artist of a Lifetime award. But there was more she wanted to do. Her goals were best summed up in her declaration to Parade in 2021: "I hope I can write a song right up until the end."
Loretta Lynn's death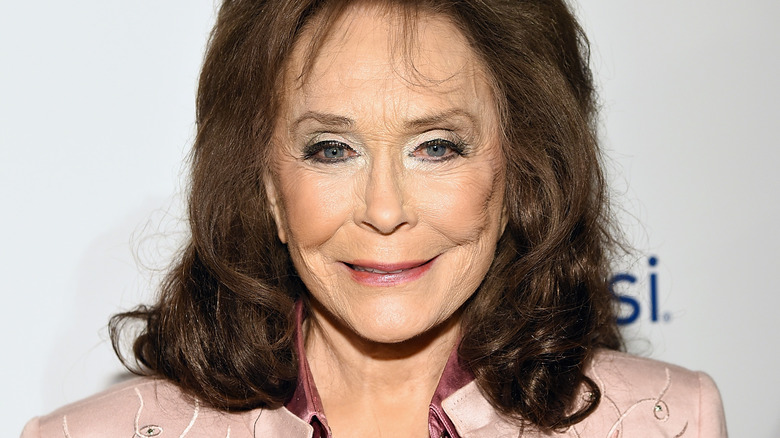 Kevin Mazur/Getty Images
On October 4, 2022, it was reported that Loretta Lynn died at the age of 90. Her family released a statement, per NBC News: "Our precious mom, Loretta Lynn, passed away peacefully this morning, October 4th, in her sleep at home in her beloved ranch in Hurricane Mills." Tributes began pouring in across social media. The Country Music Association tweeted, "We are heartbroken to learn about the passing of [Loretta Lynn], the Coal Miner's Daughter. She inspired generations of female musicians & has forever left a mark on Country Music's history."
Although "Coal Miner's Daughter" will forever be associated with Lynn, the song only spent one week at the top of the charts when it was first released, per The Washington Post. When the biographical film of the same name came out in 1980, the country singer's popularity was at an all-time high. Rolling Stone named her signature tune of her essential songs, along with other favorites like "I'm a Honky Tonk Girl" and "You Ain't Woman Enough (to Take My Man)." From humble roots to worldwide acclaim, musical icon Loretta Lynn lived a full and fascinating life.