What Is Chris Watts' Relationship Like With His Parents Today?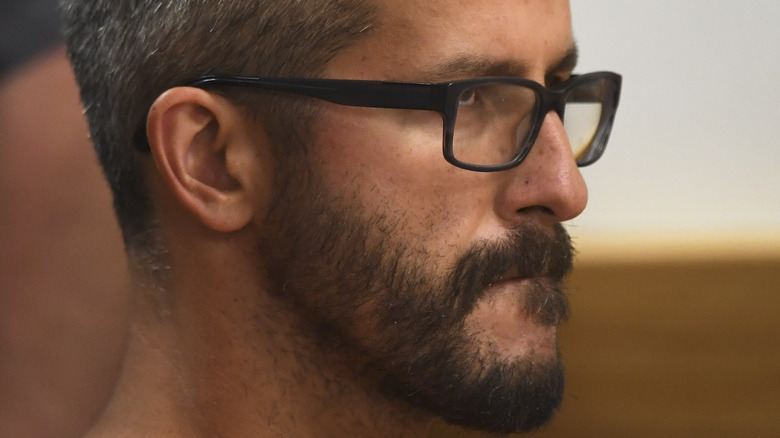 Pool/Getty Images
If you watched the 2020 Netflix documentary, "American Murder: The Family Next Door" — or were paying any attention to the news in the summer of 2018 — you're likely already familiar with the Watts family murders. If you're not, we've got you covered on this horrific story.
In August 2018, Chris Watts reported his pregnant wife, Shanann, and their two young daughters, Bella and Celeste, missing. They seemingly vanished from their Colorado home, leaving behind all of their possessions without any indication of where they had gone, per Insider. Soon enough, suspicion fell on Watts. The father of two eventually admitted to murdering Shanann and the girls, according to The Coloradoan.
Despite the confession, the motives behind the murder remain unclear. Most point to his ongoing extramarital relationship with a co-worker named Nichol Kessinger. Watts took a plea deal to avoid the death penalty and never spoke about the crimes publicly. He's currently serving five life sentences with no possibility of parole, per the Daily Mail.
Watts is reportedly still in touch with Kessinger, but what about others he was close with? Watts' parents were devastated over the loss of their grandchildren but supported their son the best they could. "I have always loved you and I still do," his mother said during his sentencing, per In Touch Weekly. 
Read on to find out what Watts' relationship is like with his parents today.
Chris Watts' parents defended their son
Chris Watts might have pled guilty to three first-degree murder charges and accepted five life sentences with no possibility of parole, but his parents have struggled to accept the truth.
"I asked Chris, 'If you did not do this, do not confess to something you didn't do,'" his mom, Cindy, said during a televised interview. "To me, all [the lawyers] wanted to do was save his life ... Save his life and life in prison — to me, there's no difference," she added. "He's going to die in prison. I just want him to fight. I don't want him to take this plea deal. I want him to plead not guilty to the children."
Regardless, Chris pled guilty. Despite Cindy's inability to acknowledge what her son did, it seems that both she and her husband eventually came to accept that Watts did, in fact, murder his wife and children. At his sentencing, Cindy told Chris she forgave him, and his father, Ronnie, reaffirmed his commitment to Watts' well-being. "The Bible says if we confess our sins, God is faithful and just and will forgive us," Ronnie said, per The Sun. "Chris, I forgive you, and your sister forgives you, and we will never abandon you."
We don't know for sure what Ronnie and Cindy are doing now, as they've understandably attempted to avoid the press. However, given their dedication to Chris, they are likely still in touch with him even as he sits in prison.