The Truth About Joey Logano's Wife, Brittany Baca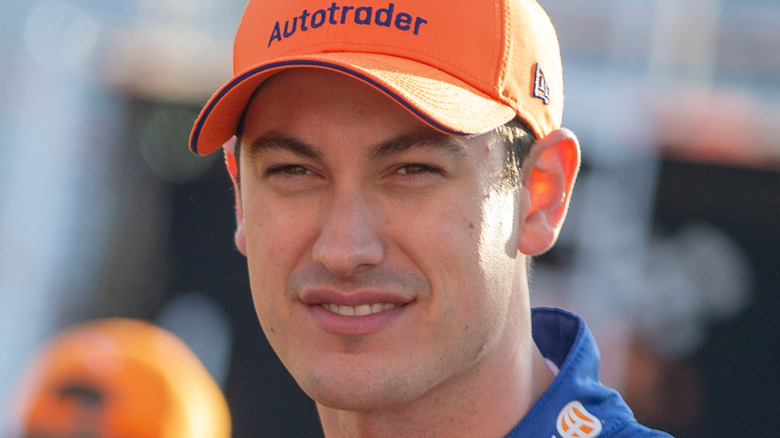 Shutterstock
NASCAR driver Joey Logano and his wife, Brittany Baca, have an adorable love story. While Logano is appropriately very comfortable behind the wheel of his stock car, he's also comfortable on the ice, which is where he met his wife when they were kids. Logano grew up splitting his time between race tracks and ice rinks, per USA Today.
"I played hockey for four or five years, but I got to the point that I was racing so much, I'd miss half the games. It's kind of like, you have to pick one or the other," Logano told USA Today. Eventually, the fast cars won out over the cold ice.
Even though Logano is a hotshot in the world of NASCAR, he's still got one foot on the ice with his family's ice rink. The Logano family owns and operates Extreme Ice Center in North Carolina. His sister is a former professional figure skater. And that ice rink is where he met his future wife back when they were teenagers and Logano was driving the Zamboni while Baca was working the concession stand, per Earn the Necklace.
Brittany attended her first NASCAR race at the age of 6 and fell in love with the sport, per Heavy. So it's only appropriate she grew up and fell in love with a NASCAR driver! Keep reading to find out more about this couple.
Brittany Baca was the first girl Joey Logano ever kissed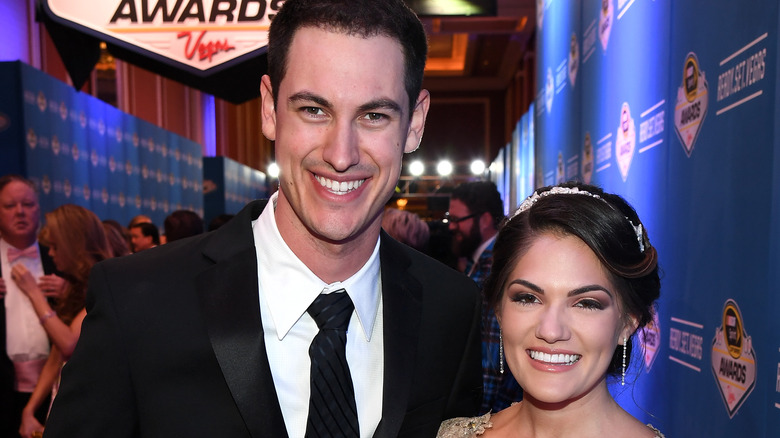 Ethan Miller/Getty Images
Brittany Baca attended David W. Butler High School in Matthews, North Carolina. She graduated in 2010. When she met Joey Lagano at his family's ice rink, she was the first girl he ever asked out, per Earn The Necklace. She was also the first girl he kissed. Baca graduated from UNC Charlotte with a degree in psychology in spring 2014.
Logano proposed  in November 2013 after executing what Baca called her dream proposal. She told NASCAR.com (via Heavy), "Joey wrapped trees with lights and parked my dream car (a mint green Ford Thunderbird) in the woods. It was a sweet moment that I will never forget. We're getting married on Dec. 13, 2014 (12/13/14), in Asheville, N.C. We are super excited to bring together all our friends and family in such a beautiful area."
She said she chose the sequential date for two reasons: so her husband would remember it and because it falls outside of the NASCAR season, per AL.com. The couple welcomed their first child, a son named Hudson Joseph, in January 2018 and their second child, a son named Jameson Jett, in May 2020, per NBC Sports.
Baca is the vice-chairman of the board of the Joey Logano Foundation, which was established in 2013 after Logano made a life-changing visit to Joplin, Missouri, after the devastating tornado. The foundation's mission is to provide second chances to people who need it most, per the foundation's website.