The Truth About Tony Bennett's Kids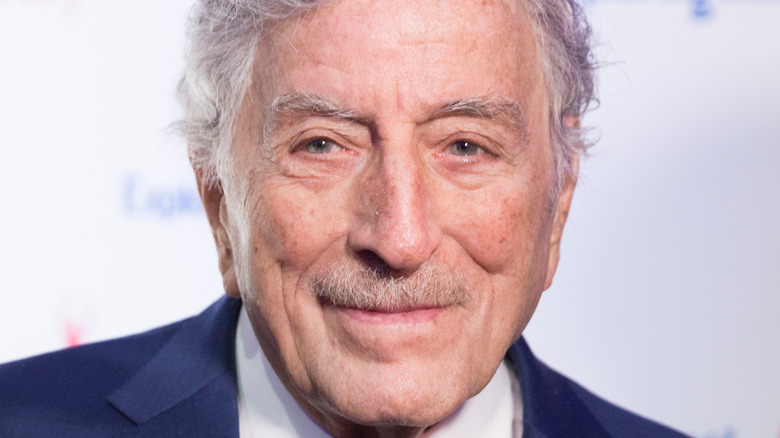 Shutterstock
Talent certainly runs in the Bennett family with legendary performer Tony Bennett's children having received their fair share of accolades. The iconic '50s crooner and jazz singer originally credited his own father, who died when Tony was 10 (per Smooth Radio), as his initial source of musical inspiration.
"He would sit on the stairs and sing opera, show music and pop hits to my brother and me in a fine, clear voice. I like to think you can still hear my father's voice in me. I know I do," Tony told The Guardian in 2017. And that showbiz Bennett gene and legacy has continued through Tony's four children.
Before he was singing opposite some of the greats like Frank Sinatra, Tony was performing at nightclubs as "Joe Bari" when he met his future wife, Ohio art student, Patricia Beech, per CheatSheet. The pair married in 1952 and had two kids — D'Andrea "Danny" Bennett who was born in 1954, and Daegal "Dae" Bennett who was born in 1955 — who were central to the 94-year-old's career revival. 
Danny Bennett is partly to thank for his father's collab with Lady Gaga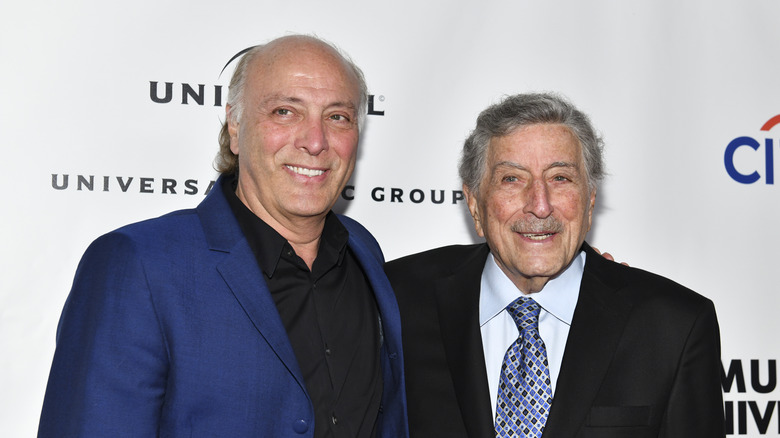 Rodin Eckenroth/Getty Images
Danny Bennett has acted as his father's manager for the past 40 years, bringing a breath of fresh air to Tony Bennett's career. He assisted in his 1995 Best Album Grammy win for "Tony Bennett: MTV Unplugged" (per AARP). He also worked as a producer for a few of his television projects, which personally earned him two Emmy nominations and one win.
Danny also organized a number of Tony's most memorable collaborations, including with John Mayer, the late Amy Winehouse, and his protégé, Lady Gaga. Gaga and Tony struck an unlikely friendship in 2011, which saw them record a number of jazz covers for their first album together, "Cheek to Cheek." The album even reached number one in the U.S.
It was also revealed on February 2, that the pair would be releasing another album, using songs recorded during the latter of Tony's Alzheimer's disease diagnosis, per EW. At the time, Danny wanted to ensure Lady Gaga was "cool" with the re-collaboration, given Tony's condition. "I wanted to check with her to make sure she was cool because she watches his back all the time. She was like, 'Absolutely, it's just another gift that he can give to the world,'" he said. 
While Danny's brother Dae hasn't been as professionally hands-on with his father, he has taken after his musical abilities. Dae has won seven Grammy awards and one Emmy as a successful music producer and audio engineer, per Closer.
Tony Bennett's current wife is younger than his two eldest kids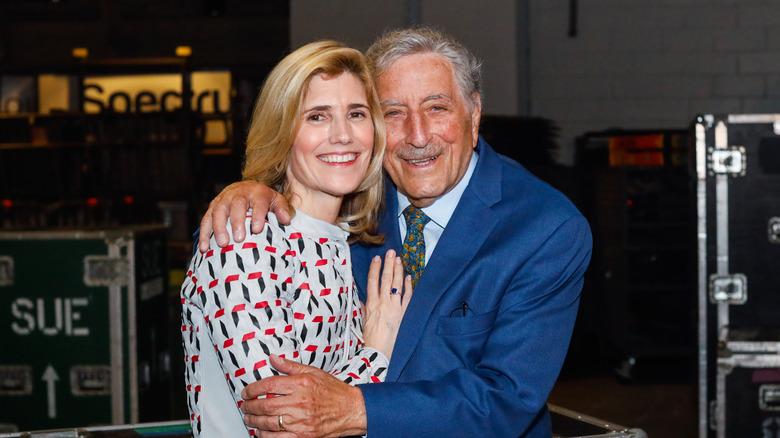 Myrna M. Suarez/Getty Images
Tony Bennett didn't waste any time when he married his second wife, actor Sandra Grant, the same year he divorced from his first, per CheatSheet. Tony and Grant welcomed two daughters together, Joanna in 1970 and Antonia in 1974. Joanna got the acting bug and appeared in hit television shows and films, including 2016's "Powers" and 2015's "The Librarians" — but seems to like the action side of things, per Closer. Joanna has worked as a stunt double for huge franchises, playing body double for Amber Heard in "Aquaman" and Brie Larson in "Avengers: Endgame."
While Antonia has a few acting credits to her name, including "Changeling" opposite Angelina Jolie in 2008, she's more well-known in the musical world. Antonia studied at the Berkeley College of Music and forged her own successful alternative music and jazz career. She's also assisted her father during tours, generally as his opening act. She told the Chicago Tribune in 2019, "I do kind of choose to stand in his light instead of his shadow."
And another special person in Tony's life, who also seems to be in his light is his wife of 14 years, Susan Crow. Despite the 40-year age gap — meaning Tony's sons are older than their step-mom — the pair seems just as happy. Regarding Tony's Alzheimer's diagnosis, Crow told CBS "This Morning," she'll continue to support him no matter what, saying, "Obviously, I'm his wife. I signed up for better or for worse. If somebody has to take care of him, I want it to be me."