Simone Biles' Leotard At The US Championships Has Fans Buzzing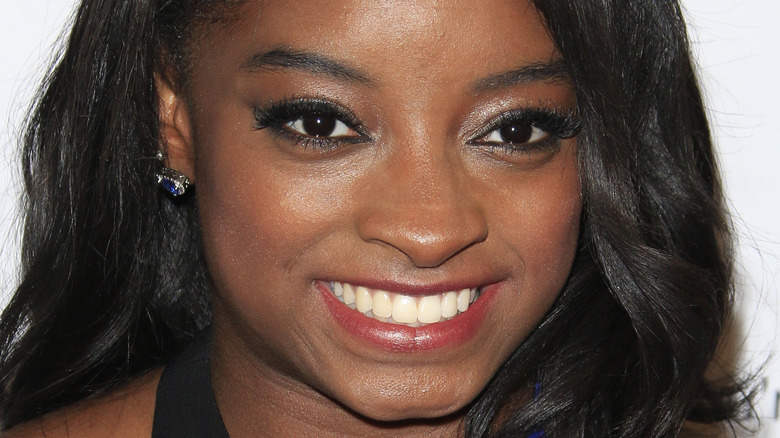 Shutterstock
If you're talking about Simone Biles, then there's a very good chance that you're discussing her incredible athletic accomplishments. Honestly, did you see her land a Yurchenko double pike? Um, wow! However, the sports celebrity also makes headlines thanks to her romantic life and is known to fire back at snarky trolls. Beyond that, Biles has also sparked buzz in the past over the leotards she wears while competing.
You might remember the fiery red piece that she wore to the 2016 Olympic Trials — "where Simone dominated the competition and secured her spot on the Team USA," according to People — not to mention the "royal purple look," per the outlet, she slayed at that same event. While those two colors seem to be her favorites, she also flips, twists, and leaps in hot pink, vibrant blue, striking white, and beautiful black leotards that usually include dazzling designs and sparkly embellishments.
In fact, it was one of those glittery additions that sparked plenty of reactions when Biles was competing and seemingly making a major statement at the same time.
Simone Biles' leotards prove that she's the G.O.A.T.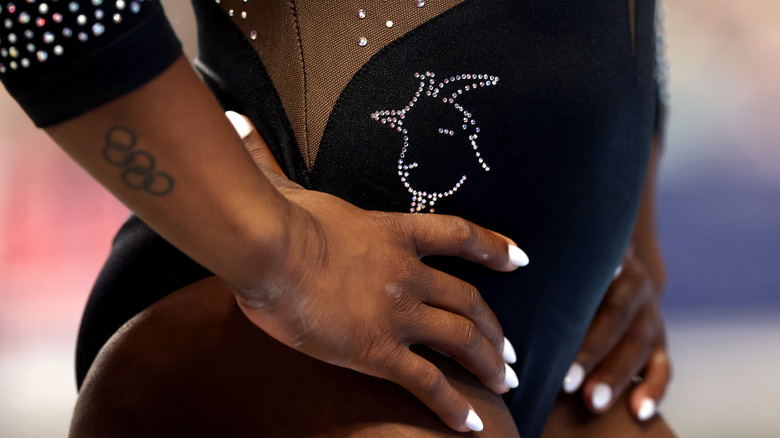 Jamie Squire/Getty Images
Simone Biles stunned the sports world once again as the 2021 U.S. Gymnastics Championships began. Not only did she nail her routines, but she also showed up wearing eye-catching leotards from her GK Elite collection. While one was lilac and white, and the other was black, both were adorned with rhinestones in the shape of a goat. As you may know, the gymnast is often (and understandably) called the G.O.A.T., or greatest of all time.
Vanity Fair explained that Biles initially turned up with the tiny detail on her training outfit "ahead of the 2019 US Gymnastics Championships, and it then popped up again a few weeks ago bejeweled across the mid-back of her competition leotard at the GK US Classic." The star opened up about the embellishment, per NBC Sports, saying, "I don't want to be cocky or anything. ... I don't think there will be anything bad [comments] except for some fans and some haters."
While there may be some people who decide to take the addition the wrong way, plenty of people are loving it! One social media user hopped on to Twitter to write, "Simone Biles' goat logo is everything." Another person felt the same way, tweeting that the "goat bedazzled on her sleeve ... absolutely rules." If that doesn't make it clear that people approved, one admirer even noted, "Simone Biles' rhinestone goat embellishment is among my top 5 design details in clothing history." G.O.A.T., indeed!