Brooke Shields' Daughter Stuns At Prom In Mom's Throwback Dress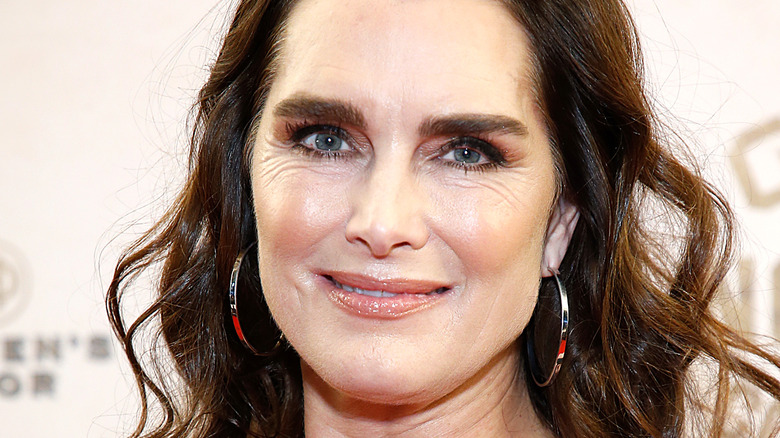 John Lamparski/Getty Images
Apparently, Brooke Shield's daughter didn't just inherit her mother's good looks, she also has her incredible fashion sense! Shields shared a sweet moment on her Instagram of her daughter, Rowan Francis Henchy, borrowing one of her award show dresses to wear to her prom. The dress that the teen decided to wear was what Shields wore to the 1998 Golden Globes, when she was nominated for her starring role in the NBC sitcom "Suddenly Susan." While Shields lost out that night to "Ally McBeal's" Calista Flockhart, the dress is clearly still special to both Shields ... and Henchy!
The "Blue Lagoon" star posted a photo of herself hugging her daughter while sending her off to prom, as well as one of just Henchy showing off the red strapless gown. Shields even shared a throwback photo of herself wearing the dress at the Golden Globes so fans could see that it definitely was the original. Henchy appeared to substitute the shawl Shields' wore for a Hermes bag instead, and, of course, a prom corsage.
Shields told the charming story in the caption, writing, "I thought it was a special night when I was nominated for a Golden Globe and wore this dress in 1998, but nothing could have prepared me to see my daughter wearing it to her prom." The star added that she was of course a "proud mama!" Shields followers apparently loved seeing that special moment, including some of the actor's celebrity friends. Read on to see the dress!
People are loving the mother-daughter prom moment
How sweet!? Brooke Shields shared the special moment she had with her daughter, Rowan Francis Henchy, on Instagram. Shields shares her daughter with her husband — film producer Chris Henchy. And some of Shields' celebrity friends clearly got a kick out of it, commenting on the photo of the two. 
"Will & Grace" star Debra Messing wrote, "OH MY GOD that is so SPECIAL!!!!! I remember you in that gown that night!" She added, "And now your beautiful daughter gets to make new memories with it." Model Helena Christensen commented, "Congratulations to your beautiful funny smart girl," while actor Ali Wentworth wrote, "You both are [fire emoji]." With all this positive feedback, perhaps Shields' youngest daughter, Grier Hammond Henchy, will also soon borrow some of her mom's throwback dresses too!
In terms of following in their mom's footsteps, however, it doesn't appear that Shields wants them to get into showbusiness. Shields told the New York Post in 2017, "The younger one has sort of been hinting around, but you know what, I won't be the one pushing them into it." She added, "I think they need to really have as much of a conventional upbringing as you can in New York City, with kids their own age, and not be thrown into something with all the pressure."
While almost nothing is more "conventional" for a teen than prom, Henchy does have an extra special dress thanks to her famous mom!