T-Pain Reveals One Of His Biggest Hits Was A Joke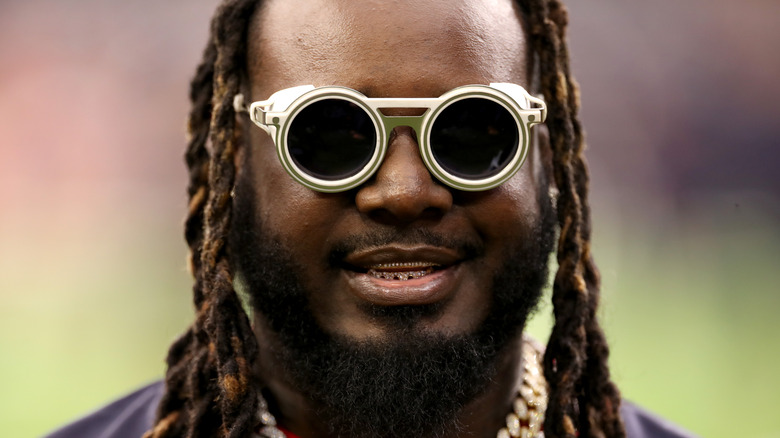 Christian Petersen/Getty Images
T-Pain's track record speaks for itself. The singer dominated throughout the 2000s, with smash hits such as "Buy U a Drank (Shawty Snappin')," "I'm Sprung," "I'm 'n Luv (Wit a Stripper)," "Can't Believe It," "Bartender," and "5 O'Clock". Thanks to his features on Kanye West's "Good Life" and Jamie Foxx's "Blame It," T-Pain also earned two Grammy Awards — for Best Rap Song and Best R&B Performance by a Duo or Group with Vocals, respectively. However, the rapper-slash-singer seems to have missed out even wilder collabs.
In April, T-Pain shared a video on Twitter, giving fans a look at his unread DMs on Instagram — which included messages from celebrities like Fergie, Diplo, Viola Davis, and Keri Hilson. Why did he ignore them, you may ask? "I was today years old when I found out about the request folder on Instagram that's full of celebs trying to reach me," T-Pain explained in the video. "I swear!! I'm just now seeing all these messages and mentions TODAY!!!!" he wrote in the caption. "How do I super apologize? Press conference? Town hall meeting?" 
More recently, T-Pain sat down with Mike Tyson on the "Hotboxin" podcast, where he hilariously revealed that one of his biggest hits from the 2000s was meant to be a joke.
T-Pain's 'I'm N Luv (Wit A Stripper)' was about his friend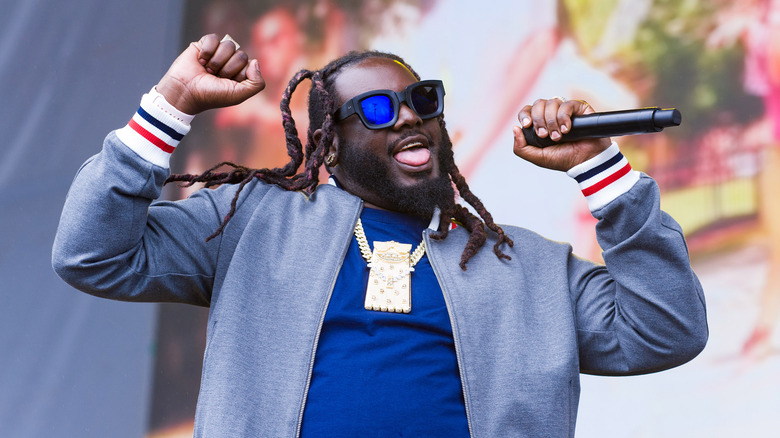 Timothy Hiatt/Getty Images
On June 4, T-Pain appeared on "Hotboxin with Mike Tyson," where he shared a funny story about one of his biggest hits. During the episode, Tyson asked T-Pain to sing, and he spitted a couple of lines from "I'm N Luv (Wit A Stripper)." Then, T-Pain revealed what really inspired the song... and it had nothing to do with him.
Apparently, the track was a joke about his friend going to the strip club for the first time. "My homeboy was trying to save strippers in the club. The song was a joke. I was literally making fun of him," T-Pain explained. "And I was just recording random s*** [in the studio] ... and Big Boi walked in and was like, 'This s*** jammin', and I was like, 'This is not a joke anymore.'" 
Despite starting out as a joke, T-Pain's label thought it could bring some serious cash. Back in 2015, he told USA Today: "They heard the 'joke' and were like, 'This is the furthest thing from a joke. We're putting this out next week,'" he said, per Complex.And just like that, the rest is history. "The fact that it became a hit threw me off. I was literally trying to make a bad song but it didn't work."