Was Kim And Kanye's Marriage Over Way Before The General Public Knew?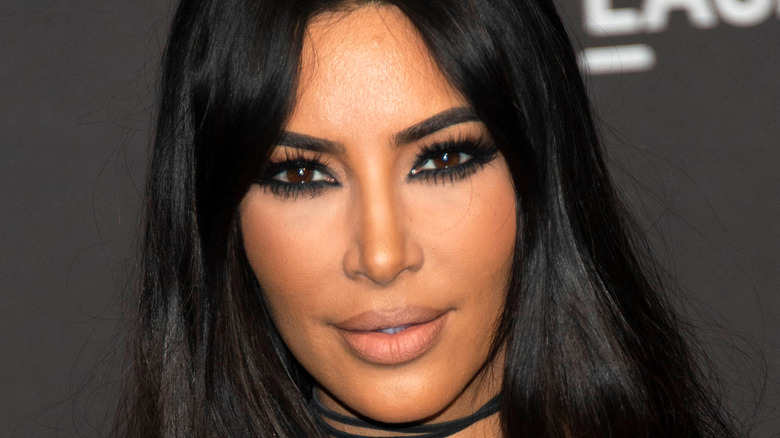 Shutterstock
In February 2021, Kim Kardashian shocked the world by filing for divorce from her rapper husband, Kanye West. Ever since stepping out together in 2012, the pair seemed to be the ultimate power couple. But nearly 10 years, four kids, and countless fashion shows later, their love ultimately wasn't meant to go the distance.
That said, the split didn't come completely out of the blue. In January, Page Six claimed that "divorce was imminent" after fans hadn't spotted the two together in months. Per E! News, Kim and West were already "completely done and no longer speaking out at that point." The reports coincided with news that the "Gold Digger" hitmaker was allegedly moving his important belongings — including 500 pairs of sneakers — out of the Calabasas, California, home he shared with his wife. (Kim, who was vacationing in Turks and Caicos, had felt it would be "less dramatic" to give West his space during this time, an insider told Page Six.) Judging by this, the writing may have been on the wall at least a month before Kim officially announced her divorce, but there's a chance their marriage was over long before the public knew.
Kim Kardashian and Kanye West had different priorities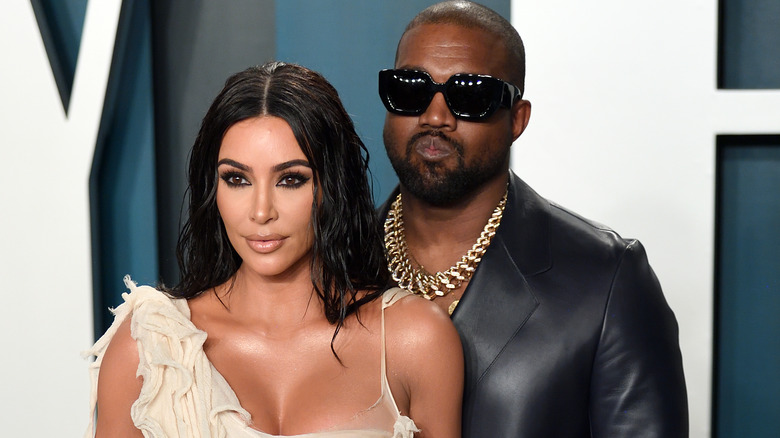 Karwai Tang/Getty Images
In 2019, Kanye West raised eyebrows when he purchased a ranch in Wyoming, choosing a different kind of lifestyle over the glitz and glamour of Los Angeles. According to Us Weekly, the sprawling space was essential to his artistry. "Kanye became obsessed with starting an artists' getaway in Wyoming where he could focus on his music, fashion and art," an insider told the outlet. "Kanye loves his kids and they come to visit, but Kanye felt he couldn't create as well in L.A. ... the expansive nature and the privacy helped him to be inspired." Be that as it may, his decision to move meant that he and then-wife Kim Kardashian were living separate lives. In 2020, Kim even posted a family photo without West that got fans talking. Where was her husband? Was he in Wyoming? Either way, the separation spelled trouble for the pair.
By the time the pandemic hit in 2020, the pair's different priorities became even more apparent. Per Us Weekly, West was spending more time than ever in Wyoming and wanted the family to relocate. "Kanye is jealous of the amount of time Kim has dedicated to prison reform and the kids," a source revealed to Us Weekly. "Kanye wanted the family to move to Wyoming full-time. It's where he sees this direction of his life going. Kim just doesn't see their lives full-time in Wyoming." 
Kanye West's political aspirations put strain on the marriage in 2020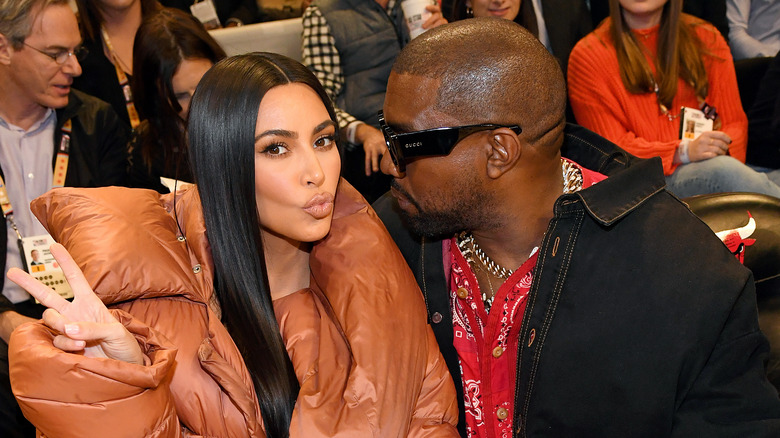 Kevin Mazur/Getty Images
Things were already tense between Kanye West and Kim Kardashian when the rapper put further strain on the marriage by deciding to run for president in 2020. "We must now realize the promise of America by trusting God, unifying our vision and building our future. I am running for president of the United States," he tweeted on July 4. At his first campaign event that same month, West went on a shocking rant, where he divulged intimate details about his wife and children, claiming that he and Kim once considered aborting their first child, North. Per USA Today, he added that he feared Kim might divorce him for sharing the revelation. 
West has a history of bipolar disorder, so understandably, Kim was both furious over how his public statements could affect their family and concerned about his mental health. "Kim is shocked that Kanye spoke about North at the rally. She is furious that he shared something so private," a source told People, adding that "things have broken down significantly between the two of them, and it's happened pretty suddenly." Furthermore, Kim was said to have done her best to keep West calm amid his bipolar episode, while he refused to take medication for fear it might hinder his creativity (via Vanity Fair). The couple's divorce wasn't announced until 2021, but it seems things like things went south in their marriage as early as 2019.