The Real Reason H.E.R. Always Wears Sunglasses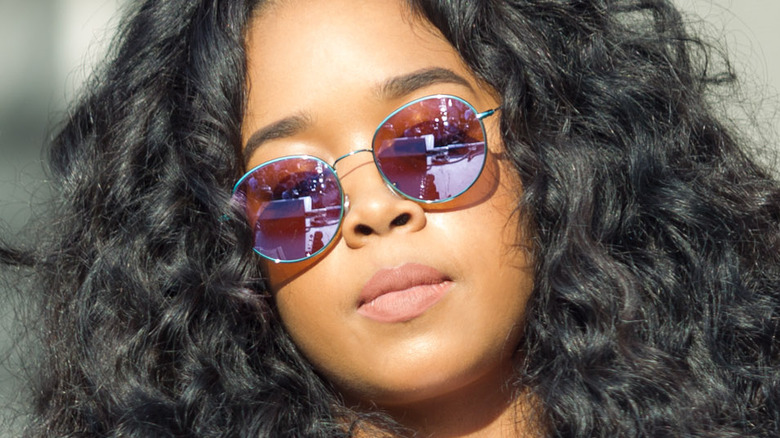 Shutterstock
R&B singer H.E.R. is having one heck of a great year. So far in 2021, H.E.R. has already won two Grammy Awards (one for Song of the Year for "I Can't Breathe," and Best R&B Song for "Better Than I Imagined"). She also won the Academy Award for Best Original Song for "Fight for You" from "Judas and the Black Messiah." And now, she just performed her song "Hold On" with Chris Stapleton at the 2021 CMT Music Awards.
H.E.R.'s real name is Gabi Wilson, but her identity was initially hidden. When RCA sent out samples of her debut album to the press, they did so while keeping the real identity of the singer a secret. "I can't tell you much about H.E.R. just yet but give it a listen," the one-line press release said, per the Los Angeles Times. H.E.R. stands for "Having Everything Revealed," and Wilson chose the moniker to keep the focus on the music rather than on herself.
About that choice, she said, "I think it has allowed me to make the music the focus, and for people not to care about the superficial things or who I'm associated with, what clique I belong to — all those things that don't matter," she told Elle in 2018. "It's really made people focus on the music, and that's what's special about it."
Despite her reveal, H.E.R. still wears sunglasses that obscure her face. So, what's the story?
H.E.R. feels 'mysterious' in her sunglasses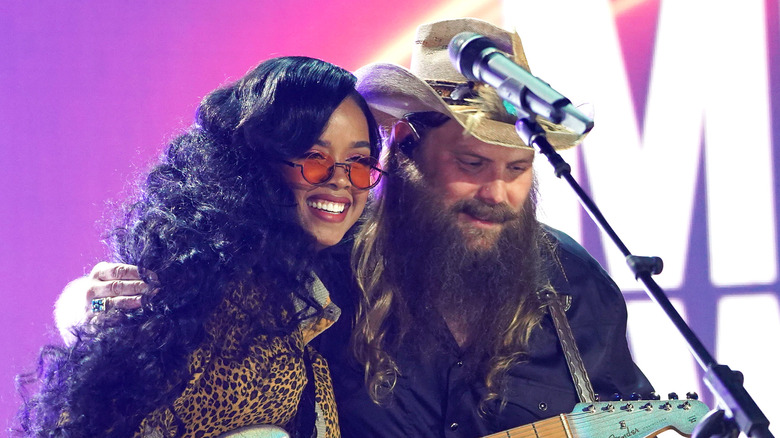 Erika Goldring/Getty Images
H.E.R. always appears wearing dark or reflective glasses while she's performing, including at the Oscars, Grammys and the CMT Music Awards. But she doesn't wear them because she's shy, has stage fright, or has a medical condition requiring them. It all ties into the same reasoning behind her stage name.
The award-winning singer, who has her own line of sunnies with DIFF Eyewear, told Billboard in 2020 that "sunglasses are my thing." And as for what she wants fans to get out of her own sunglasses collection, she exclaimed, "I want them to feel their inner H.E.R.!" She noted, "When I wear my sunglasses, I feel mysterious. But at the same time, you can still get to know me."
Just as she didn't disclose who she was when her record label was sending her first album out for reviews, the sunglasses allow her to preserve some of her anonymity, per Distractify. She doesn't want the music to be about H.E.R. (pun intended); she wants it to be about the listener and how her music makes her listener feel. She isn't shy about sharing details of her life with her fans, according to the outlet — it's just that they're in her music, which she'd prefer to let speak for itself rather than dissect the meanings in interviews.
In an age of over-exposure due to social media and the 24/7 news cycle, H.E.R.'s approach to her persona and career is refreshingly old school.