The CMT Awards Speech That Stole The Show, According To An Expert - Exclusive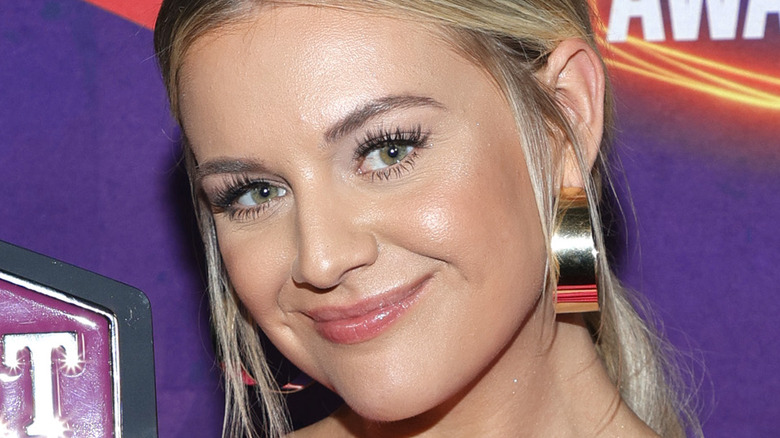 Jason Kempin/Getty Images
It was obvious the best in the country music biz were excited to be back on stage again for the CMT Awards on June 9. Some memorable performances included Carrie Underwood's "I Need to Breathe," Mickey Guyton and Gladys Knight's rendition of "Friendship Train," and Kelsea Ballerini and LANY's Paul Klein debut of "I Quit Drinking." Aside from performing, Ballerini also co-hosted the show in Nashville for the first time alongside Kane Brown. Prior to the evening, the pair told CMT it was "amazing" to work together, as Brown often tours with Ballerini's husband, Australian country singer Morgan Evans.
But, while the pair shared that they forged a friendship together during rehearsals, it did not necessarily translate on stage with their delivery being a "little awkward." Media Trainer and Communication Consultant Jess Ponce III, author of "A.W.E.S.O.M.E., 7 Keys to Unlock the Speaker Within," said that, while they "did a fine job," it took the pair some time to find their "rhythm." "The trick when you host any program is to be yourself. Basically, that means don't try too hard." 
Despite Brown hosting the CMT's for the second consecutive time, Ponce said Ballerini actually looked more at ease than the "Worship You" singer. "Kane, at first, seemed a little stiff, even slightly smug. His cadence was evenly paced, giving him a sort of rigid rhythm. Even his body swayed a bit back and forth on pace with his delivery."
While Ponce admitted Brown gradually became more "charming," it was Ballerini who really engaged with the audience as "she looked directly at them, acknowledged them, and brought their energy on stage." 
Kelsea Ballerini addressed haters with the most 'positive energy' possible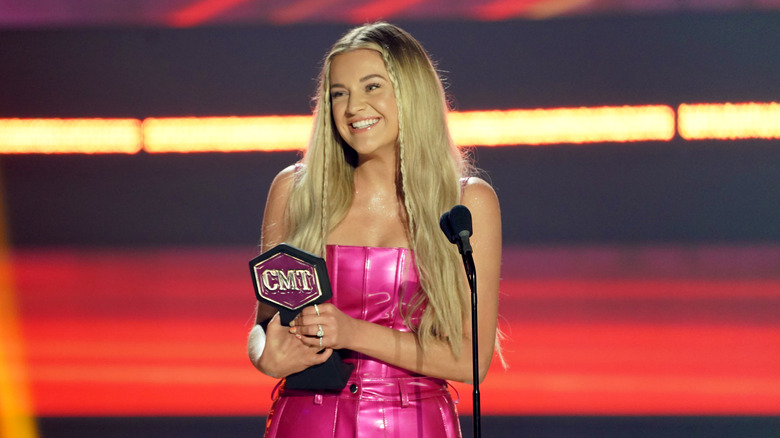 Erika Goldring/2021 Cmt Awards/Getty Images
Kelsea Ballerini is showing that a little "positive energy" is all it takes to push past the haters. Ballerini was nominated for three awards, winning CMT Performance of the Year for her duet with Halsey. The country-pop hit, "The Other Girl," received financial and critical success due its relatable lyrics and catchy chorus. However, it didn't sit well with some country music fans, who suggested the song wasn't representative of the genre, per Newsweek. 
Despite previous controversy, Media Trainer and Communication Consultant Jess Ponce III said Ballerini accepted her first-ever CMT by "smiling ear to ear" as she addressed the elephant in the room. "Kelsea Ballerini came up beaming, literally. She even said so at the beginning of her acceptance speech — and this time as a performer, not as host."
Ballerini began by saying, "There was a lot of chatter on 'categorically' what genre this song did or didn't fit into. And the fact that you voted this as the winning performance tells me that you know where my roots are and that you know who I am." Ponce said she "leaned forward " and "engaged everyone" with her optimism and honesty. "It's a lot easier to win people over and address criticism head on when you have positive energy." 
Ballerini then suggested she will continue to "push boundaries and explore artistry" to allow for more genre-blending music, which Ponce said "won people over" as she "didn't directly rebuke her critics," and instead showed appreciation for her fans.