What's The Age Difference Between Tom Girardi And Erika Jayne?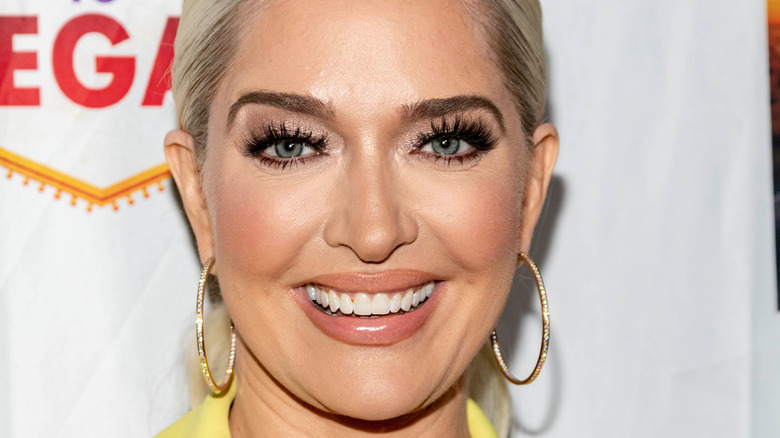 Shutterstock
"Real Housewives of Beverly Hills" star Erika Jayne had a particularly rough go of it during the pandemic, and a lot of that can be traced back to her soon-to-be-ex-husband, high powered "Erin Brokovich" lawyer Tom Girardi. Girardi is currently under investigation for fraud and not everyone is convinced that Erika had nothing to do with it. Plus, divorce proceedings haven't exactly been what a person might call "smooth."
From the moment she arrived on the Housewives scene on the arm of her much older, offensively wealthy husband, Erika has strenuously denied any and all accusations of gold-digging. "It's great to have financial support. But having someone's emotional support is something that I wish I had more of growing up," she said on the show. And in her memoir, "Pretty Mess," she explained that the age difference was always a bigger deal to other people than it was to them. "All a couple really needs is to have the same life philosophy. If you see things the same way, then age, race, religion — none of that comes into play," she wrote (via Us Weekly).
Obviously, Erika looks like an eternal 25 years old, but what's the age difference, really? Let's investigate.
Age was never an issue for Tom and Erika
Erika Jayne is 33 years younger than her estranged husband, Tom Girardi, but she says the age difference had nothing to do with either the courtship or the breakup. To be honest, from the looks of things, there's enough going on here to disrupt any marriage.
First of all, there are the lawsuits. Girardi has been accused of all kinds of financial shenanigans and crimes including, among other things, embezzling funds from the families of plane crash victims, per the Chicago Sun-Times. Next, there are the rumors that Girardi had been cheating on Erika for years, according to an anonymous source in People. And finally, Girardi was diagnosed with late-onset Alzheimer's in March of 2020 and is now under a conservatorship by his brother, per Us Weekly.
Age gap or no age gap, Erika is clearly devastated by everything that has happened to her marriage. "I did not see it ending this way," she says in the "Real Housewives of Beverly Hills" season 11 teaser promo. "I was gonna hold that man's hand until he died."