The Reason Kamala Harris' Latest Conversation With A Reporter Got Uncomfortable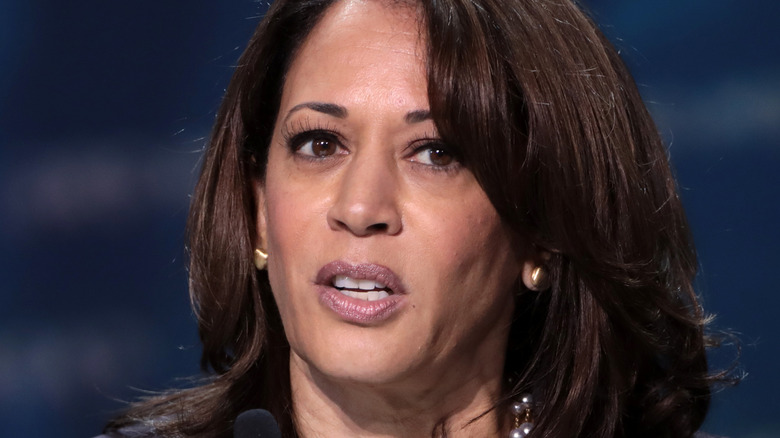 Shutterstock
Vice President Kamala Harris has come under fire during a trip to visit both Mexico and Guatemala. She's been repeatedly questioned about visiting the U.S.-Mexico border during her trip, and her tense exchanges with the press aren't helping.
President Joe Biden tasked Harris with overseeing immigration at the U.S.-Mexico border as immigration numbers reached the highest of the past 20 years, per Reuters. The Vice President met with Guatemalan President Alejandro Giammattei and Mexican President Andrés Manuel López Obrador during her trip. She pledged 500,000 COVID-19 vaccines to Guatemala in hopes of relieving hardships brought by the virus, per NBC. Many media members however, still questioned why Harris had not physically visited the U.S.-Mexico border.
This led to an uncomfortable interview moment with Lester Holt on NBC News on June 8. "So this whole thing about the border. We've been to the border. We've been to the border," Harris said (via USA Today). "You haven't been to the border," Holt replied. "And I haven't been to Europe [either] ... And I mean, I don't, understand the point that you're making," Harris responded, a bit flippantly, in some eyes. Harris stated she wanted to focus on "root causes" that were driving immigration. "You can't say you care about the border without caring about the root causes," Harris said while addressing the press in Mexico on June 8, via ABC News. 
But a couple of days later, the Vice President had another tense exchange.
Kamala Harris lost her patience again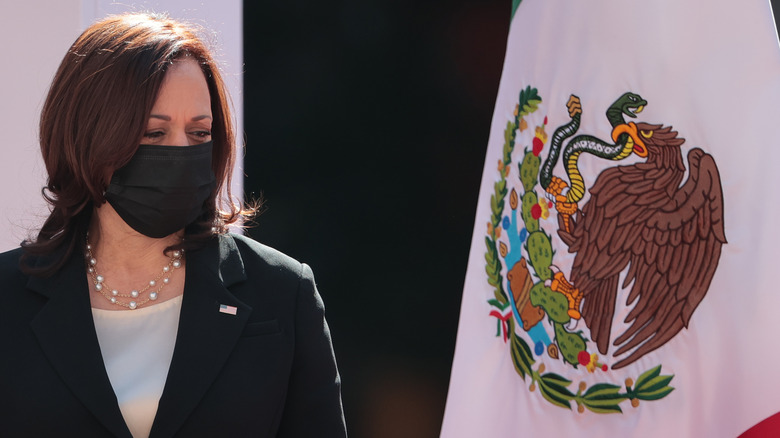 Hector Vivas/Getty Images
On June 10, Vice President Kamala Harris had an interview with Univision host Ilia Calderón. Harris was once again asked about visiting the U.S.-Mexico border.
"I've said I'm going to the border. And I ..." Harris said on Univision before the host interjected. "When are you going to the border, Vice President?" Calderón asked. "I'm not finished," Harris replied while raising a finger and nodding her head. "I've said I'm going to the border," the vice president reiterated. "And also if we are going to deal with the problems at the border, we have to deal with the problems that cause people to go to the border, to flee to the border," Harris continued. When asked yet again when she'd visit the border, she responded, "I will keep you posted." 
Earlier in the week, Harris caused a stir for a message she delivered during a meeting with President Alejandro Giammattei of Guatemala. "I want to be clear to folks in this region who are thinking about making that dangerous trek to the United States-Mexico border: Do not come. Do not come," Harris said, via ABC. That message was reportedly issued by President Joe Biden and his top staff. Democratic Rep. Alexandria Ocasio-Cortez was among those upset by message. "This is disappointing to see," Ocasio-Cortez wrote on Twitter. 
CNN argued that Harris is perhaps being held to an "impossible standard" with border issues, but her sparring isn't great for optics.