The Reason Why Kamala Harris' Awkward Laugh Has Landed Her In Hot Water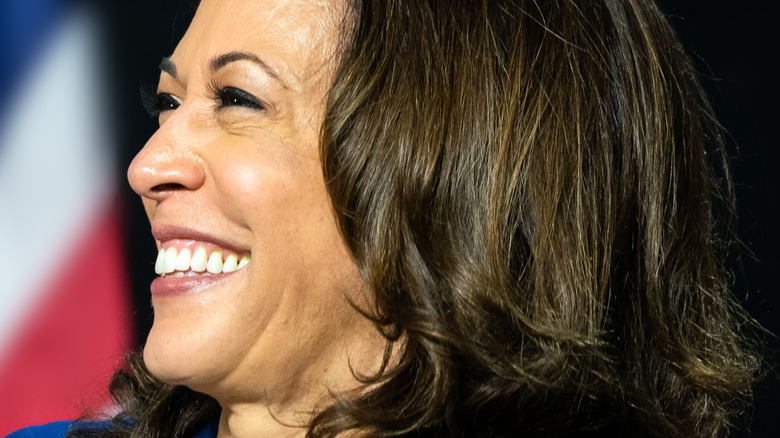 Shutterstock
Despite the fact that Vice President Kamala Harris has received positive reviews for the first few months of her White House tenure according to a number of official polls, it seems a recent trip to foreign soil has made her the target of media scrutiny. The reason? It all apparently boils down to one trait in particular: her laugh. 
According to a June 9 report by The New York Post, both members of the media and officials from President Joe Biden's administration have expressed confusion over Harris' performance during her current trip to Mexico and Guatemala, which, per the tabloid, has left them "quietly perplexed." Harris' tour, which began in early June, marks her first foray into diplomatic travel abroad as vice president. But despite the goodwill efforts the tour is meant to put forth, critics of Harris have made their concerns known — and her laugh during questions with the press during certain responses isn't helping the cause.
So what's the story with Vice President Kamala Harris' laugh? Read on after the jump to find out all the details.
Kamala Harris laughed while trying to make a serious point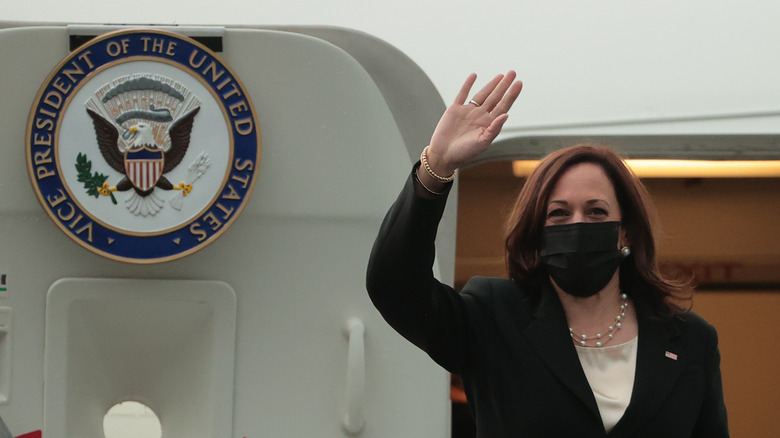 Hector Vivas/Getty Images
According to The New York Post, the focus on Vice President Kamala Harris' laugh is directly tied to the way she has handled specific questions with regards to her recent (and current) visit to Guatemala and Mexico, a tour meant to address issues of human trafficking from south of the border. As the Post noted, one instance, in particular, occurred during an exchange between NBC anchor Lester Holt during a segment on the "Today" show, in which Harris attempted to address whether or not she would visit the U.S.-Mexico border, a site of massive tension due to the current flux of undocumented immigrants.
Answering Holt, Harris stated: "We've been to the border. So this whole thing about the border, we've been to the border." Holt, however, countered Harris's claim by stating that Harris herself hasn't. It was then that she laughed, as the Post noted, going on to add, "And I haven't been to Europe [either]. And I mean, I don't understand the point that you're making. I'm not discounting the importance of the border." 
Analysts at CNN said the moment "overshadowed the policy progress on her trip," (it never looks good when you laugh while trying to make a serious point). Though they did point out that the purpose of the trip itself was specific to an area known as "the Northern Triangle" within Central America, not the border specifically.