The Real Reason The Spice Girls Just Reunited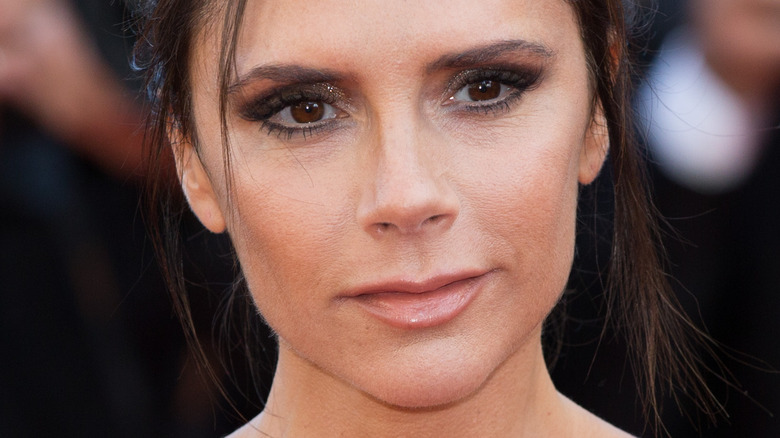 Shutterstock
The TikTok generation might (tragically) not be familiar with the Spice Girls, but the most famous girl group this side of Destiny's Child dominated the mid-1990s with their ubiquitous collectible lollipops, a hit film ("Spice World"), and fans trying to imitate the V-sign pose Victoria Beckham ("Posh Spice") made in every music video (it takes more finesse than one imagines). Unfortunately, Geri Halliwell ("Ginger Spice") left bandmates Beckham, Melanie C ("Sporty"), Mel B ("Scary"), and Emma Bunton ("Baby") in 1998 to embark on a solo venture, InStyle reported, leaving the remaining members to release one last solo album, 2000's "Forever," before going on hiatus to tackle their own solo endeavors. InStyle characterized Halliwell's departure as heartbreaking, writing, "The universe's supply of girl power decreased by 20% when Ginger Spice left the group." 
The Spice Girls, who stood for self-love, feminism, and diversity long before such messages were touted in hashtag movements, reunited in 2007 for a world tour, in 2012 for a performance at the London Olympics as well as their own musical "Viva Forever," and, minus Beckham, for a U.K. stadium tour in 2019, per The Guardian.
In a June 2021 interview for Radio X, Bunton revealed the Girls had plans to perform their greatest hits on tour right before the Covid-19 pandemic, saying, "I'm dying to do it again." Before that, however, came a reunion nobody saw. Read on for how Beckham was the one to round up the iconic gang again.
The Spice Girls celebrated Pride Month and an important anniversary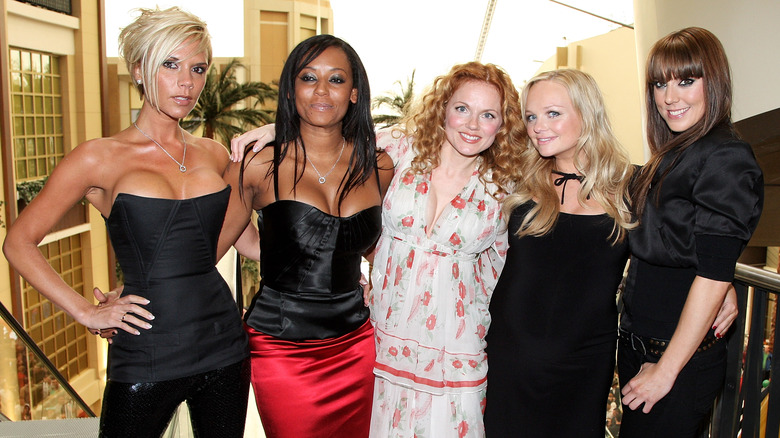 Dave Hogan/Getty Images
Friendship never ends... and Pride shouldn't, either. In honor of June's Pride Month, Victoria Beckham, who's become an accomplished fashion designer since her tenure as a full-time Spice Girl, has collaborated with the U.K.'s akt charity in addition to her old bandmates to design T-shirts in support of homeless LGBTQ+ youth. Per an official Spice Girls Instagram post, Beckham, along with Mel B, Mel C, Emma Bunton, and Geri Halliwell, posed in shirts from Beckham's 2021 Pride collection. "100% of the proceeds go to the brilliant @aktcharity to continue funding the wonderful work they do to combat youth homelessness in the LGBTQ+ community. #Pride2021 #FriendshipNeverEnds," the group captioned their video. 
Reading "Proud and wannabe your lover" in rainbow text colors, the shirts also highlighted the "wannabe" by emboldening it in solid black, as 2021 also marks the 25th anniversary of the Spice Girls' debut single by the same name, per Beckham's site. 
On Beckham's own Instagram, she highlighted the personal significance of the Pride Month celebration. "Pride to me is a celebration of being completely yourself... The Spice Girls really championed accepting yourself and others, being kind, having fun, and just living your best life!" the designer wrote on her repost of the video. We couldn't have said it better!