This Is How Tom Girardi And Erika Jayne Really Met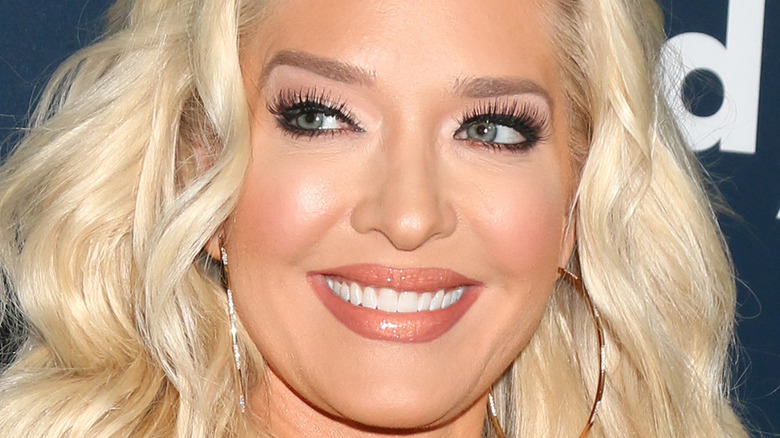 Shutterstock
Erika Jayne's co-stars on "Real Housewives of Beverly Hills" were shocked on the June 9 episode of the reality show, per US Weekly. She had just texted them that she had filed for divorce from Tom Girardi moments before the news was leaked to the press. The news came just four days after the women returned from their trip to Lake Tahoe, Calif. and Erika had shown no signs of any distress. The "Pretty Mess" singer had kept mum about the state of her marriage and legal woes throughout the season, and the mini-vacay. The text message read (via US Weekly), "Ladies, I truly consider you my close friends and this is why I'm reaching out to tell you that I filed for divorce this morning. Thank you for supporting me. This will be tough." All hell broke loose as the women tried to suss out the situation.
Erika had instituted divorce proceedings from her husband, who is 33 years older than her, in November 2020. On the show, the RHOBH ladies were shocked because Erika had been gushing about him. According to TooFab, she told Garcelle Beauvais recently, "We spoke this morning. He's good. He's at the firm." She added, "Honey, that's a workhorse. He's dedicated his life to being a lawyer, that is first and foremost in his life and god bless him for that. He loves it." 
But how did the power-driven attorney and the dance-pop singer end up together? Now that's a story worth telling.
Erika Jayne made the first move
Erika Jayne Girardi opened up about her marriage to People in 2018. The singer, who rarely makes a fashion faux pas, discussed her relationship with Tom Girardi and how they ended up getting hitched. In the interview, Erika revealed that she never imagined that she and Tom would end up together. After all, he was a well-to-do attorney and she was a cocktail waitress at Chasen's, the famed Los Angeles, Calif. restaurant. Also, "marriage was the furthest thing from my mind," she penned in her autobiography, "Pretty Mess." Apparently, Tom was a regular at the eatery, and they became friends. 
Erika wrote in her 2018 memoir (via the New York Post), "He would be there quite often, especially upstairs near the private club where I worked." She was attracted to the "way that he interacted with people. This man treats everybody with respect," she noted.
However, after a year of friendship, the-25-year-old Erika decided to take a risk to see if they could be more than friends. She slipped Tom a note and the rest was history. Initially, they kept their relationship a secret, but six months after moving in together, they tied the knot. And they remained married for more than 20 years. No wonder the "Real Housewives of Beverly Hills" ladies were so shocked when Erika's marriage came crumbling down.