What Queen Elizabeth Did To Make Kate Middleton And Camilla Parker-Bowles Laugh At Her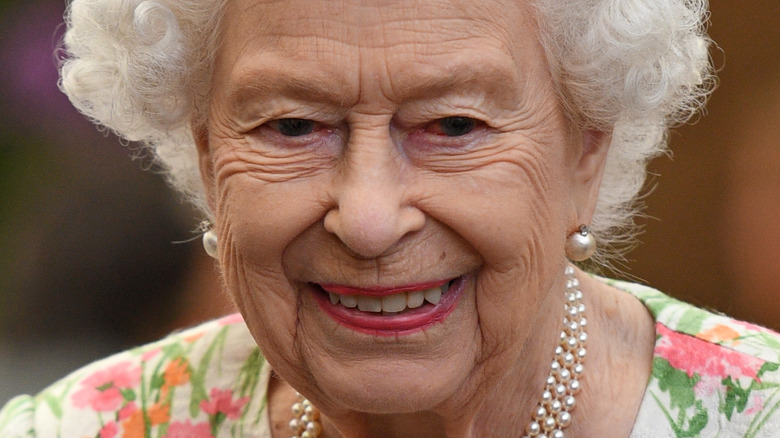 Wpa Pool/Getty Images
As the reigning British monarch, 95-year-old Queen Elizabeth II wields a lot of power. And when she wants to do things her own way, loyal subjects may have to give in to the charming nonagenarian. Such was the occasion on June 11 when she attended a special reception alongside about 20 volunteers who are organizing her Platinum Jubilee celebration, as 2022 will mark her 70th year on the throne and plans are already underway for the grand celebration. 
Kate Middleton and Camilla, Duchess of Cornwall, accompanied the queen, where she outshone them with her sense of humor and charisma. The executive director of the Eden Project, Peter Stewart, noted, "It is like comets — they don't come around very often." He seemed to be particularly pleased that the three most senior female royal family members had graced them with their presence at the Big Lunch at the Eden Project, per the Mirror. "I was trying to remember the last time that the three were on an official engagement together like this. I can only think of one at Fortnum and Mason but this was something else," he added. 
Of course, the occasion would be made more memorable by Queen Elizabeth's unusual demands. Keep reading to find out why Camilla and Kate were giggling at what was supposed to be a solemn affair.
Queen Elizabeth II wields her wit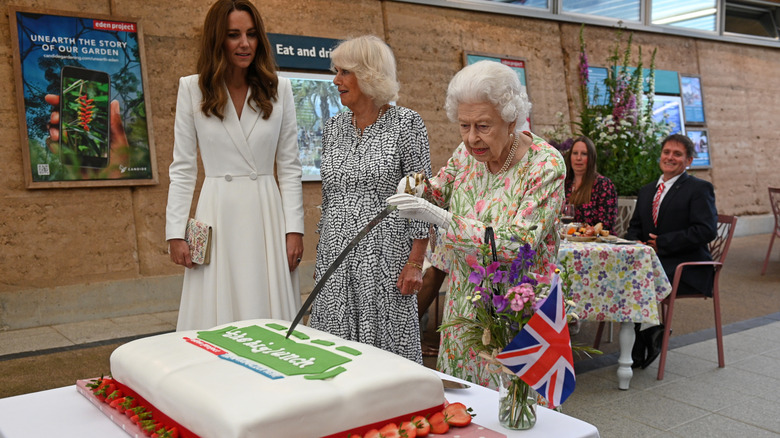 Wpa Pool/Getty Images
Queen Elizabeth's logic certainly cannot be faulted. When she was asked to cut the large celebratory cake, per People, she decided that such an important task needed a special knife. And what can be more regal than a ceremonial sword? Edward Bolitho, the Lord-Lieutenant of Cornwall, obliged the monarch by handing her his sword and she set about completing the task. Per ABC News Australia, ceremonial swords are typically used for solemn occasions, such as awarding knighthood. But hey, the queen herself felt that the cake needed the royal treatment.
When an aide pointed out that there was a more suitable knife for the task at hand, Queen Elizabeth promptly silenced them by saying, "I know there is, this is more unusual." Who can (and dares) argue with that? Certainly, it had Camilla Parker-Bowles and Kate Middleton giggling as the queen tried  something different. The queen tried to slice through the dessert, but since the blade isn't typically used for cutting cakes, Camilla stepped in to help her mother-in-law. Together, they completed the task before the queen cut a second slice with a conventional knife. Afterward, Queen Elizabeth noted, "That looks very good."
Of course, Queen Elizabeth's "I know there is" response is reminiscent of an argument she once had with her mother. In 2002, The Guardian (via Express) reported that the Queen Mother allegedly asked her daughter, "Who do you think you are?" To which Elizabeth whispered: "The Queen, mummy, the Queen."